DeSantis warns Florida: 'Don't monkey this up' by electing black candidate Andrew Gillum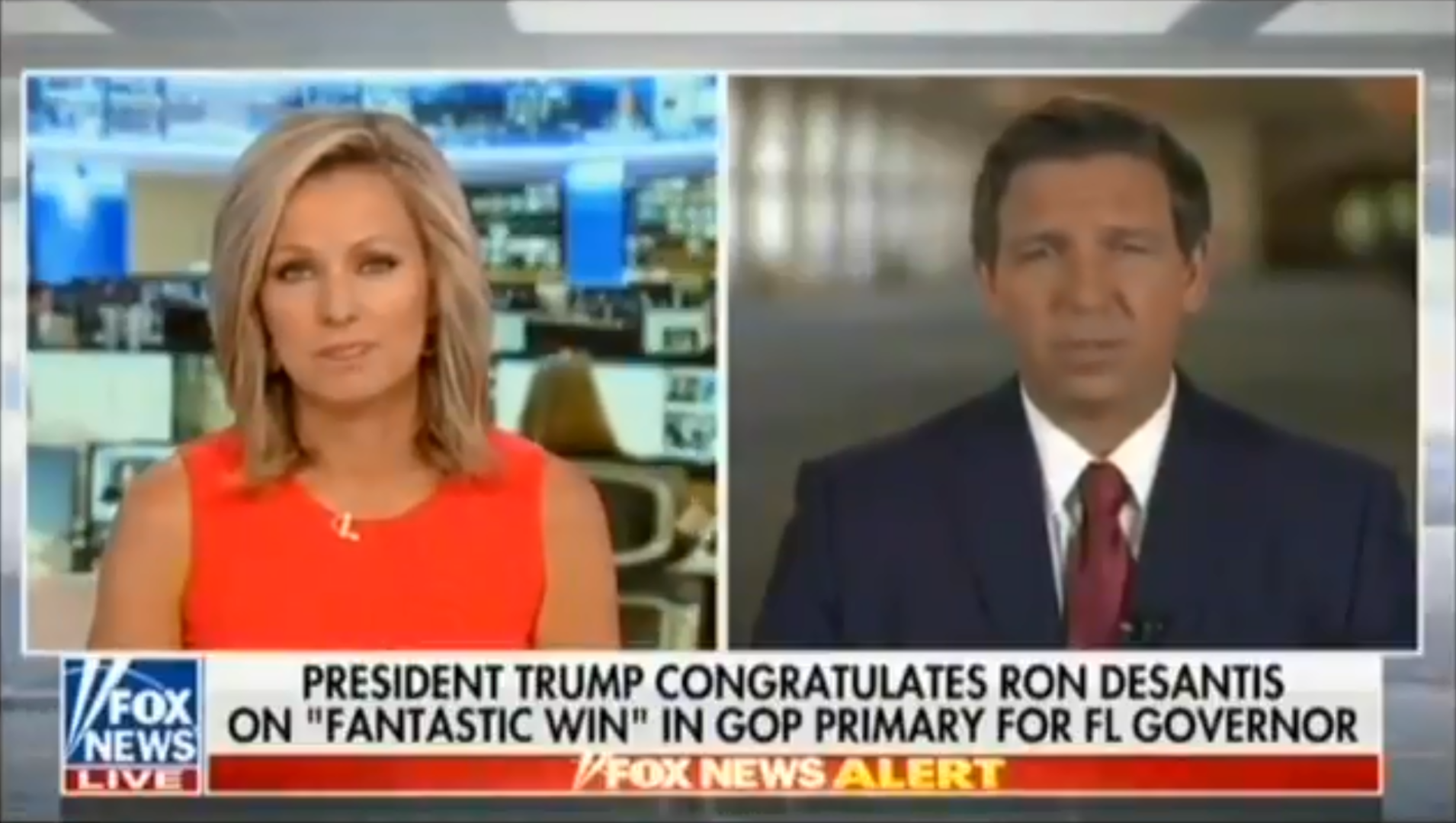 Florida GOP Congressman Ron DeSantis, the republican gubernatorial candidate for Florida warned Floridians not to 'monkey up' the upcoming gubernatorial election by selecting Black candidate Andrew Gillum.
What We Know:
Andrew Gillum became the Democratic nominee for Florida governor on Tuesday night. On Wednesday morning, his opponent, GOP candidate Ron DeSantis, made racist comments about him.
During an appearance on Fox News with Sandra Smith, DeSantis doled out backhand compliments to Gillum, calling him "an articulate spokesman" and saying he performed better than other candidates, just before arguing that Florida shouldn't elect Gillum.
"The last thing we need to do is to monkey this up by trying to embrace a socialist agenda with huge tax increases and bankrupting the state," said DeSantis to Smith.
 Gillum, mayor of Tallahassee, is backed by Bernie Sanders and is campaigning on progressive policies. President Trump has expressed his support for DeSantis.

DeSantis' remarks about "monkeying this up" sent Twitter into mass outrage.
This story is developing and will be updated here.
See something we should post?  Let us know!
Comments
comments
Manhattan's Vessel Closes Indefinitely Due to String of Suicides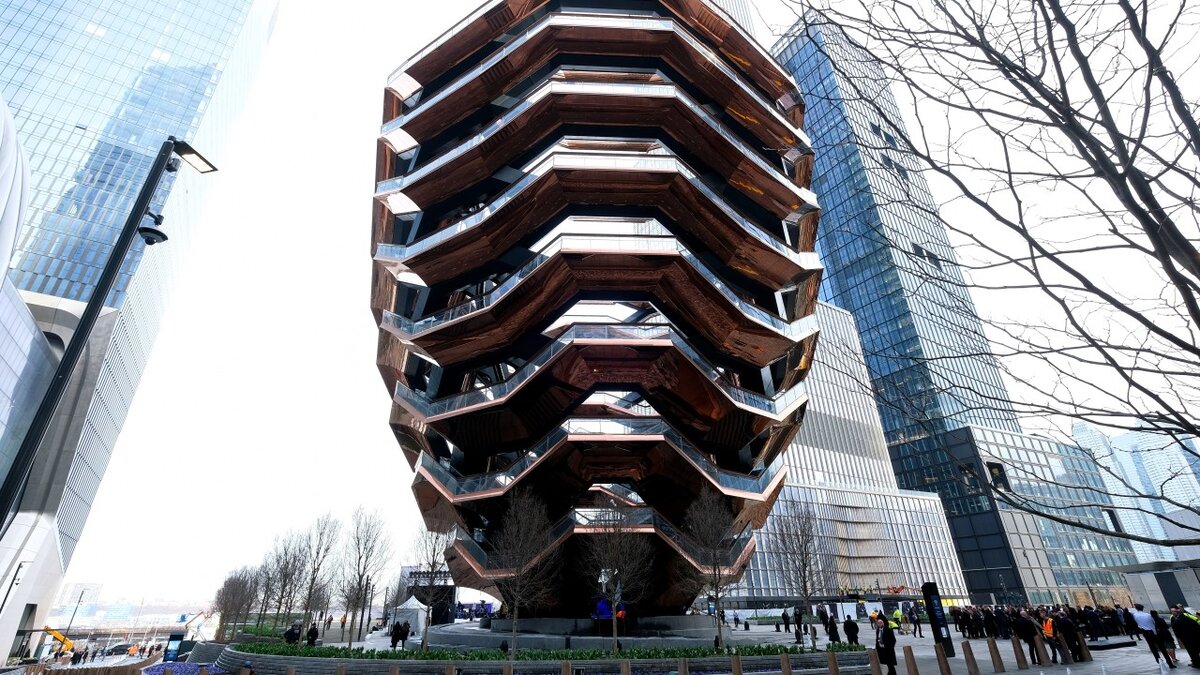 Administrators of a towering New York City tourist attraction closed the structure until further notice this week following various suicides at the site. 
What We Know:
The Vessel, the intriguing spiraling staircase at Hudson Yards on Manhattan's Far West Side, was closed to guests on Tuesday, one day after a 21-year-old man jumped to his death, the third suicide in less than a year.
The chairman of the local community board, Lowell Kern, said in an interview on Tuesday that a Related Companies spokesperson had called him shortly after the suicide on Monday and had stated the Vessel would remain closed "until further notice". As of Wednesday night, the structure is listed as "currently closed" on its website. Kern also stated the developer had indicated that it would display the precautionary steps it had designed to take to the board before reopening the structure to guests.
The closing occurred as the police identified the man who killed himself on Monday morning as Franklin Washington of San Antonio. His death comes weeks after a 24-year-old Brooklyn woman took her own life by jumping from the Vessel on Dec. 21.
Last February, a 19-year-old New Jersey man also jumped from the Vessel, the first suicide at the location, with witnesses describing hearing screaming as observers realized what had happened.
Thomas Heatherwick and Heatherwick Studio created the Vessel. The creators describe the Vessel as an interactive artwork with 154 intertwined flights of stairs, almost 2,500 individual steps, and 80 landings. Visitors are prompted to climb it to experience New York and the Hudson River's extensive views.
Kern expressed in a letter that he understood there was skepticism in modifying what is deemed a work of art, but that should not be a preference now. "After three suicides, at what point does the artistic vision take a back seat to safety?"
In the New York area, the George Washington Bridge has typically attracted more suicide attempts than other bridges or sites. From 2015 to 2017, there were 15 suicides a year at the bridge. In 2017, the Port Authority of New York and New Jersey moved to address the problem by installing an 11-foot-high fence that connected to a canopy of netting over a pedestrian walkway.
If you or someone you know are having suicidal thoughts, please call the U.S. National Suicide Prevention Lifeline at 800-273-8255, text TALK to 741741, or visit SpeakingOfSuicide.com/resources for additional resources.
Comments
comments
Riot Coverage: Banks Drop Trump, FBI has received over 70,000 tips, Twitter closes over 70,000 accounts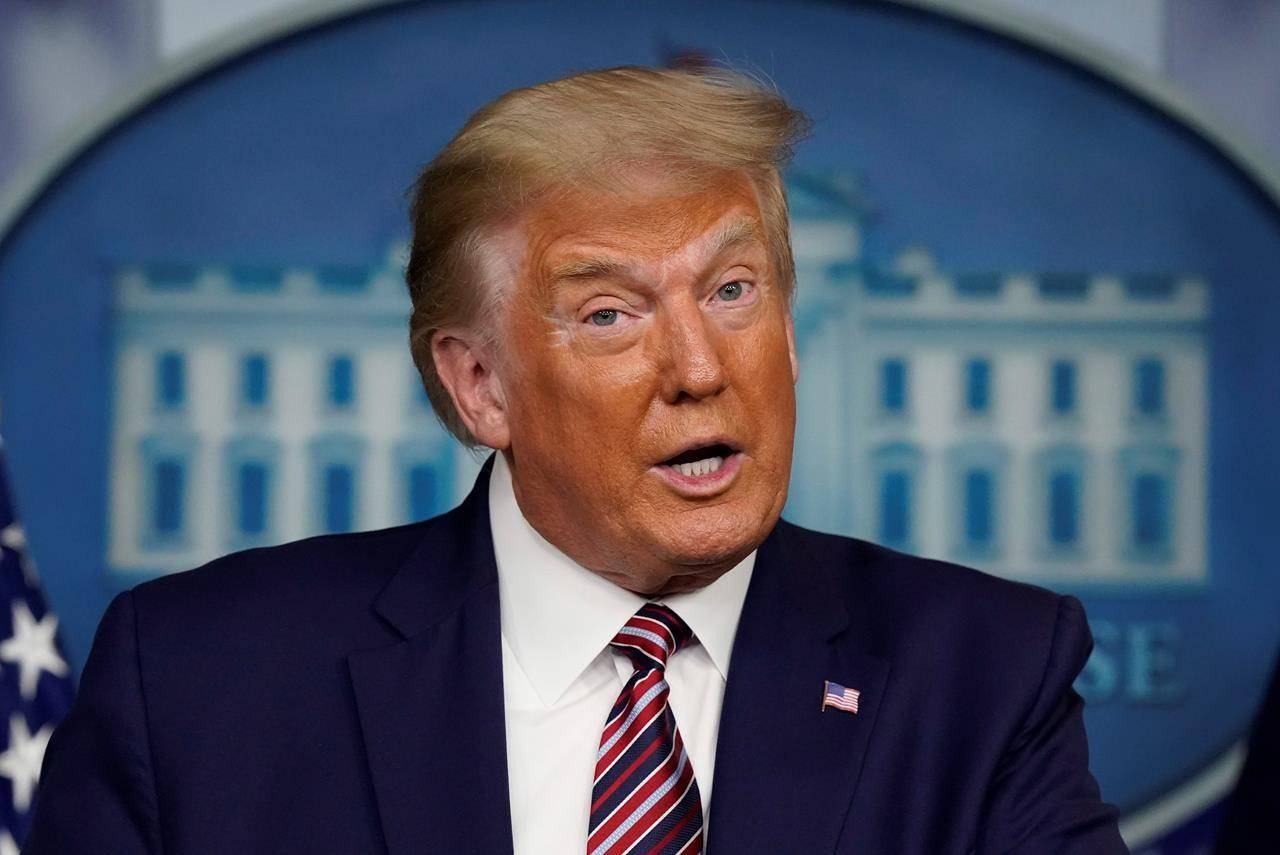 One week following the violent ambush by pro-Trump rioters at the U.S. Capitol, many actions against the President and his supporters have been taken by Trump's banks, the FBI, and social media companies.
What We Know:
According to Bloomberg, tensions between Trump and the financial industry began late Monday when Deutsche Bank AG decided to cut ties with the President and his family as they waited for him to pay off roughly $300 million in loans in the upcoming years News.
This was the first bank to remove Trump as a client, quickly followed by the Manhattan-based Signature Bank, which announced it's closing Trump accounts holding about $5.3 million. The following day, Professional Bank, which once allowed the President an $11 million mortgage, announced it would cut business with the Trump Organization and "will be winding down the relationship effective immediately."
Additionally, on Monday, the FBI announced that it had received more than 70,000 tips and other information as it seeks to arrest those who participated in the violent ambush at the U.S. Capitol last week. The agency claims to have received tips, including photos and videos. They also announced that photos had been released of the individual(s) responsible for placing suspected pipe bombs around D.C. and are even offering a $50,000 reward for their identification.
NBC News reports that more than 90 arrests of people allegedly connected to Wednesday's events in the capital had been made as of Sunday.
On the same Monday, Trump's supporters and culprits of the Capitol attack were banned from Twitter, the social media giant confirmed in a blog post. Over 70,000 accounts that share content concerning the QAnon conspiracy theory were banned from the site last week, last week "to protect the conversation on our service from attempts to incite violence, organize attacks, and share deliberately misleading information about the election outcome."
Aside from permanently suspending the President's own account, Twitter also permanently suspended accounts of former national security adviser Michael Flynn, pro-Trump attorney Sidney Powell and former 8kun administrator Ron Watkins.
Consequences from the Capitol riots have seemed to damage Trump's presidency and those affiliated with him in his final days as President. Days which may contain even harsher punishments as the House prepares to impeach.
Comments
comments
Rep. Clyburn Wants to Make 'Lift Every Voice and Sing' A National Hymn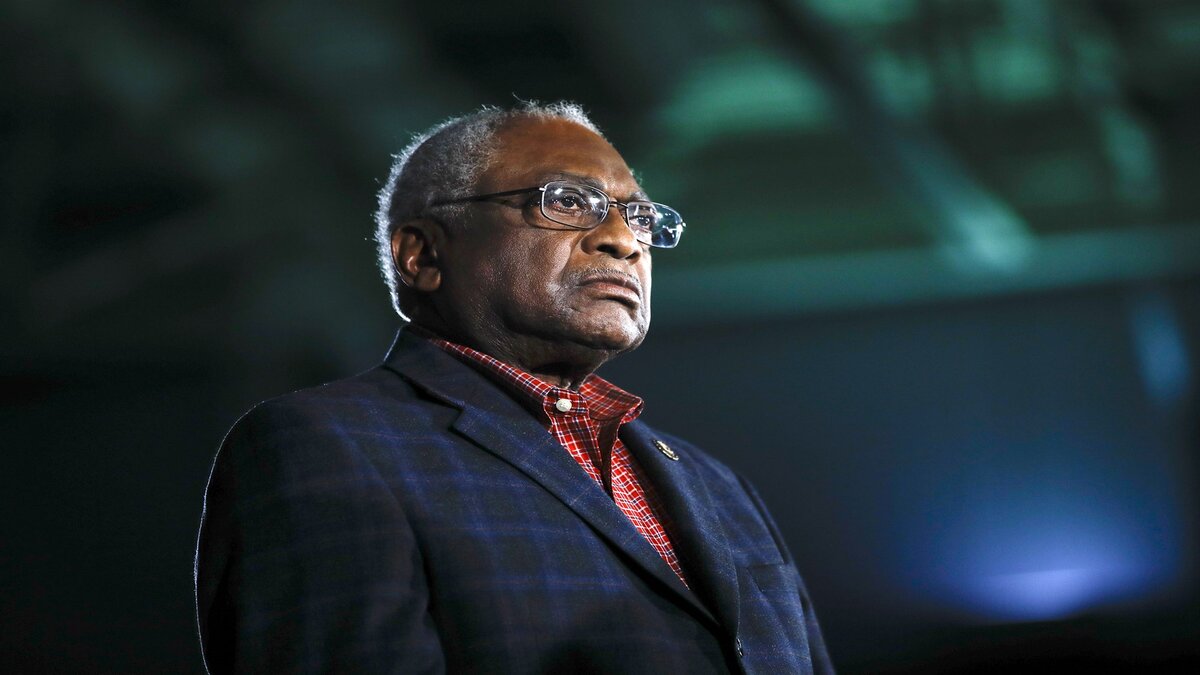 Rep. James Clyburn, D-S.C., desires the song known as the Black national anthem acknowledged as a national hymn.
What We Know:
Clyburn currently is the third-highest Democrat in the House, and its highest-ranking Black member intends to submit a proposition to promote Lift Every Voice and Sing at the same level with the national anthem as quick as this week to bring the country together and heal with a song "everybody can identify with," he tweeted.
To make 'Lift Every Voice and Sing' a national hymn, would be an act of bringing the country together.

The gesture itself would be an act of healing.

Everybody can identify with that song. https://t.co/7LvE8eYadU

— James E. Clyburn (@WhipClyburn) January 12, 2021
He stated the change would say to Black people, "you aren't singing a different national anthem, you are vocalizing the country's national hymn," he informed USA Today. According to USA Today, Clyburn said that the song is an essential part of the American experience in a letter to colleagues. He wishes for "extensive" bipartisan support for his proposition in both chambers.
Clyburn further said he's wanted to begin this initiative for decades and asked his team to start the paperwork last month. The current political environment initially, the summer's shootings and protests, especially after the Capitol's riots last week — inspired him to revisit the proposal, he said.
Lift Every Voice and Sing surfaced as Black Americans faced the threat of lynchings and the actualities of segregation and discrimination. Weldon Johnson, leader of The National Association for the Advancement of Colored People (NAACP), composed it as a poem in 1899 before his brother John Rosamond Johnson wrote an instrumental adaptation for it, making it a hymn in honor of the Black freedom fights and struggles, to celebrate decades of overcoming and wish for a more enjoyable future.
"Lift ev'ry voice and sing, 'Til earth and heaven ring, Ring with the harmonies of Liberty; Let our rejoicing rise High as the list'ning skies, Let it resound loud as the rolling sea. Sing a song full of the faith that the dark past has taught us, Sing a song full of the hope that the present has brought us; Facing the rising sun of our new day begun, Let us march on 'til victory is won". The lyrics to "Lift Every Vocie and Sing"
This season, the NFL interpreted both "Lift Every Voice and Sing" and "The Star-Spangled Banner" before Week 1 games.
Clyburn states making it a national hymn could bring the country together, bringing a change and an act of healing. Everybody can identify with that song without taking away from "The Star-Spangled Banner."
Comments
comments