Donald Trump Jr. Clashes with the Hosts on 'The View'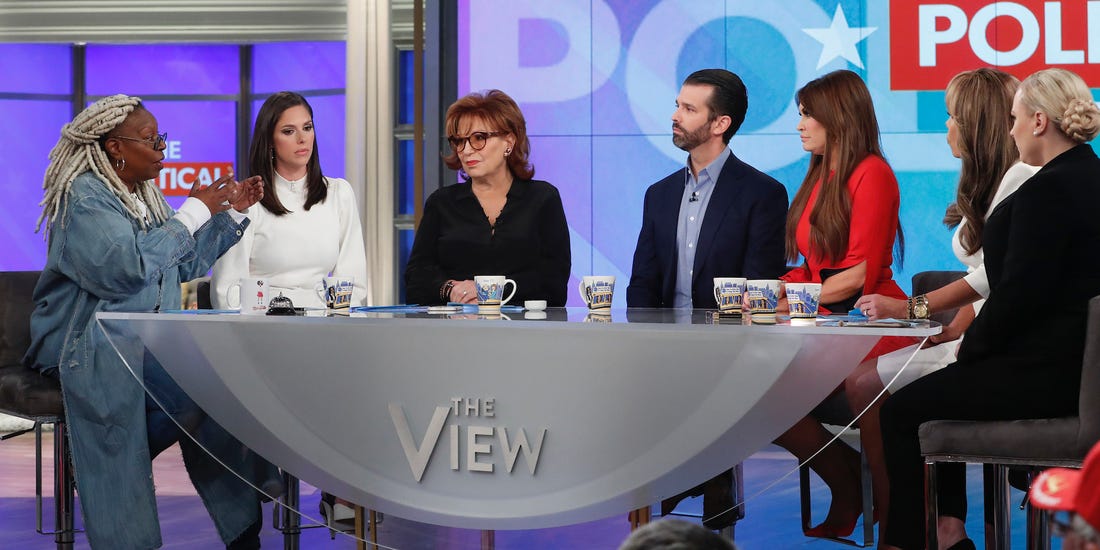 On Nov. 7, Donald Trump Jr. and his girlfriend Kimberly Guilfoyle made an interesting appearance on the 5,000th episode of The View.
What We Know:
The president's son appeared on the show to promote his book, Triggered: How the Left Thrives On Hate And Wants To Silence Us, when things got heated. He was explaining that many people are afraid to express their opinions because of the fear of being attacked by the left-wing. The hosts were astounded by this claim considering the bully persona his father has often portrayed.
Throughout the appearance, Trump Jr. got into spats with Whoopi Goldberg, Joy Behar and Meghan McCain. After being confronted with questions about his father's behavior, Trump Jr. went into attack mode and started slinging accusations all around the table. He accused Joy Behar of wearing blackface and Goldberg of minimizing rape allegations made against Roman Polanski. Goldberg jumped to Behar's defense saying her fellow host did not wear blackface, and assuring him that she would be able to spot blackface if she saw it considering she is black.
One of the tensest moments of the show occurred when Meghan McCain, daughter of the late Sen. John McCain, grilled Trump Jr. about his family. She stated, "You and your family have hurt a lot of people and put a lot of people through a lot of pain, including the Khan family– who is a gold-star family that I think should be respected for the loss of their son. Does all of this make you feel good?" Trump Jr. responded saying, "I don't think any of that makes me feel good". He then shifted topics and began naming things his father had done while in office. He stated that he "brought back jobs and lowered unemployment rates for African-Americans and Hispanic Americans". The hosts audibly groan at his response.
Sunny Hostin interjected saying, "I don't think she appreciated that your father attacked her father," finally speaking about the elephant in the room. McCain and Trump had a public feud

that lasted even after McCain lost his battle with brain cancer in 2018. McCain was vocal about his disagreement with several of Trump's comments and policies and Trump disliked that.

One of the harshest comments Trump made about the late senator discredited his military service. In 2015, at the Family Leadership Summit in Iowa, Trump stated, "He's not a war hero. He's a war hero because he was captured. I like people who weren't captured". Trump has even made rude remarks about Meghan.


.@MeghanMcCain was terrible on @TheFive yesterday. Angry and obnoxious, she will never make it on T.V. @FoxNews can do so much better!

— Donald J. Trump (@realDonaldTrump) September 5, 2015

After the show, the rowdy guest took to Twitter to take a jab at Sunny Hostin after she criticized him for exposing the name of the whistleblower in the Ukraine investigation.
Not sure where The View's @sunny got her law degree from, but she should think about asking for a refund.

The Daily Wire: Hostin Attacks Trump Jr With False Claims On Whistleblower, Transcript. Here's The Truth.https://t.co/q0KTngBPRU

— Donald Trump Jr. (@DonaldJTrumpJr) November 8, 2019
Hostin hit back with a tweet of her own:
Did you also think what you did at the Trump Foundation was legal? @DonaldJTrumpJr https://t.co/Y6HgUva2Ia https://t.co/jI9uLOKFa4

— Sunny Hostin (@sunny) November 8, 2019
Trump Jr. discussed the tense interview afterward saying, "They tried to smear me, try to besmirch my father and my family. You know what? It doesn't work too well with us. We will actually fight back, unlike a lot of the conservatives out there … You can only go so far before I've had enough."
Wonder if he will be back on the show anytime soon.
Comments
comments
T.I.'s Daughter, Zonnique, Announces Pregnancy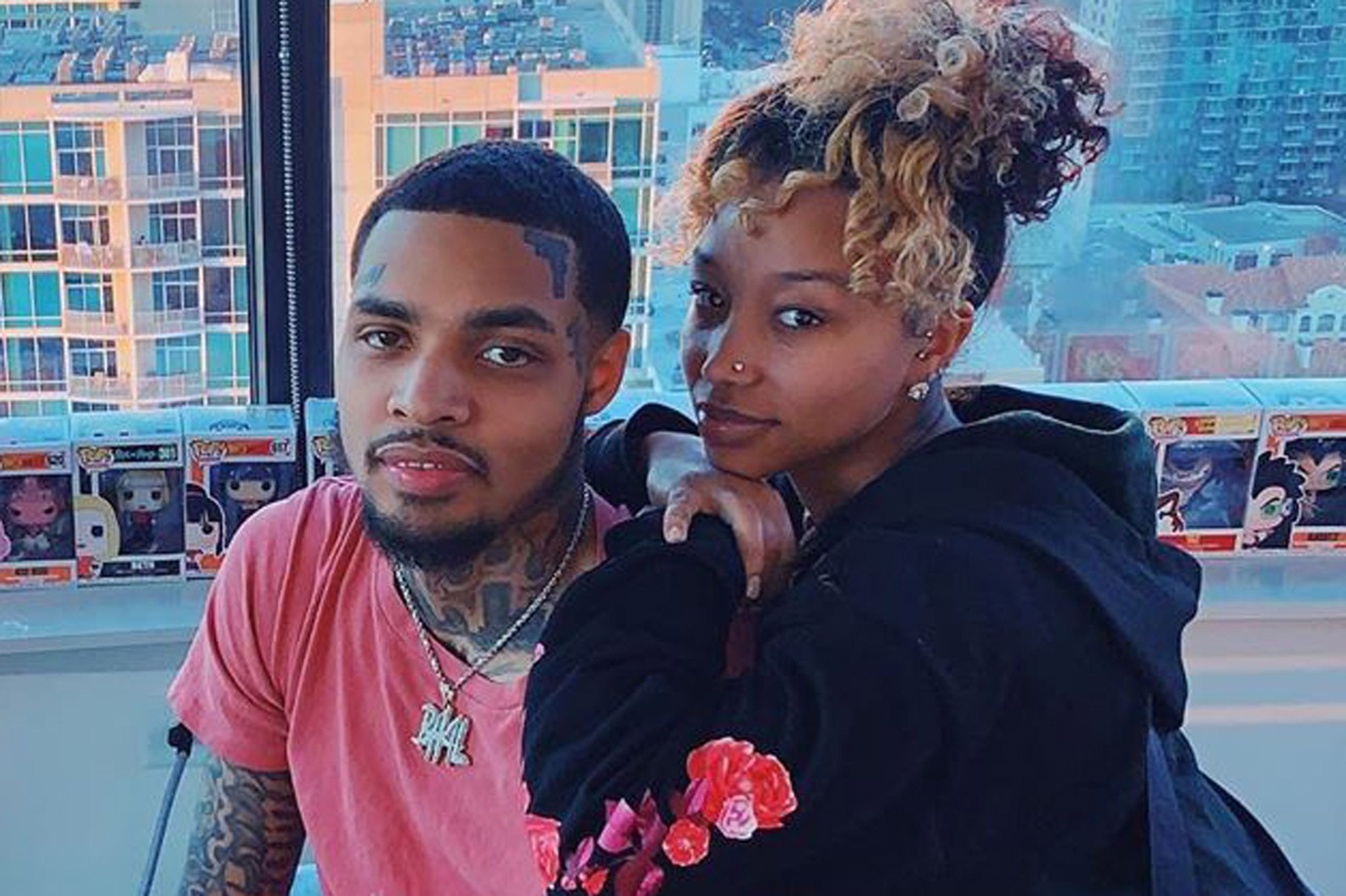 Former OMG Girlz singer, Zonnique Pullins, is pregnant – for real this time!
What we Know:
Zonnique Pullins and boyfriend Bandhunta Izzy, legally known as Israel James, are expecting their first child, and, according to Zonnique, it's a girl! The two started dating after a mutual connection linked them, and they hit it off via Instagram.
The 24-year-old made quite the announcement following weeks of ongoing speculation in her Instagram comments. On her newest show, The Mix, on which she is one of the hosts, Zonnique surprised her step-father, rapper T.I., with the news that she is expecting. T.I., not taking it so well, ultimately showed his support for his eldest daughter's new venture.
In addition to her announcement on the new foxsoul.tv show, Zonnique did an exclusive photoshoot and interview with People Magazine announcing the big news. According to her interview, the singer is about 5 months in and has had a fairly easy pregnancy thus far. Admitting that she initially wanted a boy, she says that she is now excited about having a girl. "I'm most excited about her being able to go with me everywhere, honestly. We can go get our nails and stuff done," she states. She goes on to say, "Everybody probably thinks I'd be excited to dress her up and stuff, but she'll probably be dressed like a little boy, knowing me. Big T-shirts, like how I am."
Although her fan-base was shocked, they had already been somewhat suspicious. It just so happens that Zonnique has gotten these inquires of alleged pregnancy almost consistently for the past three years and have always denied them, including the most current ones. She expressed to her fans that if she were pregnant, it would be her news to tell the world and not theirs or their allegations. Initially denying the claims, after the truth was revealed, she reminisced, "Literally every year, probably for the past three years, this same rumor had come out. This time I actually am pregnant. It's weird!"
Her mother, Tameka "Tiny" Harris, is as excited as ever to be an "O.G.", as she would like to be called by her granddaughter. In a special appearance on The Mix, of which she is the executive producer, she shared her excitement for Zonnique's bundle of joy. However, Tiny has quickly made it clear that she will not accept anything other than support for her baby's baby. After taking her excitement to Instagram, someone made a comment saying, "Finally? Why not teach ya "baby" not to be another [BABY MAMA] but to be a WIFE." Tiny was quick to shut down the hate.
In a virtual interview on Thursday, Zonnique made it very clear that a wedding aisle is looking a bit too far ahead for her right now. "I feel like at my age, I don't really want to get married right now. I feel like that's an even bigger commitment. I hate to say that's even a bigger commitment than a baby, but getting married just seems like so much. So right now, that's not really what I want to do."
The same doesn't seem to apply to her loving and supportive boyfriend Bandhunta Izzy. Zonnique was quick to say, "My boyfriend is way more into the whole getting married topic but I told him, 'I just don't know about that yet!" The 23-year-old rapper is already a father of two children, a 3-year-old boy and a 5-year-old girl, and was excited to find out, with Zonnique, that he will be expecting another girl. The Baltimore native has several posts on his Instagram alluding to making Zonnique his wife, however, it appears he is willing to wait till she is just as ready as he is.
Congratulations to the expecting parents! We look forward to meeting your beautiful baby girl.
Comments
comments
Honorees announced for 2nd Annual AAFCA TV Honors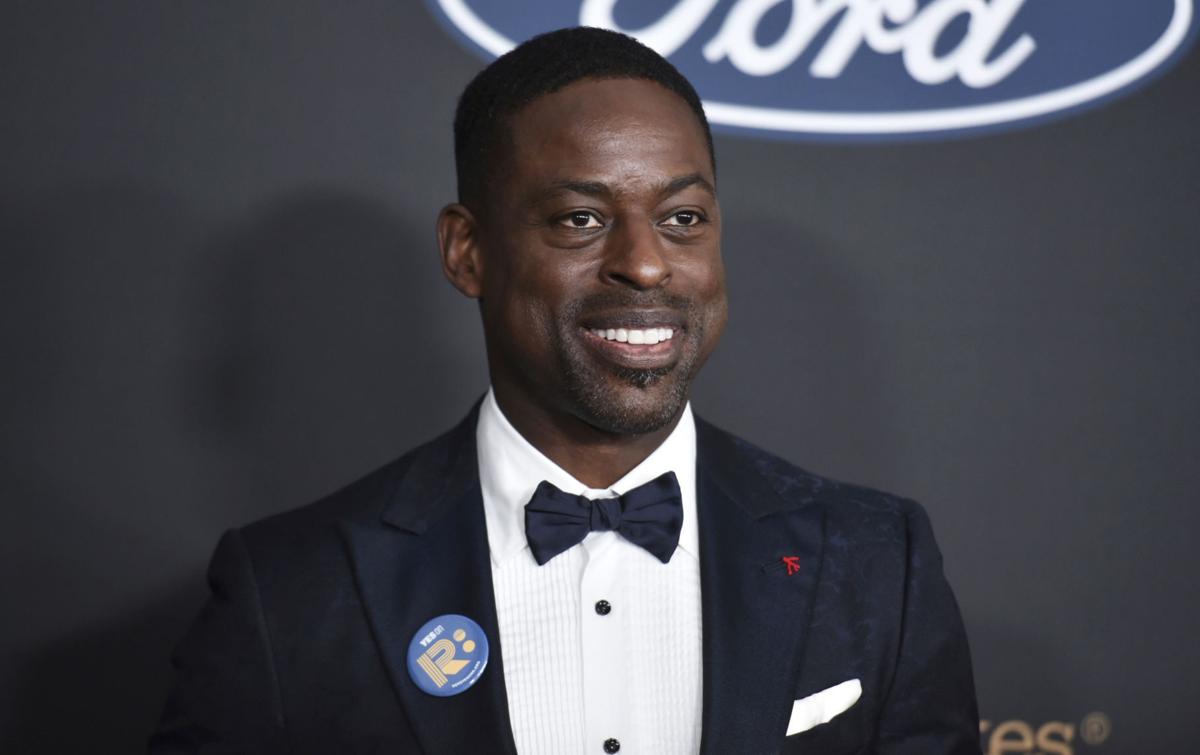 In the 2nd annual African American Film Critics Association (AAFCA) TV Honors, many notable figures will be celebrated for their work, including Kenya Barris, Viola Davis, and Sterling K. Brown. The virtual edition will take place on  August 22.
What We Know
The African American Film Critics Association is the largest collection of Black film critics that grant distinct awards and honors to quality television and film.
"The creation of the African American Film Critics Association (AAFCA) represents a united stance by film journalists of African descent and brings greater recognition to the work of writers, directors and actors of color in the powerful medium of film."

– Melvin Van Peebles (American actor)
AAFCA event is a private celebration, and tickets are available for purchase. The virtual ceremony will honor the best in television "who continue to change the game, drive culture, and authentically portray our stories."
This year's AAFCA will be hosted by Aida Rodriguez and American comedian best known for appearance on Last Comic Standing. The African American Film Critics Association announced the recipients on Wednesday (Aug. 5.)
Kenya Barris will be honored as TV Icon for his work on Black-ish and #blackAF. Viola Davis will be honored as Best Actress for her work on ABC's How To Get Away With Murder. Sterling K. Brown will be honored as Best Actor in his work on NBC's This Is Us. A full honoree list can be found on Deadline.
A portion of the proceeds made from the private AAFCA event will be allocated to the National Association of Black Journalists (NABJ) COVID-19 Relief Fund.
Comments
comments
Lizzo Lands First-Look TV Deal with Amazon Studios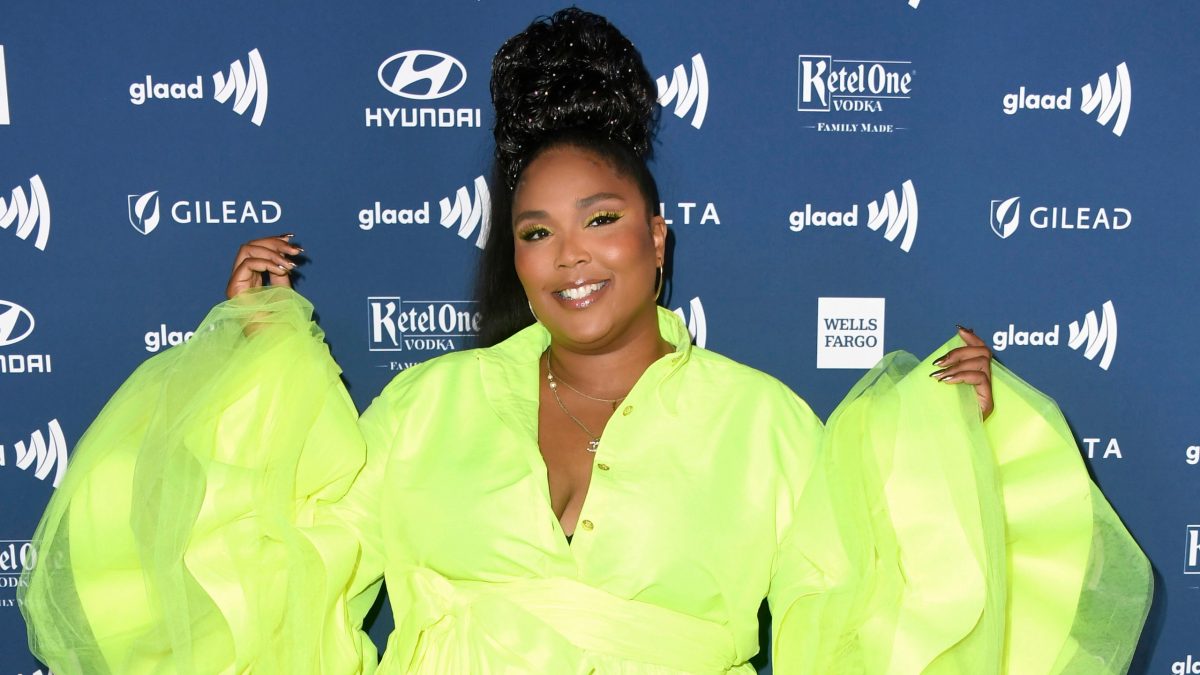 "Truth Hurts" singer Lizzo signed a first-look television deal with Amazon Studios.
What We Know:
Under the deal, 3-time Grammy-winning Lizzo will work with Amazon Studios to develop and produce television projects that will air exclusively with Amazon Prime Video. The musician hinted that she already has some content ideas ready for production. "I'm so excited to partner with the amazing team at Amazon," Lizzo said. "Thank you to Jen Salke and the rest of the team for making this dream come true. I can't wait to get started and share my vision with the world."
Jen Salke, head of Amazon Studios, shared the excitement for the deal was mutual. "Lizzo is one of the most exciting, creative, joyful artists in the industry, and it is such a pleasure to announce this new deal with her," Salke said. "She has such a unique perspective and we're so excited to hear her ideas for new content that our Prime Video customers are sure to love."
Lizzo won her three Grammy Awards this year at the 2020 awards show for the hits on her debut platinum-selling album. To date, her music has reached over 4 billion global streams with hit songs like 5-times Platinum "Truth Hurts," the 3-times Platinum "Good As Hell," and the Platinum "Juice". Her album CUZ I LOVE YOU was released in April of 2019 and debuted at #6 on the Billboard Top 200 Albums chart. It then went to spend the next 24 consecutive weeks in the chart's Top 10.
Lizzo starred in the feature film Hustlers and voiced a character in UglyDolls, but this marks her first major move in television. On her Instagram Story, Lizzo celebrated the big news with a short and impassioned message for her fans. "Let the empire begin," she captioned the post.
There is currently no word on what type of projects Lizzo will be developing, but we look forward to seeing what the Grammy-winning musician can bring to television.
Comments
comments