Civil Rights Leader Rosa Parks is Honored with Statue on the 64th Anniversary of her Refusal to Give Up Bus Seat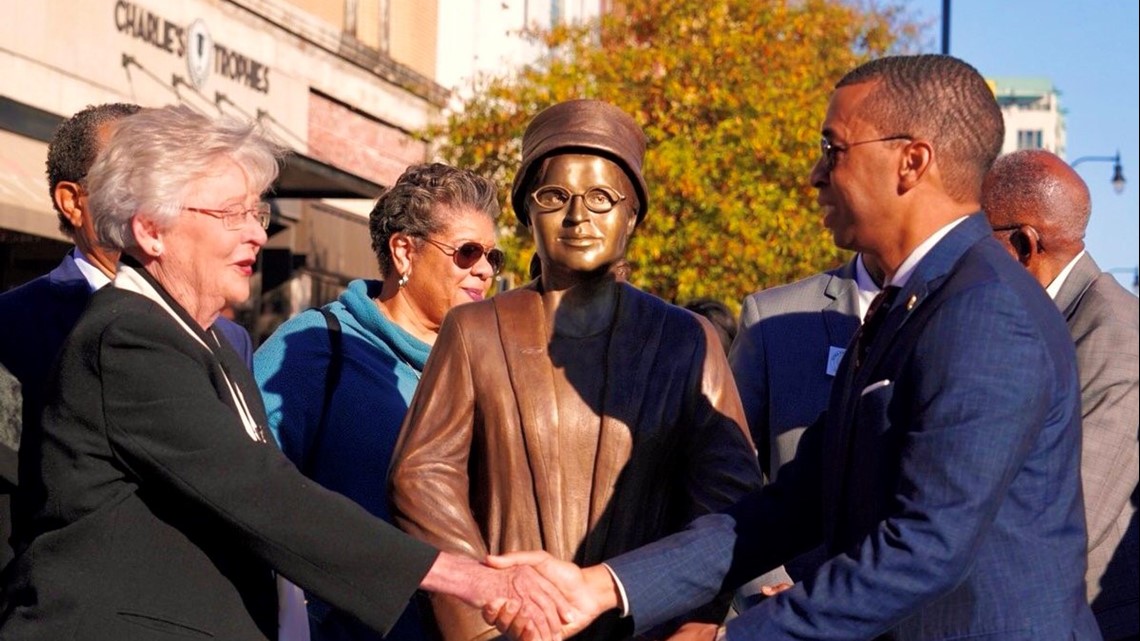 Civil rights leader Rosa Parks has been honored with a statue in Alabama.
What We Know:
On December 1, 1955, Parks refused to give up her bus seat to a white man in Montgomery, Alabama. Sixty-four years later, the late pioneer is being honored with a statue in the same city.
On December 1, 2019, Montgomery Mayor Steven Reed, the first African American mayor of the city, and Alabama Governor Kay Ivey unveiled the new statue of Parks near the Montgomery Plaza. There are also four granite markers near Parks' statue that are dedicated to the plaintiffs in the Browder v. Gayle case, the historical court case that determined segregation on Montgomery buses was unconstitutional.
"This depiction will inspire future generations to make the pilgrimage to our city, to push toward the path of righteousness, strength, courage, and equality," expressed Reed.
There were about 400 spectators within the crowd. Amongst them were many civil rights leaders, including the plaintiffs from the Browder v. Gayle case, and Fred Gray, who was Parks' lawyer in her court case.
Fred Gray told the Montgomery Advertiser that "For the city officials, from the city and the county, to be able to honor Mrs. Parks and honor those plaintiffs, and even more importantly to honor the 40,000 African-American men and women who stayed off of the buses for 382 days, it is indeed a step in the right direction."
Sadly, Parks passed away at the age of 92 in her Detroit home in 2005. This statue was not only built to commemorate her courageous act on that fateful day in 1955 but, to also celebrate black history.
Comments
comments
Trooper Who Faced Firing in Black Man's Death Dies in Crash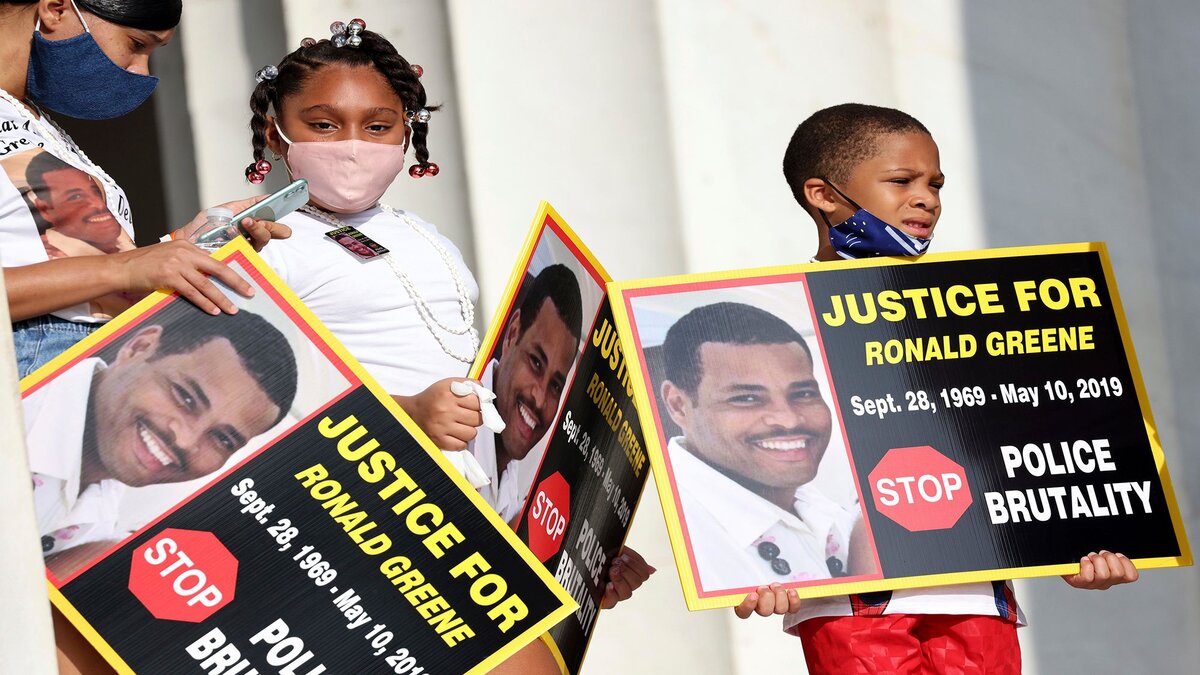 A Louisiana state trooper, known for his role in an in-custody death of a Black man earlier last year, has died. The death was caused by a single-vehicle highway crash and happened a brief time before he would have been fired.
What We Know:
Chief investigator for the Ouachita Parish Coroner's Office Warren Lee stated that Master Trooper Chris Hollingsworth was the fatal victim. He was pronounced dead on Tuesday after a short hospitalization. Hollingsworth was reportedly airlifted to Shreveport early Monday immediately following the crash on Interstate 20 near Monroe. No further details have been given on the accident.
Hours prior to the fatal crash, Hollingsworth was notified that State Police had the intention to terminate his position as a result of his involvement in the death of Ronald Greene. An internal investigation on the May 2019 death of the 49-year-old Black man drew a considerable amount of criticism and developed into a federal civil rights investigation.
Authorities initially noted that Greene's death was caused by a high-speed chase in rural northern Louisiana, which allegedly began over a traffic violation and ended with his vehicle impacting a tree. Greene's family accuses troopers of using excessive force while taking him into custody.
Gov. John Bel Edwards said Tuesday that he had not seen footage of the incident himself, but pledged to make it public once investigations conclude. "When that happens," he said, "the videos will be shown". Greene's family has also called for "the immediate arrest of the remaining men responsible for this tragic and unnecessary death".
"Trooper Hollingsworth's family has the finality of knowing exactly how he died as their community mourns his loss," said Lee Merritt, a prominent civil rights attorney representing the family. "The family of Ronald Greene, however, is still being denied the same finality by the State of Louisiana."
Greene's family added another federal wrongful-death lawsuit last May to what seems to be a growing list of similar cases this year. They accuse troopers of brutalizing Greene, using a stun gun on him three times, and beating him before covering up details on his death.
The controversial case reawakened over the past week when Greene's family released graphic photographs of the aftermath, and photos showing his car with little damage. This immediately sparked new questions on whether Greene received those injuries during the crash, as authorities told the family, or were inflicted by the troopers when arresting him.
The only considerable remark by State Police on Greene's death was citing that he was resisting arrest and a struggle went down with troopers. The agency recently opened an internal investigation into the case last month. Before Hollingsworth's death, he was placed on paid leave earlier this month and no word has been given on the other five troopers involved.
Comments
comments
Family of David McAtee Files Lawsuit Against Louisville Police, National Guard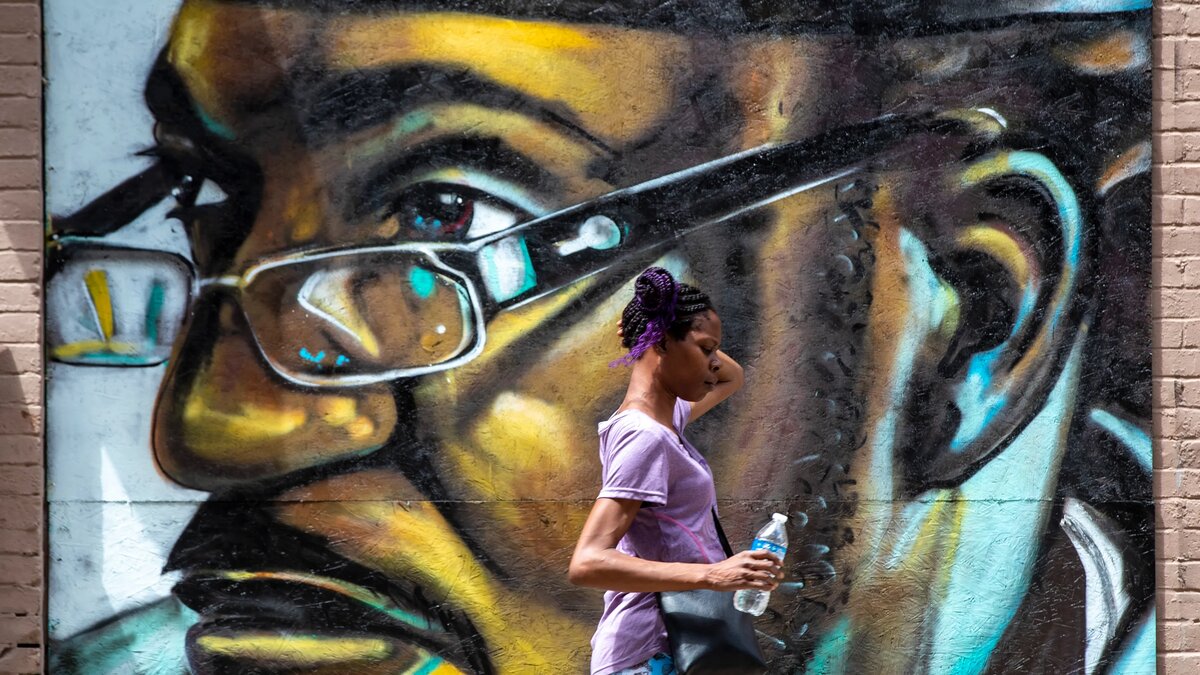 David "YaYa" McAtee fell victim to a shooting which occurred during the time the Louisville Metro Police Department (LMPD) and the Kentucky National Guard were responding to protests demanding justice for Breonna Taylor and George Floyd. He died on June 1st by a single bullet wound to the chest fired by an unidentified guard member.
What We Know:
McAtee, 53-year-old owner of Yaya's BBQ, was fatally injured in his own kitchen during the violent exchange in an evening of protests. His family is now seeking justice after their loved-one and community pillar of the Russell neighborhood was slain by law enforcement.
According to USA Today, attorneys representing the McAtee family accuse officers and soldiers of mishandling the situation by using excessive force, along with directly violating department policies and orders. Police evidence suggests that the victim fired at least two rounds from a 9mm handgun, while two guard members and police officers returned around 19 shots of counter fire. Katie Crews and Austin Allen were the two officers that were identified.
Louisville civil rights attorney Steve Romines stated that a reason for the lawsuit filed on Monday was due in part by the family never getting clear answers on what happened that night. During the weekend of the shooting, the protests raging across the city forced Kentucky Gov. Andy Beshear to deploy the National Guard for the first time since 1975. Romines went onto clarify that any reports of unrest relevant to McAtee were blatantly false.
A disruption that did occur near the area was a police raid that happened across the street at Dino's Food Mart. That particular disruption indirectly involved McAtee when he fired back on people invading his property after local law enforcement and National Guard soldiers targeted them with pepper balls, chemical, and projectile weapons. McAtee was reportedly uninformed of the events at the Food Mart across the street.
"From inside the kitchen, Maychelle McAtee and David McAtee did not know that the persons firing (pepper balls) at the restaurant were law enforcement officers," the lawsuit stated.
At the time of this raid, Officer Crews was caught on camera taking a different route from her fellow officers. She approached McAtee's property line and began to shoot pepper balls, even toward the area of the kitchen. Maychelle McAtee, the victim's niece, was shot about three times by pepper balls. She is now a plaintiff alongside his mother Odessa Riley.
The complaint also lists out what police and guards failed to do prior to using crowd dispersion techniques. The LMPD's standard operating procedures include identifying themselves by name and rank, issuing a dispersal order, allow time for crowds to disperse, and warn before using chemical agents, all steps they failed to do.
Jean Porter, a spokeswoman for Mayor Greg Fischer, has said this entire event and lawsuit are still under review and no further comments have been given at this time. Moreover, Beshear's Executive Cabinet Secretary J. Michael Brown has implied that there isn't enough evidence to suggest any major discrepancies between current findings and claims that the shooting was justified based on surveillance footage.
Comments
comments
Bloomberg Raises $16M to Help Ex-Felons to Vote in Florida
Former New York City Mayor, Democratic Presidential Nominee, and billionaire Michael Bloomberg has raised $16 million to help former felons in Florida pay outstanding fees and fines which will allow them to regain their right to vote ahead of the November election.
What We Know:
In 2018, Florida voters passed a measure that restored voting rights to felons once they completed their parole or probation periods, excluding any who were convicted of murder or sexual offenses. The Republican-controlled state legislature added a caveat to this new legislature and limited the new law's effect by requiring payment of all fees and fines that were part of their sentencing as restitution, leading to the potential disenfranchisement of many voters. This additional restriction was later upheld by the Supreme Court.
This new initiative combines funds raised by Bloomberg and the Florida Rights Restoration Coalition, which raised $5 million for the effort. Together, the funds have been used to pay off monetary obligations for 32,000 felons in Florida just in time for Election Day. All the individuals eligible for this payback initiative were already registered to vote, Black or Latino, and had fines and fees of less than $1500.
"The right to vote is fundamental to our democracy and no American should be denied that right," Bloomberg said in a statement. "Working together with the Florida Rights Restoration Coalition, we are determined to end disenfranchisement and the discrimination that has always driven it."
Florida is a hotly contested state in the upcoming Presidential election, with recent polls showing President Donald Trump and former Vice President Joe Biden locked in a virtual tie. Bloomberg recently pledged to spend $100 million in Florida to help Biden win the state, but this move to help pay fines is separate from that pledge.
Bloomberg raised the funds from prominent individuals and foundations, working with artist John Legend to fundraise from donors including Susan Buffett, Twitter CEO Jack Dorsey, former hedge fund manager Michael Novogratz, and Jeffrey Katzenberg.
This voting effort targets mostly Black and Latino felons in Florida who registered to vote but couldn't pay the fines when the legislation changed, populations in the past that have historically backed Democrats in larger numbers.
"Republicans & Democrats alike overwhelmingly supported this initiative in 2018, because in America, you get a second chance," said Steve Schale, political strategist and 2008 Florida state director for Barack Obama.
Earlier this year in August, Representative Val Demings of Florida (D) introduced a House bill to prohibit all states from denying federal voting rights to felons and returning citizens with prior criminal convictions, equating this move to acts of voter suppression in the past. "During dark times in our history, millions of Americans have been denied their voting rights by unconstitutional poll taxes and tests like those imposed now by the Florida GOP," she said. "I strongly support national and grassroots efforts to fulfill the intention of Amendment 4, reject GOP sabotage of that effort, and restore the voices and votes of our fellow citizens."
Other nonprofits, including LeBron James' voting rights group "More Than A Vote," have pledged funds to help pay fees for Floridians with felony convictions. According to a recent University of Florida study, 775,000 of those convicted of felonies in Florida still owe money from their convictions but do not have the financial means to pay them.
Comments
comments