Final Day of Opening Arguments for Dems for Trump Impeachment Trial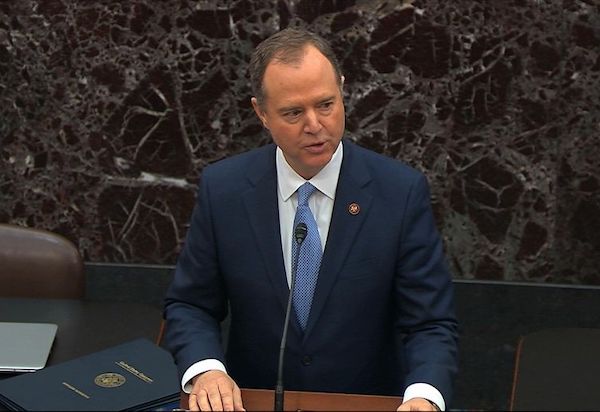 House Democrats are finishing their opening arguments in President Trump's impeachment trial Friday, making their last, best effort to convince Republican senators that what the President has done merits his removal from office.
What We Know:
Democrats have outlined this week their charges that Donald Trump only grew interested in corruption in Ukraine when it appeared that Joe Biden could become a serious political threat.
Lead impeachment manager Adam Schiff, D-Calif, continued to lay out the arguments behind the first article of impeachment, which charges that the president abused the power of his office by withholding $391 million in military aid to Ukraine while he pressured the Ukrainian government to open an investigation into activities there of former Vice President Joe Biden and his son Hunter.
Schiff said the man who considered his July 25th call with the President of Ukraine "perfect" is not going to stop asking foreign countries to meddle in our elections.
Hakeem Jeffries, D-NY, another manager, charged that Trump "created a toxic mess at 1600 Pennsylvania Avenue." Jeffries also stated that Trump "tried to cheat, he got caught, and then worked hard to cover it up".
Democrats also advised that Trump's refusal to comply with congressional subpoenas for documents and testimony in the impeachment inquiry was textbook case of obstruction. They showed video clips of Trump's attacks and said it amounted to "witness intimidation".
Whether this closing argument convinces the handful of Republicans that they need to hear more from the witnesses Democrats want to call, remains an open question. After many long days and hours of arguments and timelines that repeat the facts of the case, they all likely know well by now that the senators have been growing restless.
Republicans have largely stood by Trump, and because they hold a majority in the Senate, Trump is likely to be acquitted of both charges.
The President's team will begin it's opening arguments Saturday. Saturday's session is expected to take place from 10am-1pm.
Comments
comments
Lawmakers Introduce Senate Bill Making Attacks on Police Officers a Federal Crime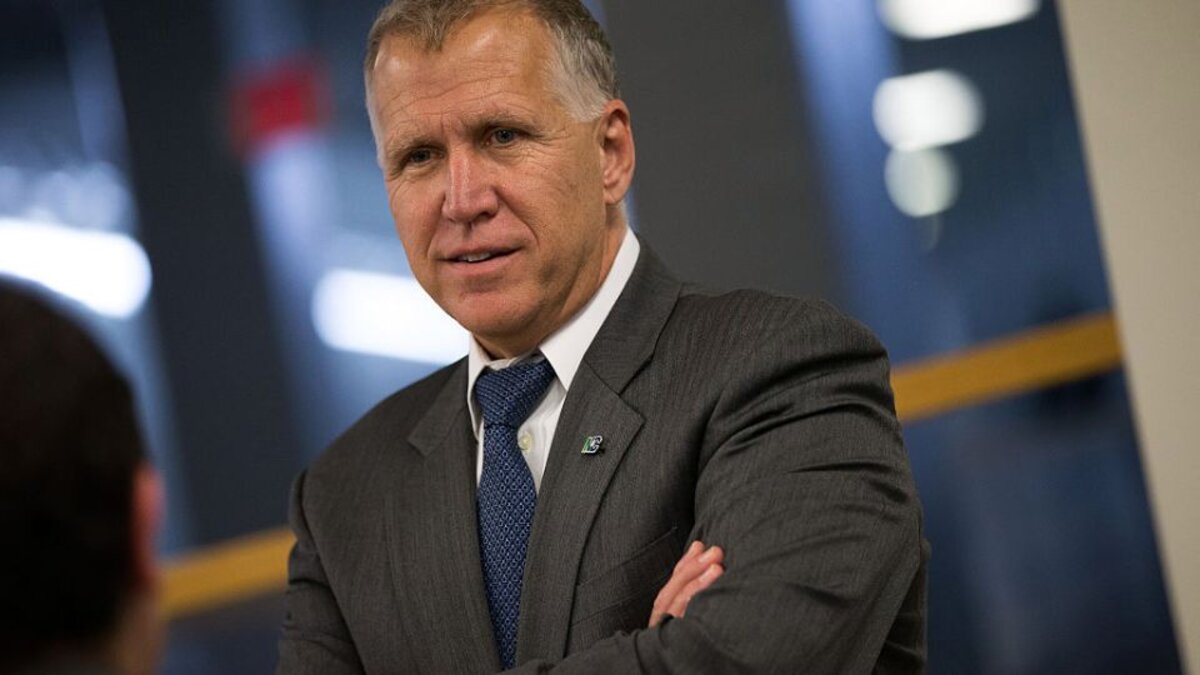 Several U.S. senators have presented the "Protect and Serve Act", legislation that would create federal penalties for those who purposely target local, state, or federal law enforcement officers with violence.
What We Know:
The Protect and Serve Act was presented on Thursday by Senator Thom Tillis of North Carolina.
Proud to sign on to Protect & Serve Act. Criminals who target police should pay the highest price. Our brave men and women in law enforcement put their lives on the line, and the cowards who seek to harm them need to be sent a clear message: Target police, and you will pay. https://t.co/JC9Tqiug5a

— Senator Mike Braun (@SenatorBraun) September 17, 2020
This bill would make it a federal crime to intentionally cause or attempt to cause serious bodily injury to an officer, with up to 10 years in prison for convictions. If the crime committed includes murder, attempted murder, kidnapping, or attempted kidnapping, the felon could receive a life sentence.
Senator Tillis mentioned police officers in North Carolina and across the country risk their lives every day to keep communities safe. The rise of these insensible acts of violence towards law enforcement officers, and causing injury or loss of life, is entirely unacceptable.
Senator Tillis also states he is committed to supporting the men and women who took an oath to protect us. This is why he introduces this bill that will create federal penalties for felons who attack police officers. Making reference to Sheriff Deputy from North Carolina Ryan Hendrix and officers in Los Angeles, hence its time to pass such a bill, letting criminals know the acts of violence are unacceptable, and there is no escape from justice.
The Protect and Serve Act has been endorsed by multiple law enforcement associations, including the Fraternal Order of Police and Major County Sheriffs of America.
Tillis said the Protect and Serve Act would face this problem by giving federal prosecutors the instruments needed to hold those responsible who target law enforcement for assault and attacks.
This law would pertain to federal law enforcement officers and would also pertain to state and local officers in situations where the federal government may establish jurisdiction over the case.
The proposed bill passed the House by a vote of 382 to 35 with support from both parties.
Comments
comments
Virginia Lt. Gov. Justin Fairfax Joins Black Women in Governor's Race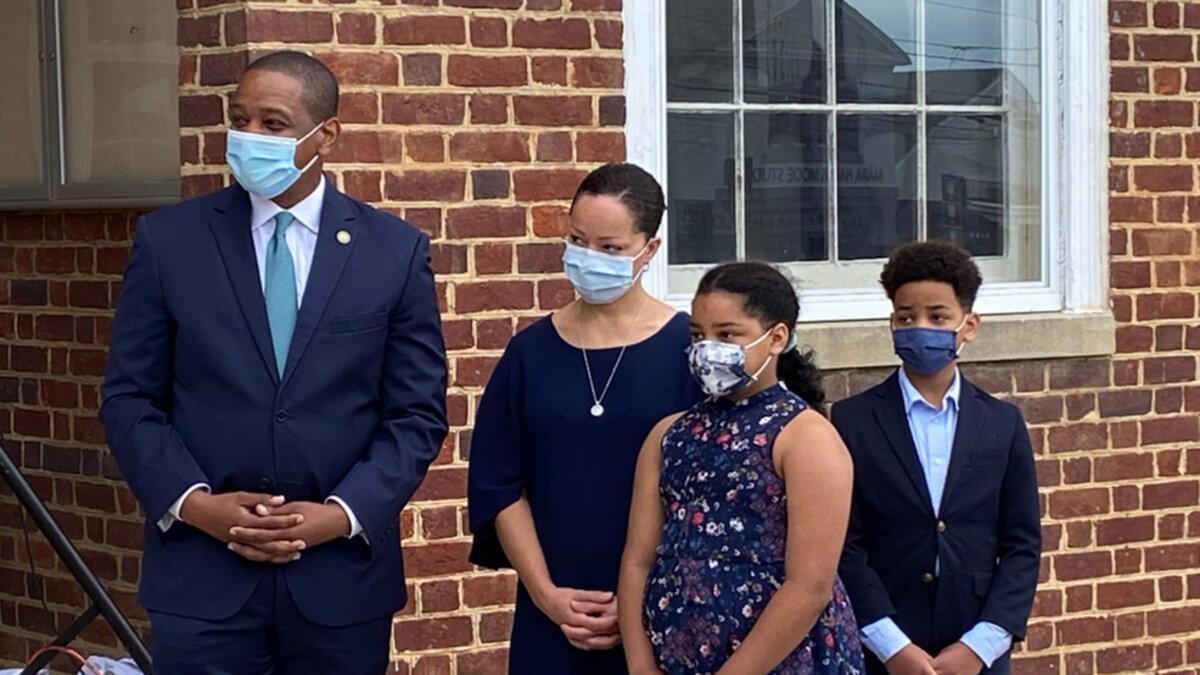 Virginia Lt. Gov. Justin Fairfax announced last Thursday that he formally kicked off his campaign for governor and events over the past weekend. This comes only a year after facing two high profile allegations of sexual assault.
What We Know:
Fairfax delivered a campaign speech at the Old Court House in Fairfax, Virginia, and has been encouraging his followers to head to early voting. There are currently three Black Democrats seeking the party's 2021 nomination to the governor's house, which includes Fairfax. The other two are Jennifer McClellan, an experienced Black politician who is serving her first term in the state Senate, and Jennifer Carroll Foy, another Black woman serving her second term in the state House.
Early voting starts Friday! #Virginia pic.twitter.com/EAOeJ5HYjC

— Justin Fairfax (@FairfaxJustin) September 15, 2020
With this roster of candidates in the mix for the nomination, it should be interesting to see who ultimately wins the gubernatorial race in November 2021. Regardless of who wins, that candidate will be the second Black governor in Virginia's history.
The person would also be the third Black person ever elected governor in U.S. history, a title Stacey Abrams could have held years earlier but lost to the current governor of Georgia Brian Kemp. Should Foy or McClellan win in Virginia, they would be the first Black woman to do so in American history.
Historically, the two previous governors were Douglas Wilder, a Democrat elected as Virginia's first Black governor in 1989, and Deval Patrick, another Democrat elected as Massachusetts Black governor in 2006.
Moreover, other instances where a Black person held the position was Democrat David Patterson taking over as New York state governor in 2018 following the resignation of Gov. Eliot Spitzer. During the Reconstruction Era, Republican P. B. S. Pinchback was sworn in as the first Black governor in U.S. history to serve the remainder of the previously impeached Louisiana Gov. Henry Warmoth's term.
Fairfax received heavy backlash from other Democrats earlier last year when two women, Meredith Watson and Vanessa Tyson, came out to accuse him of sexual assault. Watson attended Duke University with Fairfax and claimed he raped her in 2000. California professor Tyson, on the other hand, said that Fairfax forced her to perform oral sex at the Democratic National Convention (DNC) in Boston in 2004.
Fairfax has since denied any and all allegations. He referred to these claims as a part of an attempt at ending his political career. He told the Associated Pressed that "the voters are incredibly smart. They see through this kind of destructive, politically motivated kind of politics. And they are ready to move to higher ground."
Comments
comments
Barack Obama Memoir to be Released November 17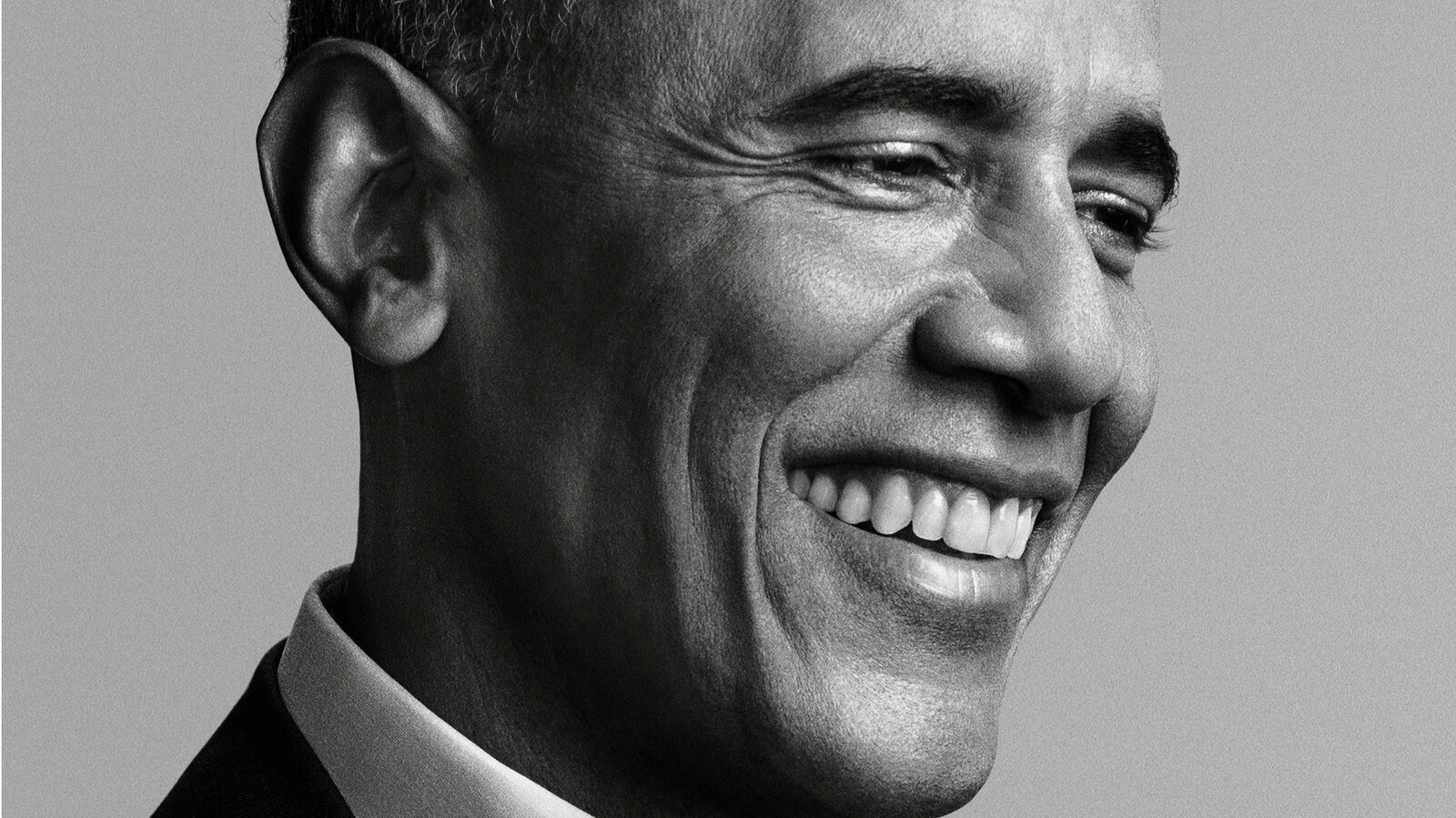 The former president announced Thursday that he will be releasing the first volume of his long-awaited memoir two weeks after the election, the Chicago Tribune reported.
What We Know:
Obama's book will be titled A Promised Land and will cover his rise to the White House as well as his first term. The 768-page book is the first of the president's memoirs. Though the second book has not yet been announced, it is expected that more will follow.
There's no feeling like finishing a book, and I'm proud of this one. In A Promised Land, I try to provide an honest accounting of my presidency, the forces we grapple with as a nation, and how we can heal our divisions and make democracy work for everybody. pic.twitter.com/T1QSZVDvOm

— Barack Obama (@BarackObama) September 17, 2020
"I've spent the last few years reflecting on my presidency, and in 'A Promised Land' I've tried to provide an honest accounting of my presidential campaign and my time in office: the key events and people who shaped it; my take on what I got right and the mistakes I made; and the political, economic, and cultural forces that my team and I had to confront then — and that as a nation we are grappling with still," an Obama statement read.
He added that the book details some of his own feelings about the times we are living in today and how we can work to get back on the right track. The work is expected to do incredibly well with sales, already announcing its printing of 3 million copies. James Daunt, CEO of Barnes & Noble, believes the book has the potential to compete with Harry Potter. "This will be a book of rare consequence. That it will sell as no other book has done since July 21, 2007 is immensely cheering to booksellers," he stated.
A Promised Land is not the first book from President Obama, who has been referred to as the best literary president since Abraham Lincoln. He also authored Dreams from My Father and The Audacity of Hope before his race for the White House in 2008.
The memoir's release date was set for November 17th so as to not overshadow the importance of this year's election.
Comments
comments