New York Deli Offers Free Food For Customers That Solve Simple Math Problems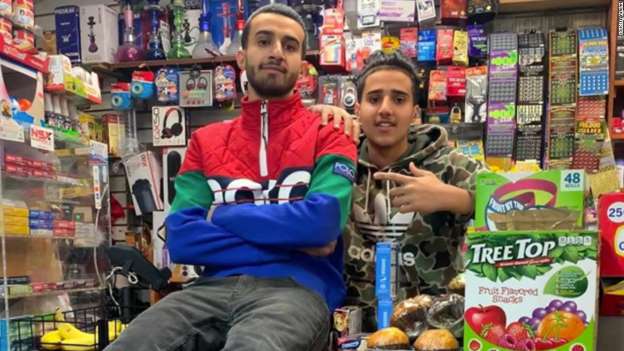 Some of the late night cravings and low funds you'd expect to find at a New York deli and convenience store is a completely different experience you may receive at Lucky Candy Deli store in the Bronx.
What We Know:
A sandwich, a soda, or maybe a chocolate bar to satisfy a midnight craving may be free to the community all thanks to the cashier Ahmed Alwan.
Two weeks ago, 20-year-old Alwan decided to start playing a game with shoppers and since has gone viral.
The rules are simple: If you can solve a math equation, you get five-seconds to grab anything you want off store shelves and have it for free.
So those who answer correctly can grab anything from chips and ice cream to speakers and hookahs, but no matter how much they grab, or how valuable the items are, their cost is always the same $0.
Alwan told CNN, "All I want to do was help people, But I wanted to make it fun. So I made a TikTok and chose a challenge, asking them a math question. It's a way to entertain and educate people in need while putting a smile on their face, too."
Only two weeks and 13 videos in, Alwan has gained over 300,000 followers on TikTok and 17,000 on Instagram since posting the video.
Alwan said, "This changed our relationship with the community big time. They're all showing me so much love and lining up at the store just for a chance to play. We have so many visitors coming to take pictures and say hi. But it's not about me. It's about the community."
Alwan has future plans to make more videos and be more creative with his questions. He even started a GoFundMe to support the game and enable him to help more people.
Comments
comments
NJ Woman, Who Broke Elderly Woman's Leg Over Mask Request, Arrested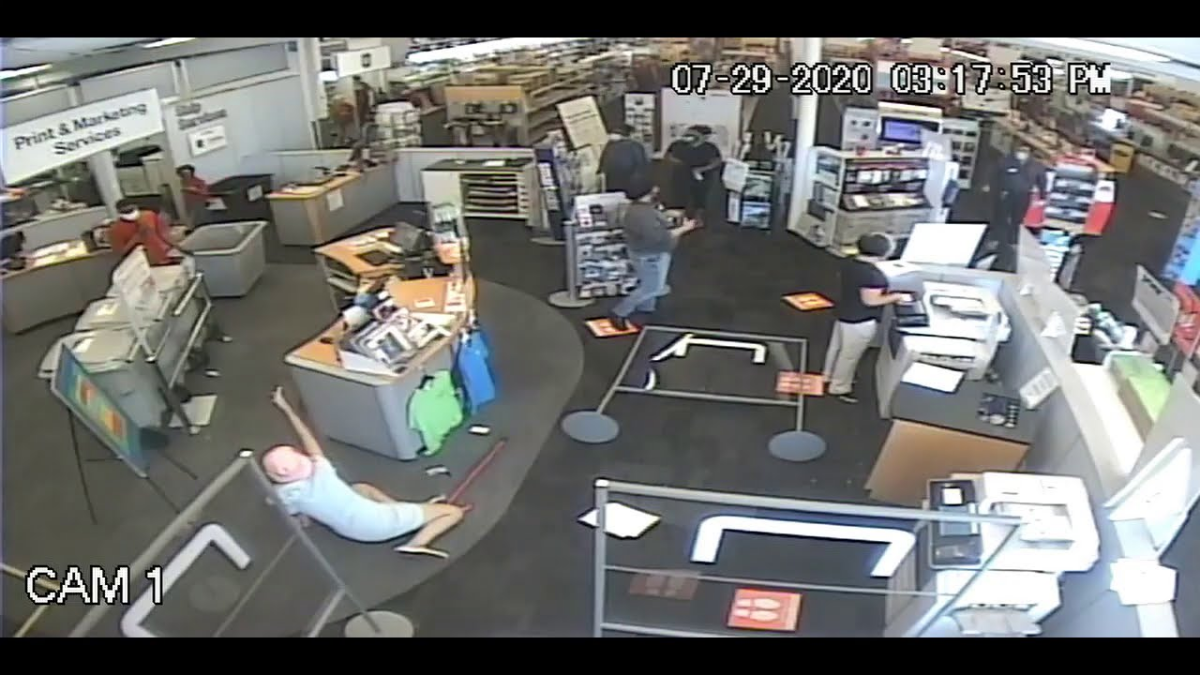 A 25-year-old New Jersey woman was arrested after assaulting and breaking an elderly woman's leg. 
What We Know:
In Hackensack, New Jersey, 25-year-old Terri Thomas was arrested after attacking an elderly woman with a cane at a Staples. The violent encounter was captured on surveillance camera and although there wasn't audio, an altercation was evident. 
In the video, the elderly woman, Margot Kagan, 54, was using a copy machine and Thomas was leaving the machine next to Kagan. Kagan turns around to say something to Thomas, who turns back around and angrily approaches Kagan pointing her finger. Kagan uses her cane for protection and points it at Thomas' chest but Thomas gets a hold of Kagan and throws her to the ground like a rag doll, breaking her leg. 

"The suspect became angry and yelled at the victim, who picked up her walking cane and pointed it directly at the suspect, coming within inches of the suspect's chest," Capt. Darrin DeWitt from the Hackensack Police Department said. "The woman yelled at Kagan, violently threw her to the ground, and left the store." 

From her hospital bed, Kagan insisted to the local media that she only told Thomas that she "should really put a mask on". "The woman on one side of the plastic dividers had a mask, but here, below her mouth," Kagan said. 

Not only did Kagan suffer a broken leg, but she also fractured her left tibia and recently she had a liver transplant. 
There's a GoFundMe for Kagan to help with medical expenses and over $4,000 has been raised. The campaign says, "Ms. Kagan has school-aged children in the district. We are hoping to raise money to help with any of her medical bills associated with this, and any additional help the Kagan family may need during this very difficult time."
Comments
comments
Black Radio Host Exits BBC After Station Allows Reporter to Use N-Word in News Report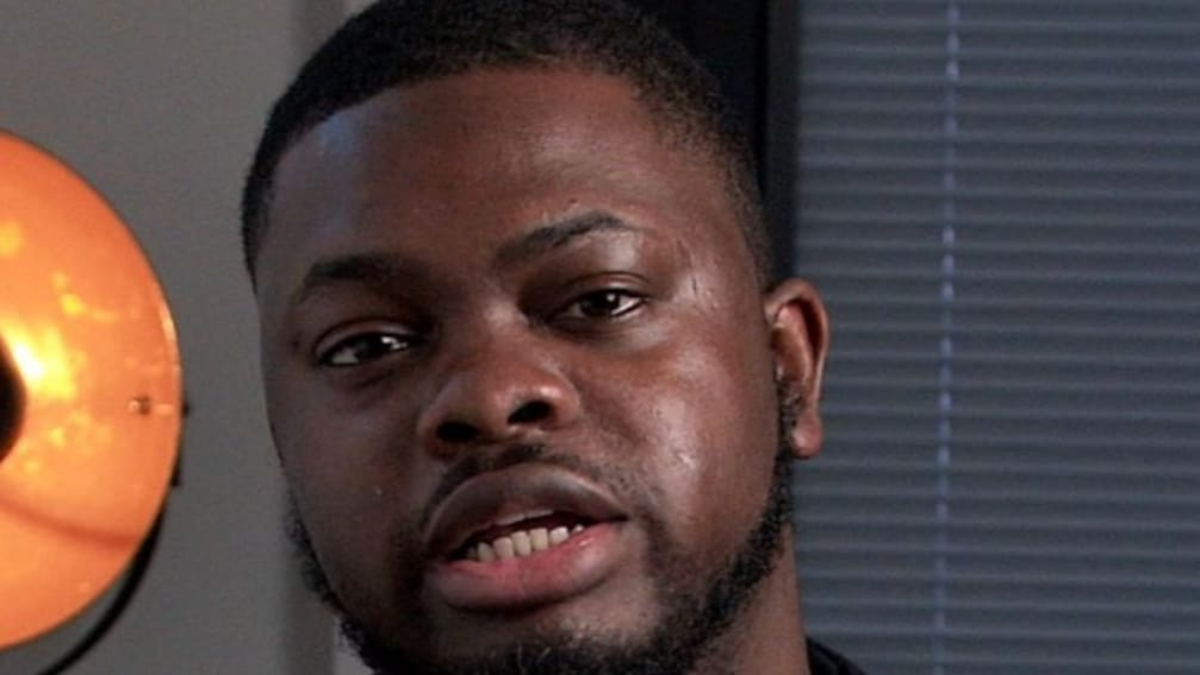 A Black radio host resigned from BBC after the network allowed its reporter to use a racial slur during a televised news story. 
What We Know:
David Whitely, a Black radio host who goes by DJ Sideman and was on the "BBC Radio 1Xtra" show announced on Saturday in a video posted to Instagram that he was quitting after the BBC journalist Fiona Lamdin said the n-word during a broadcast of "Points West" on July 29. 
View this post on Instagram
"…the BBC sanctioning the n-word being said on national television by a white person is something I can't rock with," Whitely said in the post. "This is an error in judgment where I can't just smile with you through the process and act like everything is OK, this feels more than getting it wrong. The action, and the defense of the action, feels like a slap in the face of our community."
Lamdin is a BBC social affairs correspondent who was explaining the incident of a crime where a health-care worker was hit by a vehicle. "Just to warn you, you're about to hear highly offensive language because as the man ran away they hurled racial abuse, calling him a [n-word]," Lamdin said. 

Twitter user @laurellah captured Lambdin saying the offensive during the broadcast on her cell phone and shared it on Twitter. By Sunday morning, it collected over 8,000 retweets. More than 18,600 people complained after the word was used and, at first, BBC defended the use. 
Yeah I'm a bit gobsmacked https://t.co/nCo3yCtxo3 pic.twitter.com/cUIzUzkLcu

— laurellah 🦔 (@laurellah) July 29, 2020
"In this specific context we felt the need to explain, and report, not just the injuries but, given their alleged extreme nature, the words alleged to have been used – a position which, as we have said, was supported by the family and the victim," BBC said. But

BBC director-general Tony Hall did apologize and acknowledged that using the slur was a mistake and that they should've taken a different approach.
Larry Madowo, a US correspondent for BBC, tweeted about how he was banned from using the racial slur in an article when quoting an African American but Lamdin was allowed to say it on air because it was "editorially justified".
Comments
comments
Donald Trump Asks to be Added to Mount Rushmore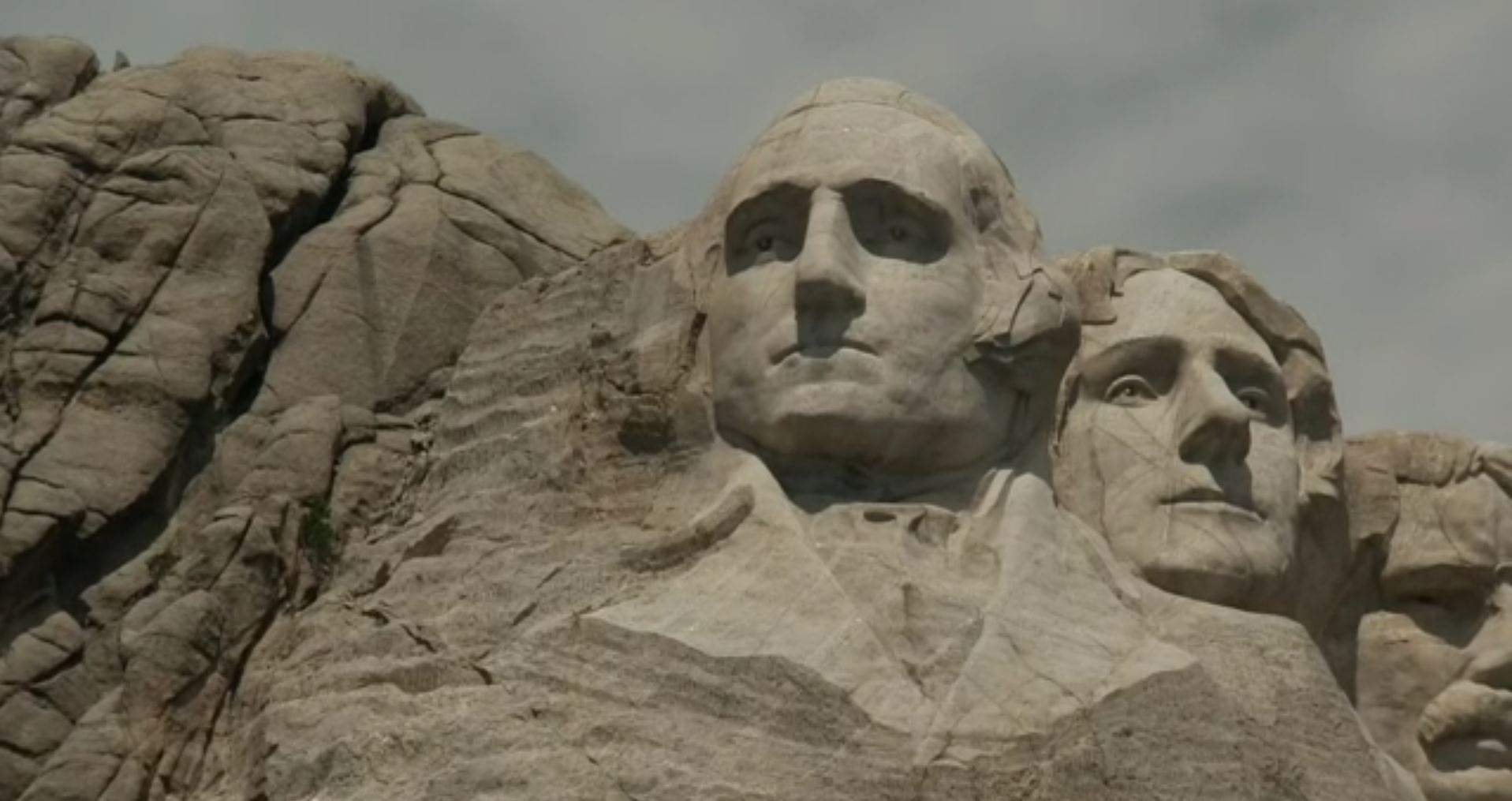 The White House reached out to South Dakota Governor Kristi Noem last year about the process of adding more presidents to Mount Rushmore.
What We Know:
Mount Rushmore is located in the Black Hills region of South Dakota. The monument includes the faces of U.S. presidents George Washington, Thomas Jefferson, Theodore Roosevelt, and Abraham Lincoln. The man who carved Mount Rushmore, Gutzon Borglum, chose the presidents because "they all played important roles in American history".
According to the New York Times, last year a White House aide reached out to Governor Noem inquiring "What's the process to add additional presidents to Mount Rushmore?" Following this conversation, last month Donald Trump visited South Dakota for 4th of July celebrations where he was greeted by Governor Noem with a Mount Rushmore replica that included Trump in hand.
Donald Trump has been fascinated with having his face added to Mount Rushmore for a long time. In 2017, he made a remark about being added to the monument at an Ohio rally.
Last night President Trump denied all claims on Twitter saying, "This is Fake News by the failing @nytimes & bad ratings @CNN. Never suggested it although, based on all of the many things accomplished during the first 3 1/2 years, perhaps more than any other Presidency, sounds like a good idea to me!"
However, Maureen McGee-Ballinger, Mount Rushmore National Monument chief of interpretation and education, quickly ended the debate stating "…to maintain both the integrity of the structure and the artist's concept, there is no procedure for adding another likeness, the sculpture is complete".
Though President Trump would like to deny his desire to be added to Mount Rushmore, the White House confirmed that the inquiry about adding another president to the monument happened. Although it appears that the monument is closed for business, it is interesting to theorize if Gutzon Borglum would consider Trump a president that played an important role in American history.
Comments
comments