Just in time for a heartfelt Valentine's Day gift.
What We Know:
In an innovative marketing move, KFC and Crocs have joined forces to unleash comfortable slip-ons with tops resembling the crispy breading of the delicious, world-famous poultry, while the bottoms feature the red and white stripes of the iconic container.
The kicks come in two versions: The Classic Clog for your everyday, causal look and the Bucket Clog, which is similar to the classic but includes a 4.5-inch heel, perfect for any date night or red carpet soiree.
Both pair of shoes comes also come with two Jibbits Charms, which you can stick in the holes of your crocs for decoration. Instead of smiley faces and rainbows, these charms, of course, are shaped like fried chicken drumsticks and they smell like fried chicken, too.
The website makes sure to include a warning that the charms are not for human consumption.
https://twitter.com/OfficiallyPatty/status/1227663914932015106?s=20
Social media was sure to make their mark on this outlandish roll out as one user posted, "No longer finger lickin' good," as another admitted, "Every day we stray further from God's light."
Crocs has also collaborated with Post Malone, Balenciaga, Christopher Kane and more. Artist Me Love Me a lot (MLMA) wore a platform version of the KFC crocs to runway shows during New York Fashion Week on Tuesday.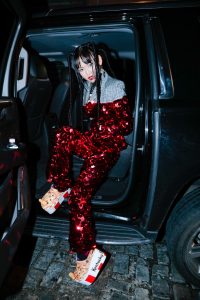 Comments
comments