Teyana Taylor and Husband Iman Shumpert Expecting Second Daughter: 'We're Very Excited'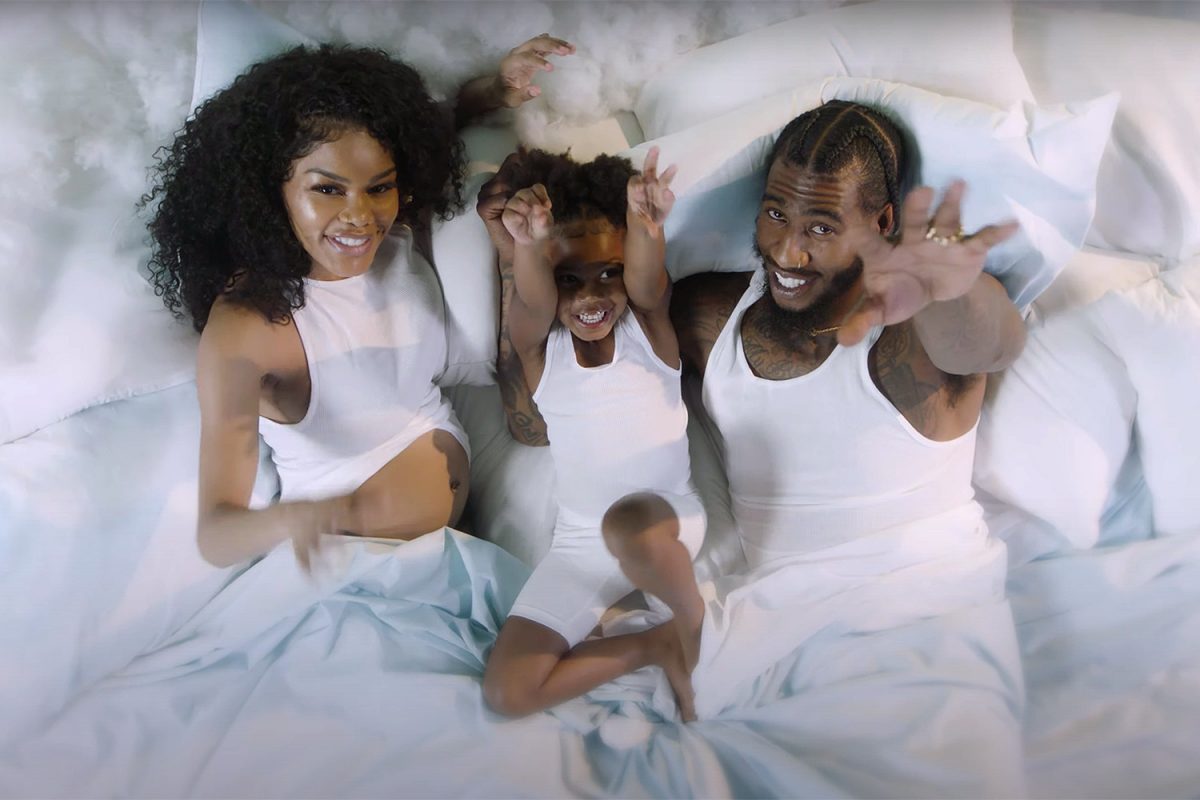 The multitalented Teyana Taylor and professional basketball player Iman Shumpert are expecting their second child.
What We Know:
Taylor, 29, announced her pregnancy in her music video for the new song "Wake Up Love," released Friday.
As the two cuddles together in bed surrounded by clouds, the couple – who have been married since 2016 – reveals there is no trouble in paradise. In her signature sultry lyrics, Taylor beckons her beloved and calls him to please her in the morning, something the sheets or herself will not accomplish.
At the end of the video, Taylor is seen in bed with Shumpert and their 4-year-old daughter, Iman Tayla, aka Junie. Taylor pulls up her shirt to show her baby bump. After the reveal, Junie can be seen be seen in the video playfully pushing her father's hand away so that she can have full access to her mom's bump – which, Taylor says, is par for the course for the youngster.
Taylor confirmed the news in a statement to People and said she is expecting a baby girl. Taylor says Junie is "so excited" to become a big sister.
Taylor and Shumpert – who also raps a verse on "Wake Up Love" – have a lot of names in mind for their baby girl on the way, Taylor says Junie "keeps changing it."
"Kids handle siblings differently. You have kids that are a little bit jealous. But she's so excited and preparing herself to be a big sister. She constantly kisses my stomach; she constantly talks to the baby. Even when we go to the store, she's like, 'Okay, mom, this is for the baby'. She's so ready. She's going to be such a great big sister."
Taylor first told Junie about the baby about a month after she found out she was pregnant – but capturing her reaction on film did not quite go as planned. Taylor brought out her camera. "When it finally happened and I told her, she was like 'Are you kidding me?!'" Taylor says. "I was like, 'I'm serious!' She covered her face and she put her hands back out and she was like, you're kidding! I'm having a sister?'"
"I remember getting so mad at Iman because the TV was so loud," Taylor says. "Even when it was not super loud, the phone camera picks it up. In the midst of getting this beautiful reaction, I'm telling Iman, 'Babe, turn the TV down. Mute the TV.' He keeps turning it down rather than muting it. I'm like, 'Mute the TV!' I remember being so mad because I never get to catch anything. Junie is so ahead of her time that people always think I made it up. But I still have the video, and it's super cute."
Taylor shared new family photos in March from a trip to Disney World.
Taylor is expected to release her third studio album, The Album, this month. Shumpert last played in the NBA for the Brooklyn Nets.
Comments
comments
Amanda Gorman Lands Cover of Vogue's May Issue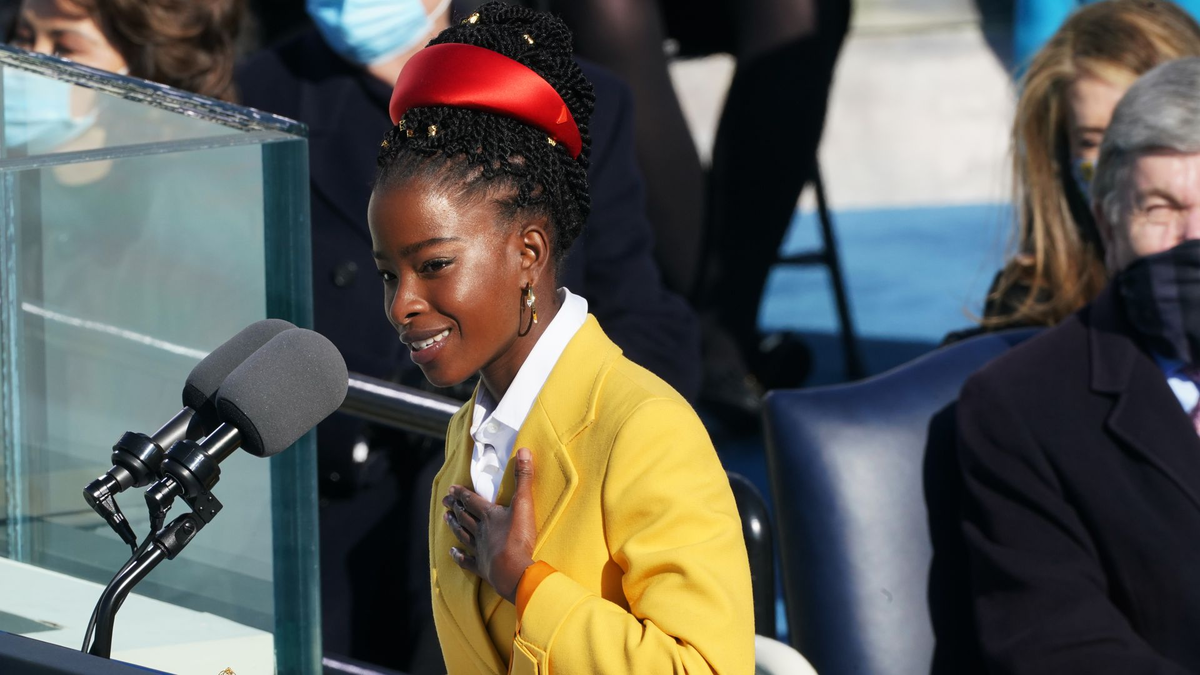 This makes Amanda Gorman the first poet presented on Vogue's cover.
What We Know:
Gorman emphasized her excitement on Wednesday when Vogue broke the news on Twitter. She said she was "honored" in her response. Not only is the 23-year-old the cover girl, but she is also the subject of the profile "The Rise and Rise of Amanda Gorman." In the issue, she shares lessons from her inauguration appearance, a modeling contract with IMG, and her thoughts on certain Democratic figures.
Gorman also recalls her family history. She specifically mentions how it helped her get to where she is today. She says her mother, a middle-school English teacher in Watts, taught her the importance of maintaining a wholesome image. Gorman notes her family has a united vision of literary and social success. Her family believes that one is successful if one inspires as many readers as possible.
"It took so much labor, not only on behalf of me, but also of my family and of my village, to get here," Gorman told Doreen St. Felix.
Additionally, Gorman voices her emotions before presenting at the inauguration of President Joe Biden. The Biden Inaugural Committee told her they wanted her to perform at the event in late December. At first, she felt flattered. She automatically began research on past poets like Maya Angelou and Elizabeth Alexander. Afterward, she became concerned. She worried about the coronavirus pandemic and the aftermath of the Jan. 6 insurrections. However, she felt the words of another poet would have been as inspiring.
St. Felix allows Gorman to recount how advisors motivated her before her reading. Oprah Winfrey told her she needed to look to Maya Angelou as an example. Joan Wicks, Gorman's mother, told St. Felix she encouraged Gorman to perform. Wicks says she sees her daughter as a writer whose duty is to serve democracy.
Gorman read her poem "The Hill We Climb" at the Jan. 20 presidential event. After this, Gorman finalized a contract with IMG Models, which had been in the works before her social debut. The partnership has presented her with more opportunities. These include having Penguin Random House as a publisher and being on the cover of TIME. However, she is wary about being categorized as a model. Since starting her career, she has rejected $17 million in offers. She proclaims she needs to be conscious of taking commissions that speak to her. Gorman affirms a campaign "isn't my body. It's my voice."
Besides being an up-and-coming model, Gorman has completed many literary and academic accomplishments. In 2014, she became the first Los Angeles poet laureate. She also won the title of first national youth poet laureate in 2017. In 2020, she graduated from Harvard University with cum laude honors and a Bachelor's degree in sociology. Gorman's future is preparing her for a legacy of inspiration for others.
Comments
comments
'Bridgerton' Star Turned Down $50,000 an Episode to Return to the Netflix Series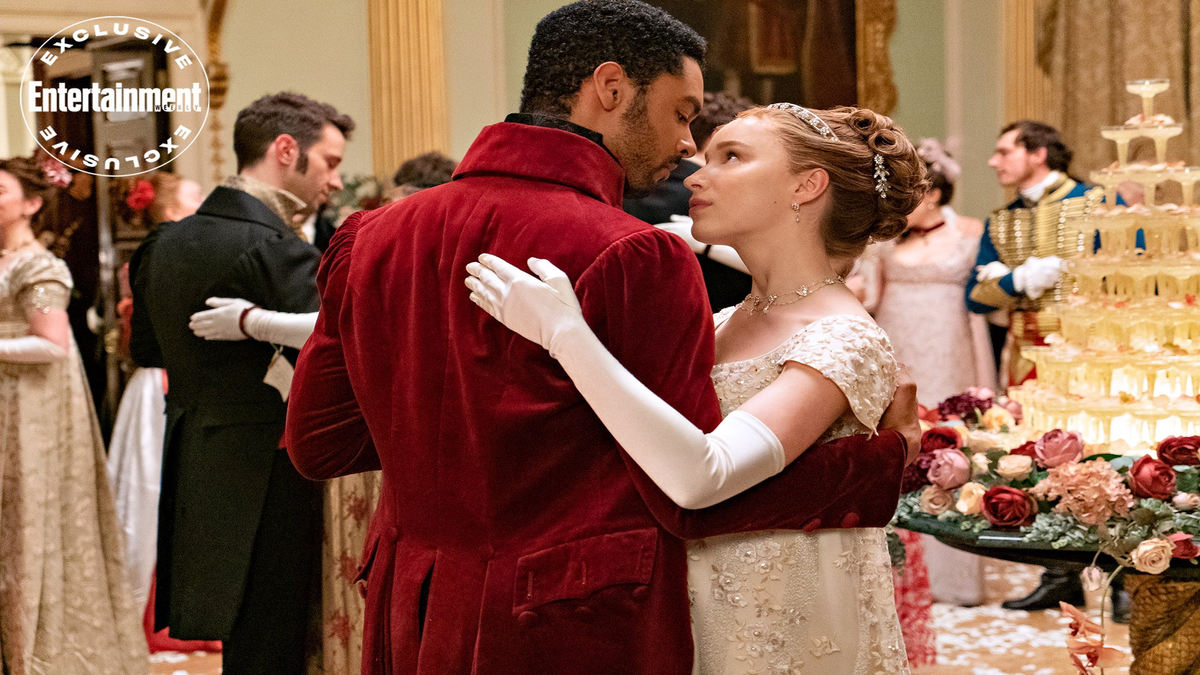 Bridgerton officials offered up-and-coming star Regé-Jean Page $50,000 for three to five guest appearances in season two of Netflix's hit show. However, he did not accept it because he wants to pursue his film career.
 What We Know:
Page's contract was only for one season. The reason behind this was that each of Bridgerton's seasons would focus on one of the eight Bridgerton siblings. The first season focuses on Daphne Bridgeton's love story with Page's character, Simon, the Duke of Hastings. The next set of episodes, which begins filming in spring 2021, will be about Anthony Bridgerton and Kate Sharma's relationship. The Shonda Rhimes-produced show follows the same course as author Julie Quinn's book series.
Us Weekly says production only reached out to Page about a possible return after becoming the series' main star. Regardless, he did not want to return as Simon for season 2. Page was drawn to Simon's part in the show because it was  a "one-season arc" with a "beginning, middle, end." Also, he claims it was always his intention to contribute his piece and allow the Bridgerton family to progress without him.
News of Page's departure from the series broke out on Twitter. The Bridgerton account released a statement from narrator Lady Whistledown's perspective. She stated that they said farewell to Page, "who so triumphantly played the Duke of Hastings." Whistledown mentioned that Simon will always be a beloved cast member. She ensured that Daphne would remain a "devoted wife and sister." She will assist her brother Anthony in navigating the upcoming social season.
Page will star in a few upcoming movies. He will act alongside Chris Evans and Ryan Gosling in Netflix's The Gray Man. He will also play the lead character in Dungeons and Dragons. The movie also features Chris Pine, Michelle Rodriguez, and Justice Smith.
Recently, Page won the NAACP Image Award for Outstanding Actor in a Drama Series. He received two Screen Actors Guild Awards nominations this weekend. One was for Male Actor in a Drama Series, and the other for Ensemble in a Drama Series. He told Entertainment Tonight that he learned many things from playing Simon. These include smiling more and being more affectionate with others.
Page posted on Instagram that Bridgerton was "the ride of a life time." He also responded to Lady Whistledown's tweet by saying it was a pleasure to be on the show. Page said, "the love is real and will just keep growing." The Hollywood Reporter wrote there is a possibility that Page could appear in future seasons. As of right now, Page has not announced a return.
Comments
comments
Kanye West Documentary 21 Years in the Making Sold to Netflix for $30M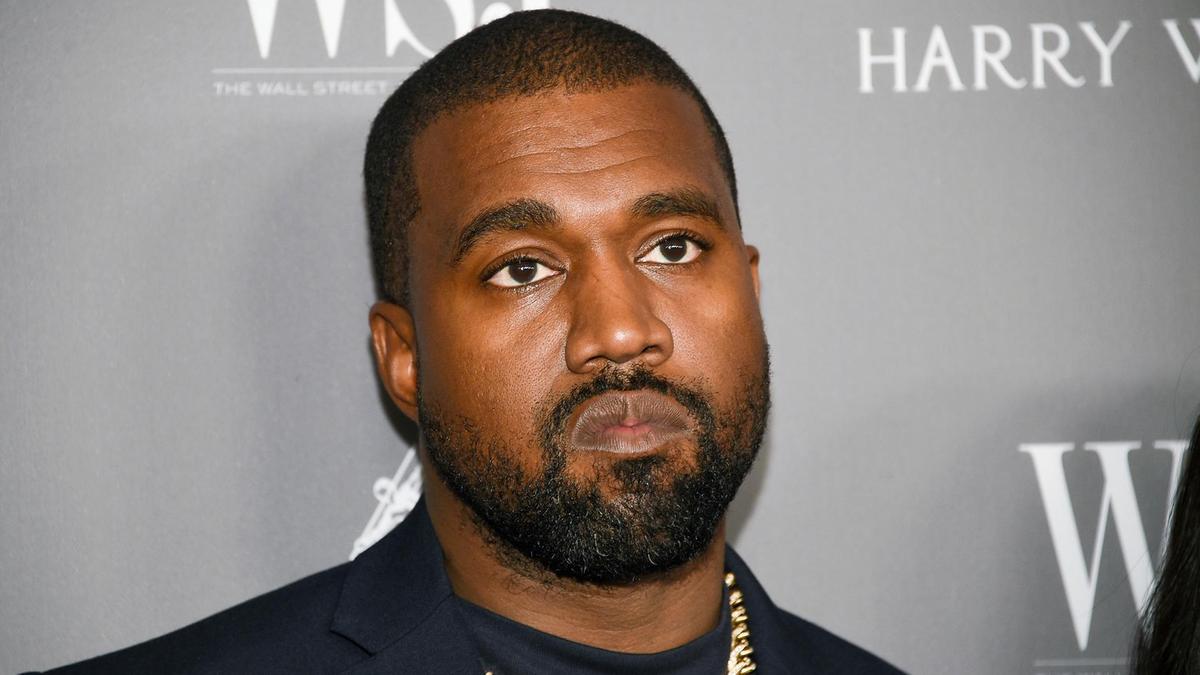 Rapper and designer Kanye West has just sold a documentary to Netflix for anywhere up to $30 million.
What We Know:
The documentary has been in the process for over two decad

es, capturing 21 years of Kanye's life

including his rise to fame, the loss of his mother Donda West, and his 2020 run for president of the United States. Fans might be wondering if his impending divorce to Kim Kardashian is captured in the documentary, but there have been no sources to confirm if Kim is even featured in the film.
According to the Independent, the project created by Time Studios is set

 to c

ombine 

private home videos, never-before-seen footage, and

 other moments 

of Kanye's life 

captured by 

filmmakers

Clarence "

Coodie

" Simmons and Chike 

Oza

h

 

to 

create

 

a multi-part docu-series.

Simmons has worked on other projects with 

the 

rapper including music videos for his songs "

Through

 the Wire" 

and the third version of "Jesus Walks".

Simmons has had a strong relationship with Kanye and began filming the rising star in Chicago back in the 1990s

. Their friendship is expected to "serve as the backbone" of the series.

 

Sources close to the rapper say that Kanye is not creatively involved in the 

project,

but has supported the filmmakers by allowing himself to be filmed for the

 last

 two

 decade

s

. A spokesperson for Netflix could not be reached for comment. 
The untitled documentary is expected to arrive on Netflix later this year. 
Comments
comments