White Couple Who Painted Over Black Lives Matter Mural Charged with Hate Crime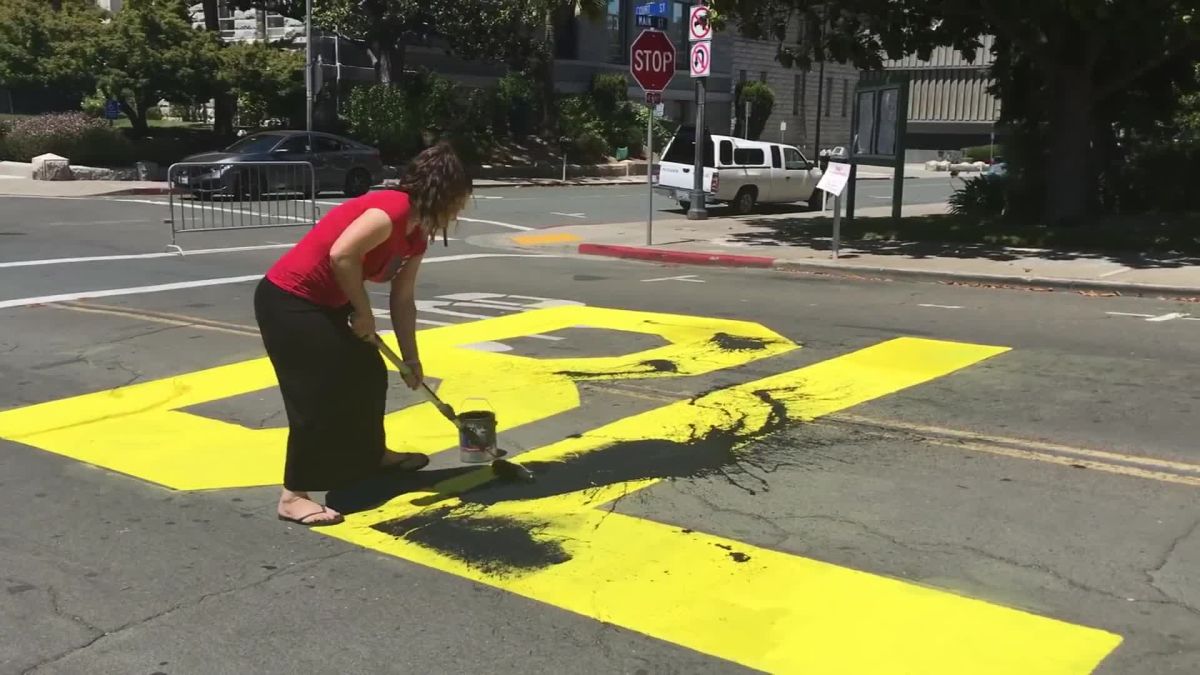 A white man and white woman who painted over a Black Lives Matter mural in California over the weekend have been charged with a hate crime.
What We Know:
David Nelson and Nicole Anderson were charged with three misdemeanors: a violation of civil rights, vandalism, and possession of tools to commit vandalism or graffiti when the two painted over a mural in front of a courthouse in Martinez, California on July 4.
Anderson was seen in a YouTube video wearing a red T-shirt and flip flops. She started painting over the mural with black paint. Nelson was wearing a red Trump shirt that read "Four More Years" and started filming Anderson. He said on video, "We're sick of this narrative, that's what's wrong. The narrative of police brutality, the narrative of oppression, the narrative of racism, it's a lie."
District Attorney Diana Becton said in a statement, "We must address the root and byproduct of systemic racism in our country. The Black Lives Matter movement is an important civil rights cause that deserves all of our attention." She says the mural was meant to promote peace and to communicate the importance of Black lives not only in Contra Costa Country but across the country.
When CNN reached out to Nelson, he said, "I have no comment – for you anyway." No comments have been made by Anderson.
Martinez Police Chief Manjit Sappal says the community spent a "considerable amount" of time painting the mural all for two people to destroy it. He says the community received a permit to paint the mural on July 4.
The mural has since been repainted and the area where the mural is located has been blocked off. Nelson and Anderson have been sent notices to appear in court and if they are convicted of the misdemeanor charges, each could face up to a year in the county jail.
Comments
comments
Three Men Charged with Threatening and Intimidating R. Kelly Accusers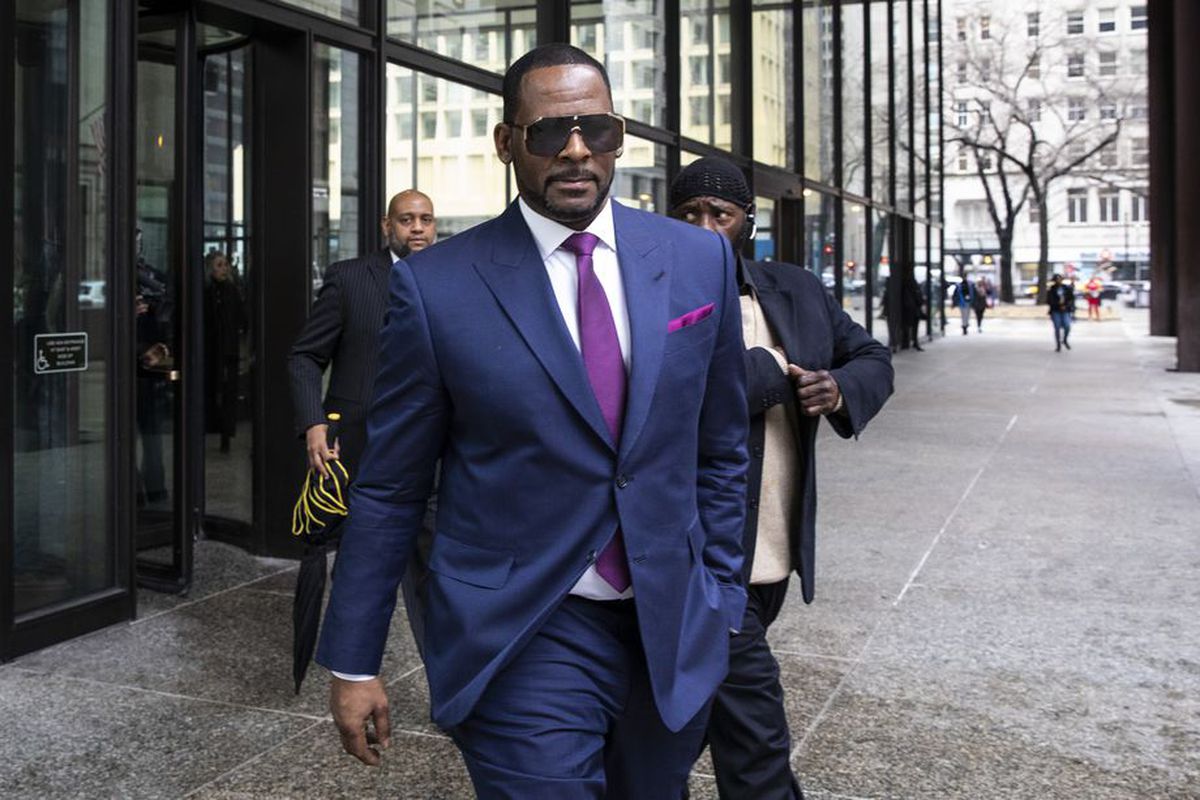 On Wednesday, federal prosecutors announced charges against three men accused of threatening, intimidating, or bribing women who have accused R&B artist R. Kelly of abuse in an attempt to silence them.
What We Know:
Michael Williams, Donnell Russell, and Richard Arline Jr. are charged with separately trying to intimidate or influence the testimony of the women named as victims in the New York federal case against the musician, according to the US Attorney's Office in Brooklyn. "The men charged today allegedly have shown that there is no line they will not cross to help Kelly avoid the consequences of his alleged crimes — even if it means re-victimizing his accusers," Peter Fitzhugh, special agent in charge of the Homeland Security Investigations in New York, said in a statement.
The criminal complaint against Williams alleges that he intimidated and misled one of the victims in an attempt to influence her testimony against Kelly. Williams was also suspected and charged with setting a vehicle on fire outside a home where the alleged victim was staying. In a news release, authorities said Williams additionally conducted internet searches for "the detonation properties of fertilizer and diesel fuel, witness intimidation and witness tampering and countries that do not have extradition with the United States." On Tuesday, he was arrested in Florida.
According to another complaint, Russell, a manager and advisor to Kelly, threatened to release sexually explicit photographs of a woman who sued Kelly, saying he would release the photos if she did not withdraw her civil lawsuit against Kelly seeking damages. Prosecutors also said Russell threatened the mother of the alleged victim through text messages, writing "Pull the plug or you will be exposed". He is expected to appear in the Eastern District of New York before a judge at a later date.
A third complaint filed against a longtime friend of the indicted singer, alleges Arline Jr. offered to pay a victim $500,000 to keep her from cooperating in Kelly's prosecution. Arline Jr. attempted to persuade the testimony of the alleged victim by trying to bribe her "with intent to influence her testimony as a witness". On Wednesday, he was arrested in Illinois where he was brought before a federal judge the day before in Chicago.
Kelly, a Grammy-award winning musician, has denied ever abusing anyone, pleading not guilty to dozens of state and federal sexual misconduct charges in Illinois, Minnesota, and New York. The charges against him range from sexual assault to heading a racketeering scheme aimed at supplying Kelly with girls. In Minnesota, Kelly has also been charged with two counts of prostitution with a minor. The singer is also accused of having unprotected sex with a girl in 2015 without disclosing he had herpes.
A defense attorney for Kelly said he had "no involvement whatsoever" in any attempt to silence witnesses. "He hasn't attempted to intimidate anyone, or encouraged anyone else to do so," attorney Steve Greenberg said on Twitter.
We just learned of the charging of several so called "associates" of R. Kelly. Without question, Robert Kelly had nothing to do with any of these alleged acts by those charged. He hasn't attempted to intimidate anyone, or encouraged anyone else to do so. No involvement whatsoever

— Steve Greenberg (@SGcrimlaw) August 12, 2020
The singer is currently being held in federal custody in Chicago while awaiting a federal trial for child pornography and sexual exploitation of children in Illinois. It is unclear whether Kelly's Brooklyn federal trial will begin in late September as scheduled, due to coronavirus concerns.
Comments
comments
Georgia Man Catches Federal Charges for Price Gouging Masks During Pandemic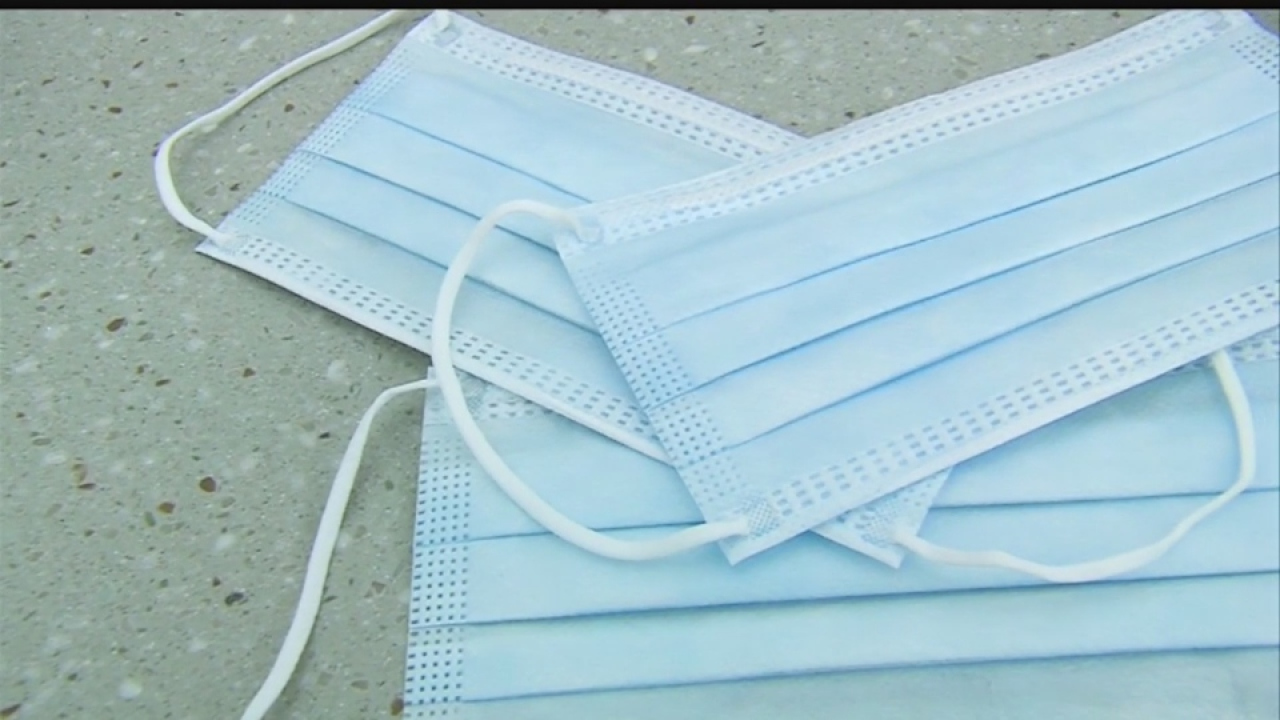 On Thursday, a Stockbridge businessman was arraigned on federal charges for hoarding and price gauging N95 masks during a global pandemic.
What We Know:
Milton Ayimadu, also known as Don Milton, 22, was arraigned on federal charges of hoarding and price gouging in violation of the Defense Production Act of 1950 (DPA). According to a press release from the U.S. Attorney's Office of the Northern District of Georgia, Ayimadu was charged by a criminal information. No official court records have been found regarding his case.

In the press release, U.S. Attorney Byung J. "BJay" Pak claims "Ayimadu allegedly saw the unprecedented COVID-19 global pandemic as an opportunity to make a profit. Desperate to find personal protective equipment during the pandemic, thousands of customers unfortunately paid his inflated prices."

The claims against Ayimadu state that from early March to May, Ayimadu engaged in hoarding and price gouging of more than 200,000 face masks in violation of the DPA, which President Trump invoked on March 18. On March 25, the Secretary of Health and Human Services, with authority delegated by the President, designated certain health medical resources as scarce materials under the DPA – including face masks that cover the user's nose and mouth.

The businessman allegedly purchased more of the face masks from a foreign country for approximately $2.50 each only to re-sell them to Americans, through his website, BabyPuuPu.com, for double the price. During the two months in which he sold the masks, he engaged in over 22,000 financial transactions. While he priced his masks higher than the general market prices at the time to, allegedly, maximize his profits to "the detriment of consumers desperate for personal protective equipment during the COVID-19 pandemic," manufacturers of authentic N95 masks continued selling masks for the pre-pandemic price of under $2.00 per mask.

The case is being investigated by the F.B.I., U.S. Immigration and Customs Enforcement's Homeland Security Investigations, Internal Revenue Service Criminal Investigation, and the U.S. Postal Inspection Service. Assistant U.S. Attorneys Tal C. Chaiken and Russell Phillips are prosecuting the case. Attorney General William P. Barr created the COVID-19 Hoarding and Price Gouging Task Force, led by Craig Carpenito, U.S. Attorney for the District of New Jersey, who is coordinating efforts with the Antitrust Division and U.S. Attorneys across the country wherever illegal activity involving protective personal equipment occurs.

Acting Special Agent in Charge, Robert Hammer, who oversees Homeland Security Investigations (HSI) operations in Georgia and Alabama, made a statement. "When the nation needed face masks the most, Ayimadu decided to turn our fears into dollars. HSI and its partners are working diligently to investigate and arrest those criminals that have decided to use illegal business practices to increase their profits during this global pandemic."
No information has been released regarding Ayimadu's plea. U.S. Attorney Pak made a note to remind the public that the defendant is presumed innocent until proven guilty in a court of law.
Comments
comments
TSA: More Loaded Guns Found at Checkpoints Despite Fewer Travelers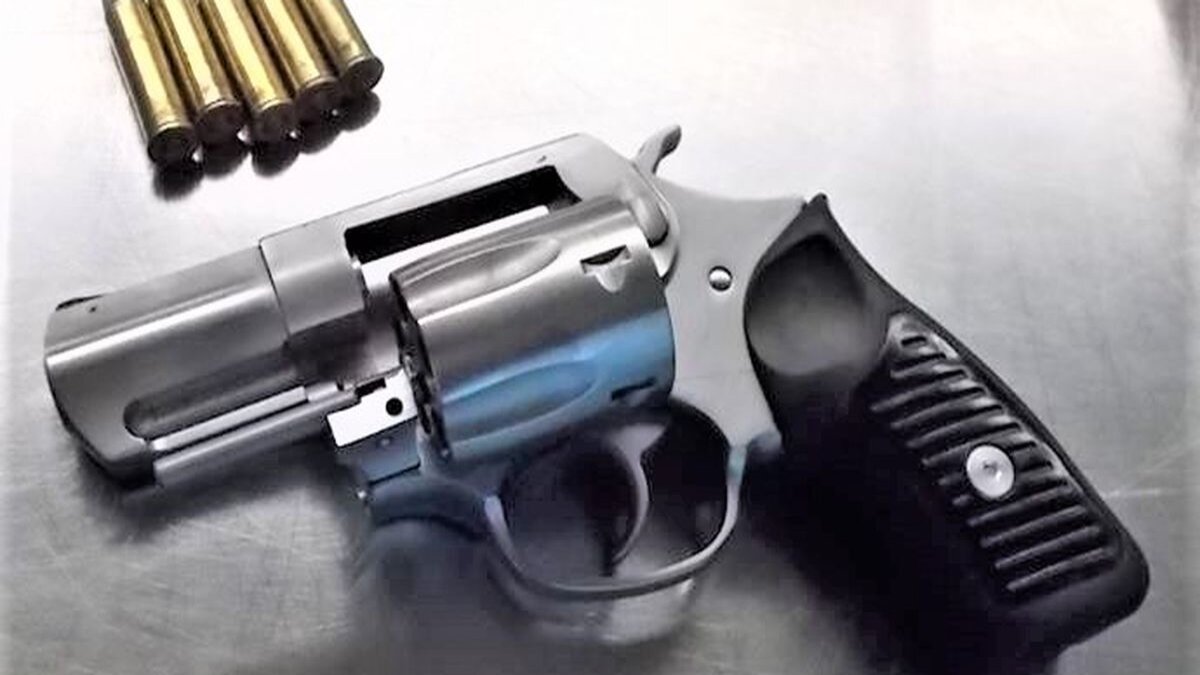 TSA is seeing three times as many guns compared to last year despite reduced passenger volume.
What We Know:
Transportation Security Administration officials have discovered 15.3 weapons per million people in carry-on bags in comparison to the 5.1 weapons per million people inspected during July 2019. The rate is alarming given that TSA inspected about 75% fewer passengers in July 2020 over the previous year's volume.
In July #TSAofficers detected guns in carry-on bags at a rate 3X higher than in 2019. In July 2019 officers detected 5.1 guns per million travelers. This July the number was 15.3 guns per million travelers. Learn how to properly travel with your firearm at https://t.co/s6SDKTlUcB pic.twitter.com/ghCcFA4mQJ
— TSA (@TSA) August 10, 2020
The suggested civil fine for an unloaded firearm begins at $2,050 and it starts at $4,100 for a loaded gun. The penalty may go up to a maximum of more than $10,250 per fine, depending on the conditions. The complete list of sanctions is posted on the website.
Further financial penalties for individuals who break the rules regarding traveling with firearms will have their trusted traveler status and TSA PreCheck expedited screening benefits canceled for a while. The period of the disqualification will depend upon the gravity of the offense and a repeated history of violations.
TSA Administrator David Pekoske stated that "TSA is diligently working to ensure our employees and passengers are safe and secure while traveling during a pandemic. Yet we are noticing a significant increase in loaded firearms coming into checkpoints." He continued to say, "Travelers must understand that firearms are prohibited items at airports and in the passenger cabins of aircraft. As hard as we are working to mitigate other risks at this time, no one should be introducing new ones."
Last year, 4,432 firearms were found nationwide in bags at checkpoints across the country, averaging about 12.1 guns per day. It was about a 5% increase nationwide in firearm findings from a total of 4,239 discovered in 2018. Eighty-seven percent of the firearms found at checkpoints last year were loaded.
Passengers are authorized to travel with firearms in a checked bag if they are correctly packaged and revealed at check-in with the airline. Firearms must be emptied, packed in a hard-sided case, locked, and packed separately from ammo. TSA has details on how to correctly travel with a gun posted on its website.
Airlines may have additional demands for traveling with firearms and ammunition. Travelers should also reach their airline about firearm and ammunition carriage policies.
Comments
comments