Majority of Voters Say U.S. Is Racist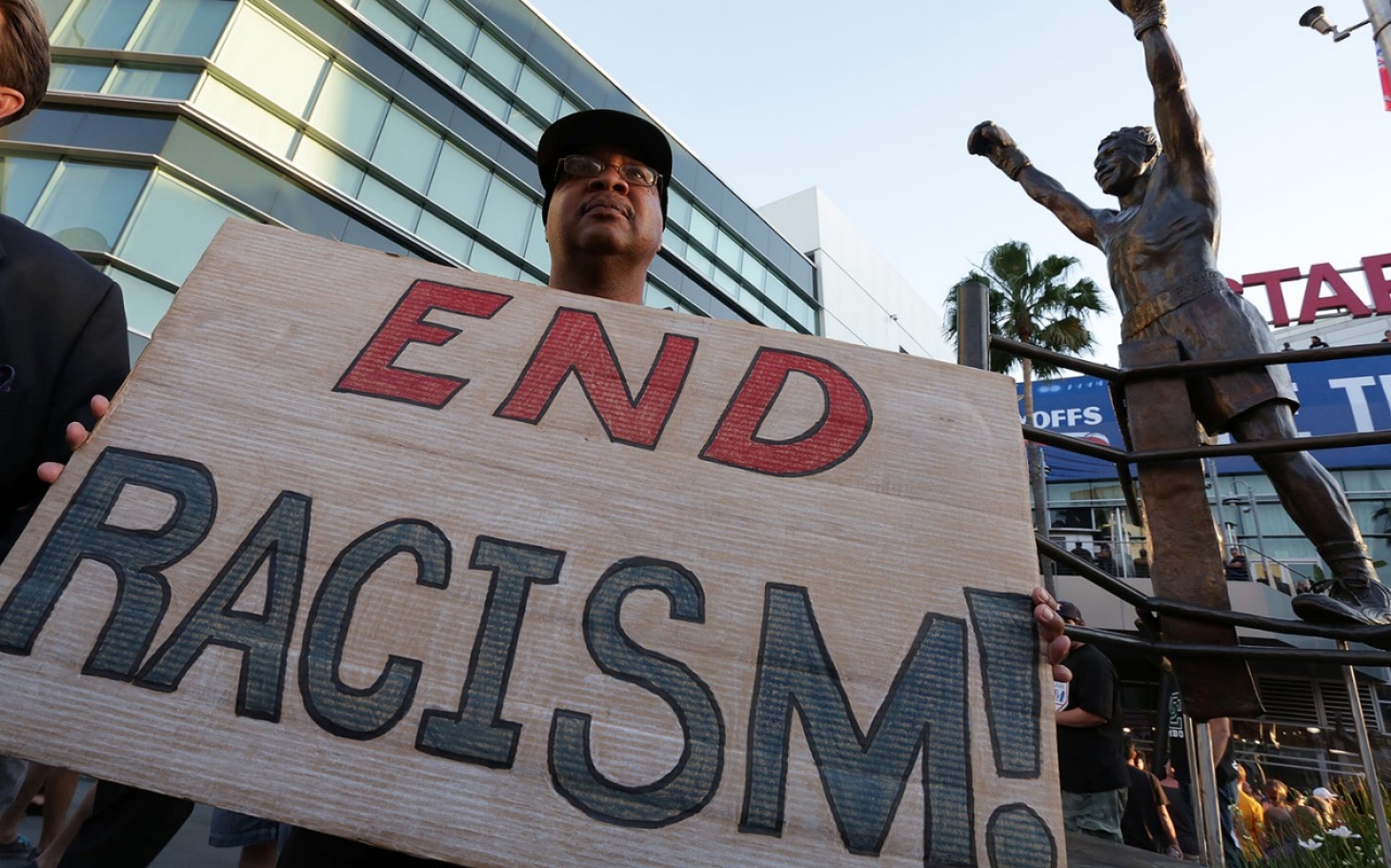 A new Wall Street Journal/NBC News poll shows that 56% of voters believe that American society is racist.
What We Know:
The death of George Floyd and other Black Americans has sparked concerns over discrimination in our country, as 71% now say that race relations are either very or fairly bad.
Around 60% said Black people face discrimination while just over 50% said the same of Hispanics in the survey. Support has also risen significantly for movements like Black Lives Matter and athlete's kneeling during the national anthem. "Americans are concerned about issues of inequality, and George Floyd's death helped contribute to that," said Brenda Lee, a pollster who worked on the survey. "We've moved the needle a great deal in terms of just clearly identifying that we, as Americans, have an issue with racism in this society."
Perhaps most striking is the disparity between Democrats' and Republicans' views on the same issues. The poll found that 90% of Democrats said Black people are discriminated against, and 82% believe American society is racist. On the other hand, only 26% of Republicans said Black people face discrimination, and a small 30% viewed our society as racist.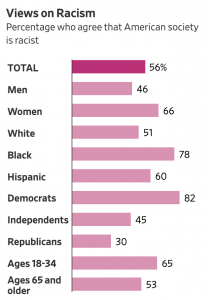 The survey also questioned people's support or disagreement over movements surrounding the fight for racial equality. 57% percent of voters said they support the protests started as a result of Mr. Floyd's killing, and 58% said they are more concerned with racial inequality as a result of the demonstrations. 51% of voters support removing Confederate statues from public property, while 47% said they would leave them in place. 52% now say it is appropriate for athletes to kneel during the national anthem, a 9% increase since 2018.
President Trump has opposed all of the aforementioned issues that Americans now express concern over, resisting the changes protesters have called for. He has criticized the Black Lives Matter Movement and repeatedly condemned efforts to remove Confederate statues and the Confederate flag. He has also added that NFL players who kneel during the national anthem should be suspended without pay.
Efforts to resolve the issue of racism in America has already begun to take form. Larry Johnson, a DeKalb County, Georgia Commissioner, introduced a resolution to make racism a public health issue. "We really have to look at it from a zoning, a housing, an economic stand-point as how we look at racism," Johnson said. "It would be first for us to lead the way by initiating this resolution, to first acknowledge what African Americans have been dealing with since 1619."
With a few short months before election day, the poll could be a strong indication of voters' interests as Democrats hope to push out Donald Trump and take over the Senate.
Comments
comments
Biden and Harris Announce All-female Communications Team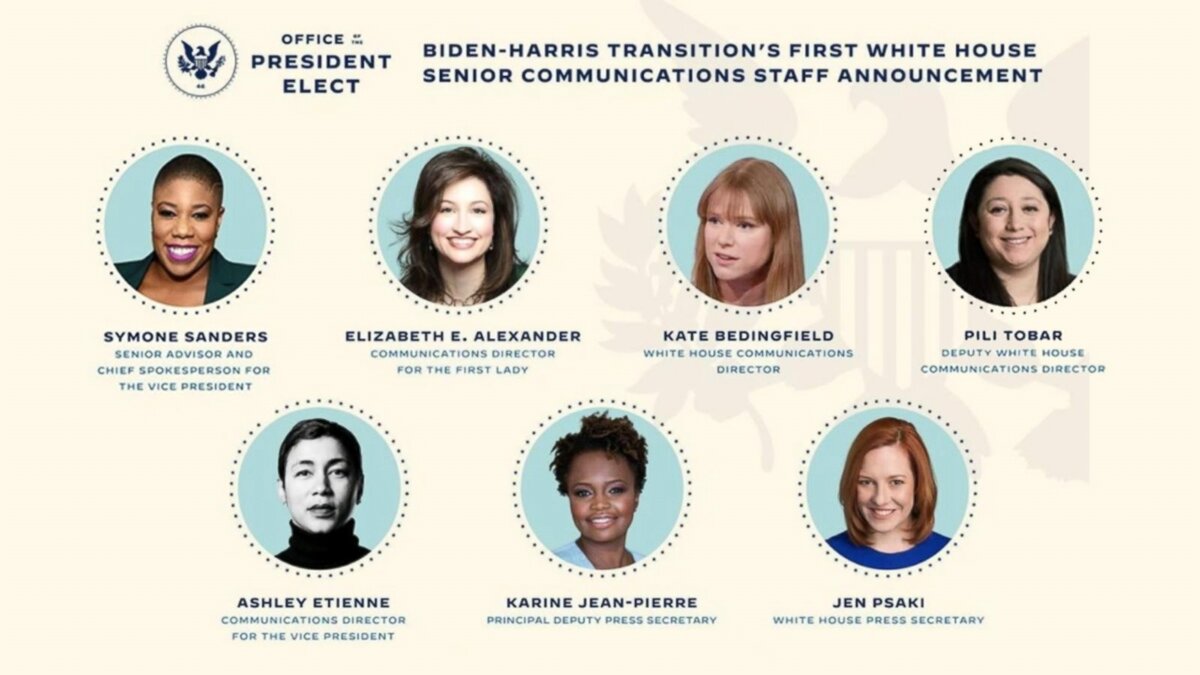 Joe Biden and Kamala Harris announced Sunday their White House communication team, all of whom are female. 
What We Know: 
The Biden-Harris Presidential Transition Twitter page posted an 

image

 of the all-woman team. The post reads, "President-elect Biden and Vice President-elect Harris today announced new members of the White House staff who will serve in senior communications roles. For the first time in history, these communications roles will be filled entirely by women." Not only is the team comprised of only females, but several are also are women of color. 

The team of seven is formed by former Obama communications director Jen Psaki as press secretary. Formally a CNN political commentator and State Department spokesperson during the Obama administration. Psaki has been involved in three presidential campaigns starting with John Kerry in 2004, then Obama-Biden in 2008 and 2012. 

Previously Biden's deputy campaign manager and communications director, Kate Bedingfield, serves as the White House communications director. Bedingfield previously worked under the Obama administration as Biden's communications director. She was vice president of corporate communications at the Motion Picture Associate of America. Bedingfield also served as a spokesperson for John Edwards' 2008 presidential campaign and as the communications director for Senator Jeanne Shaheen's 2008 Senate campaign in New Hampshire. 

Pili Tobar, the previous communications director for coalitions on Biden's campaign, now serves as deputy White House communications director. Previous deputy director for America's Voice and Hispanic media director for Senate Minority Leader Chuck Schumer. 

Karine Jean-Piere, a former senior adviser to Biden on the campaign, now serves as principal deputy press secretary. Jean-Piere formally worked on the presidential campaigns for Obama and Martin O'Malley. Other roles include chief public affairs officer at MoveOn.org and managing the American Civil Liberties Union's Reproductive Freedom Initiative. 

Symone Sanders worked on the Biden campaign as a Senior adviser. Sanders will serve as a senior adviser and chief spokesperson for the vice president. Sander's notable work includes working as national press secretary for Bernie Sanders during his 2016 presidential campaign. She is a former member of the Federal Advisory Committee on Juvenile Justice and is the former chair of the Coalition of Juvenile Justice Emerging Leaders Committee. 

Ashley Etienne joined Biden's campaign as a senior advisor. Etienne will serve as communications director for the vice president. She previously served as Nancy Pelosi's communications director and senior advisor. She was the first woman of color to hold this position. Additionally, Etienne served under the Obama administration as a special assistant to the President and director of communications for the Cabinet. She led Obama's My Brother's Keeper initiative. 

Lastly, Elizabeth Alexander joins the team after working with Biden on his campaign as a Senior Advisor. Alexander will serve as communications director for the first lady. Also operating under the Obama administration, she served as Biden's press secretary. When Biden was senator, Alexander served as his communications director. She also worked as a federal prosecutor in the US Attorneys' offices in Washington DC and Virginia. Alexander worked as press secretary for the United Nations Foundation as well as press secretary to Terry McAuliffe. 
The team is a first for the country, just as Harris is the first woman Vice President. As Biden fills the white house, there seems to be a possibility of more firsts.
Comments
comments
Veteran diplomat Antony Blinken is Biden's Top Choice for Secretary of State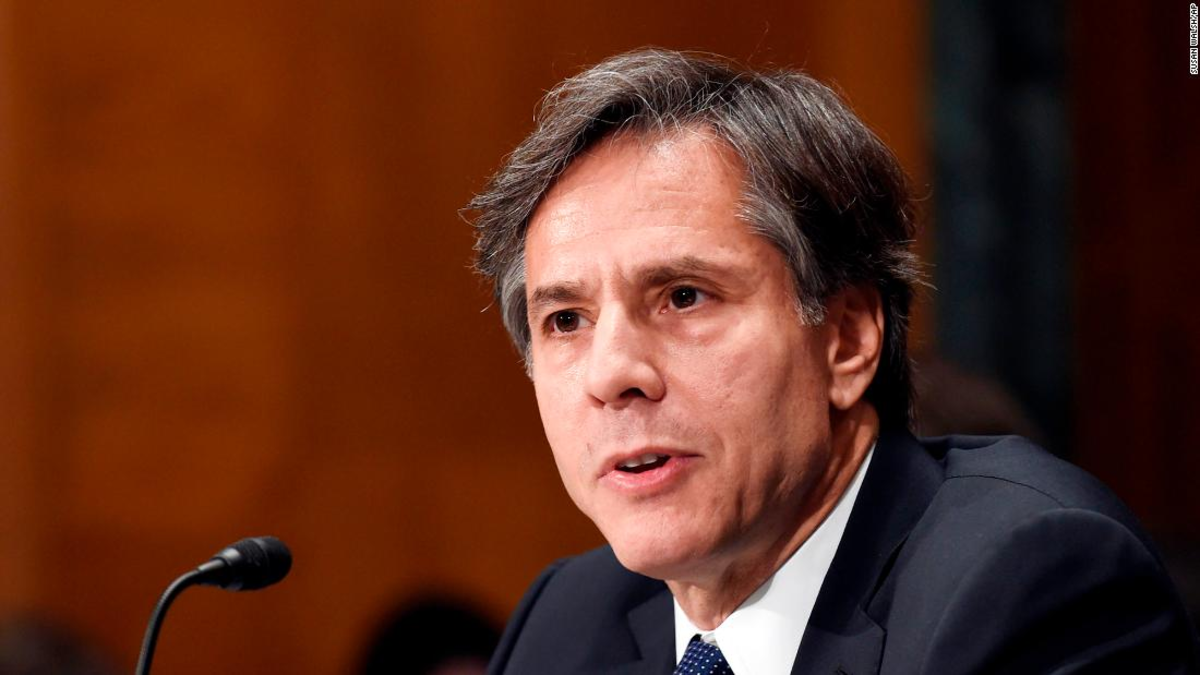 President-elect Joe Biden has chosen veteran diplomat and foreign policy advisor Anthony Blinken as one of his top choices to serve as secretary of state, according to NBC News.
What We Know:
A transition official spoke with NBC News regarding Blinken being a likely choice for the position, but they wouldn't confirm the nomination until Biden's announcement.
Blinken began his career in the State Department during the Clinton administration and served under President Barack Obama's administration as the state's former deputy secretary.
 It was reported that Biden's first Cabinet selections would be for the diplomacy and national security divisions.
According to the New York Times, a person familiar with the process believes Biden will choose another close aide, Jake Sullivan as the national security advisor. Sullivan served at the State Department under Hilary Clinton as the head of policy planning.
Biden is also expected to name a 35-year veteran of Foreign Services Linda Thomas-Greenfield as his ambassador to the United Nations.
The Incoming white house chief Ron Klain stated on Sunday that Biden would be announcing his Cabinet picks on Tuesday.
Comments
comments
White House Plans Indoor Holiday Parties Amid Pandemic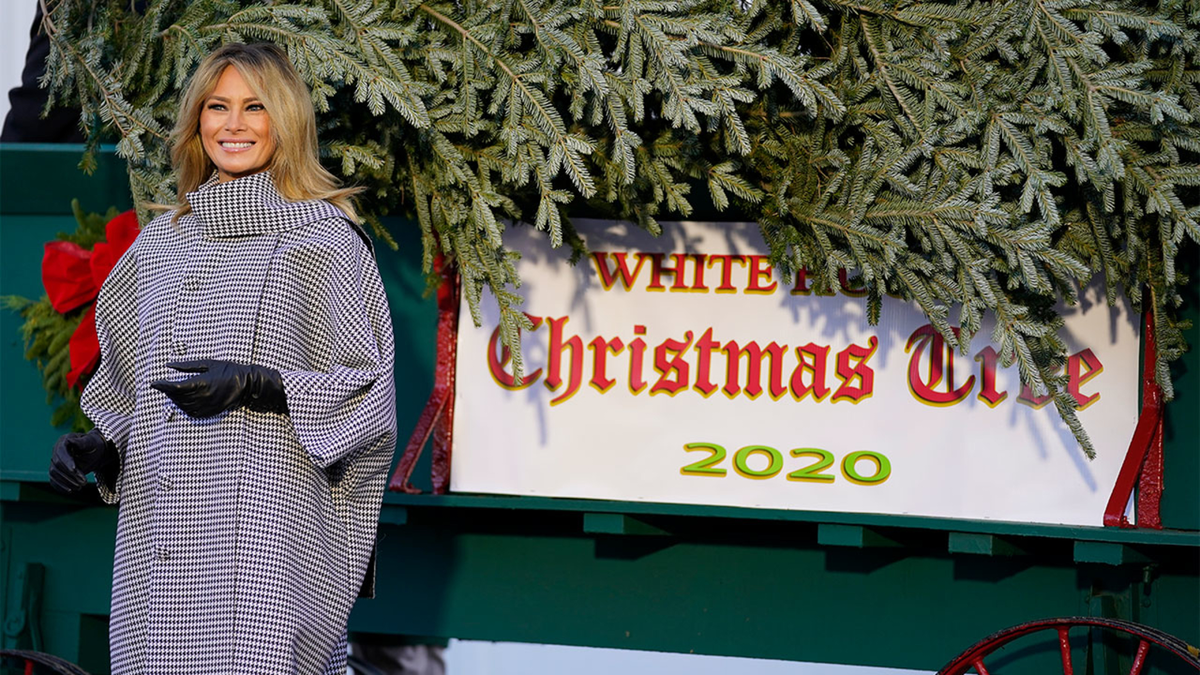 Despite warnings from public health officials amid the growing outbreak of COVID-19 cases, the White House still plans to host indoor holiday parties.
What We Know:
Thanksgiving typically brings family and friends together from all across the nation. This year the Center for Disease Control (CDC) recommends Americans avoid travel come Thursday. They urge against large gatherings and suggest celebrating with loved ones virtually or with whom we live as the safest options.
 Monday appearing on "Good Morning America" U.S. Surgeon General Jerome Adams expressed the need for "everyone to understand that these holiday parties can be super spreader events." He advised celebrations to be held outside with limited guests in alignment with the CDC's recommendations. Adams said that his statements applied to all American people, including those within the White House.
Nevertheless, sources obtained an invitation written in gold cursive on green paper reading "Mrs. Melania Trump requests the pleasure of your company at a Holiday Reception to be held at The White House on Monday, Nov. 30, 2020 at eleven o'clock."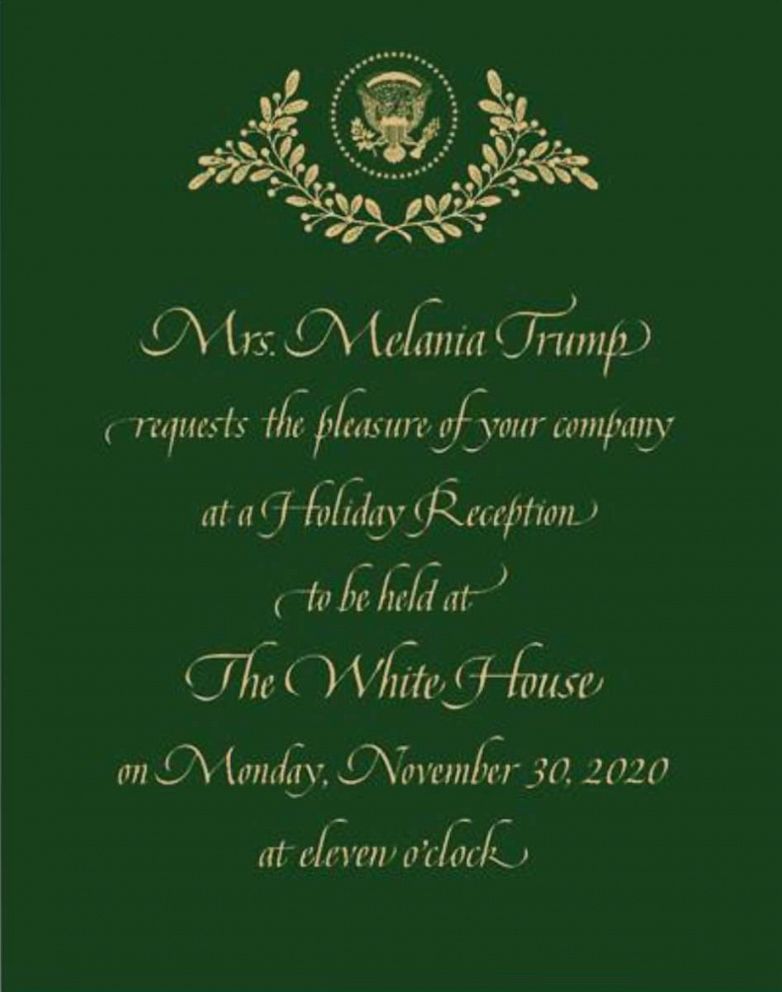 A spokeswoman for the first lady, Stephanie Grisham, guaranteed the White House would maintain "the safest environment possible" with a restricted guest list. She added that masks would be made available and required, and social distancing will be highly encouraged. Hand sanitizing stations will be present, and all service staff will be in protective gear in accordance with food safety guidelines. In a statement, Grisham announced food would be individually plated by chefs at plexiglass-protected food stations, and beverages will be covered. She asserted that White House Christmas celebrations are a longstanding tradition, and attendance "will be a very personal choice."
The White House has not proven itself to be immune to the virus. Back in September, the country's top infectious disease expert, Dr. Anthony Fauci, labeled Trump's Rose Garden Ceremony as a "super-spreader" event. This is where Trump and his wife contracted the virus along with many others, such as former New Jersey Governor Chris Christie.
More than a handful of White House aides and Trump campaign managers have tested positive in the past few months. Corey Lewandowski, a campaign adviser for Trump, received a positive diagnosis after attending an election night party at the White House. Another of Trump's advisers, David Bossie, and Housing and Urban Development Secretary Ben Carson

, who both attended the party, also tested positive shortly after. A week or so later, at least 4 more attendees, including the White House chief of staff and the political director, reportedly contracted the virus. The White House alone has had at least three outbreaks so far.
Surgeon General Adams begged the American people just to hold on a little bit longer. "Keep Thanksgiving and the celebrations small and smart this year," he pleaded.
Comments
comments