Reagan Foundation Asks Trump Campaign To Stop Using Reagan's Likeness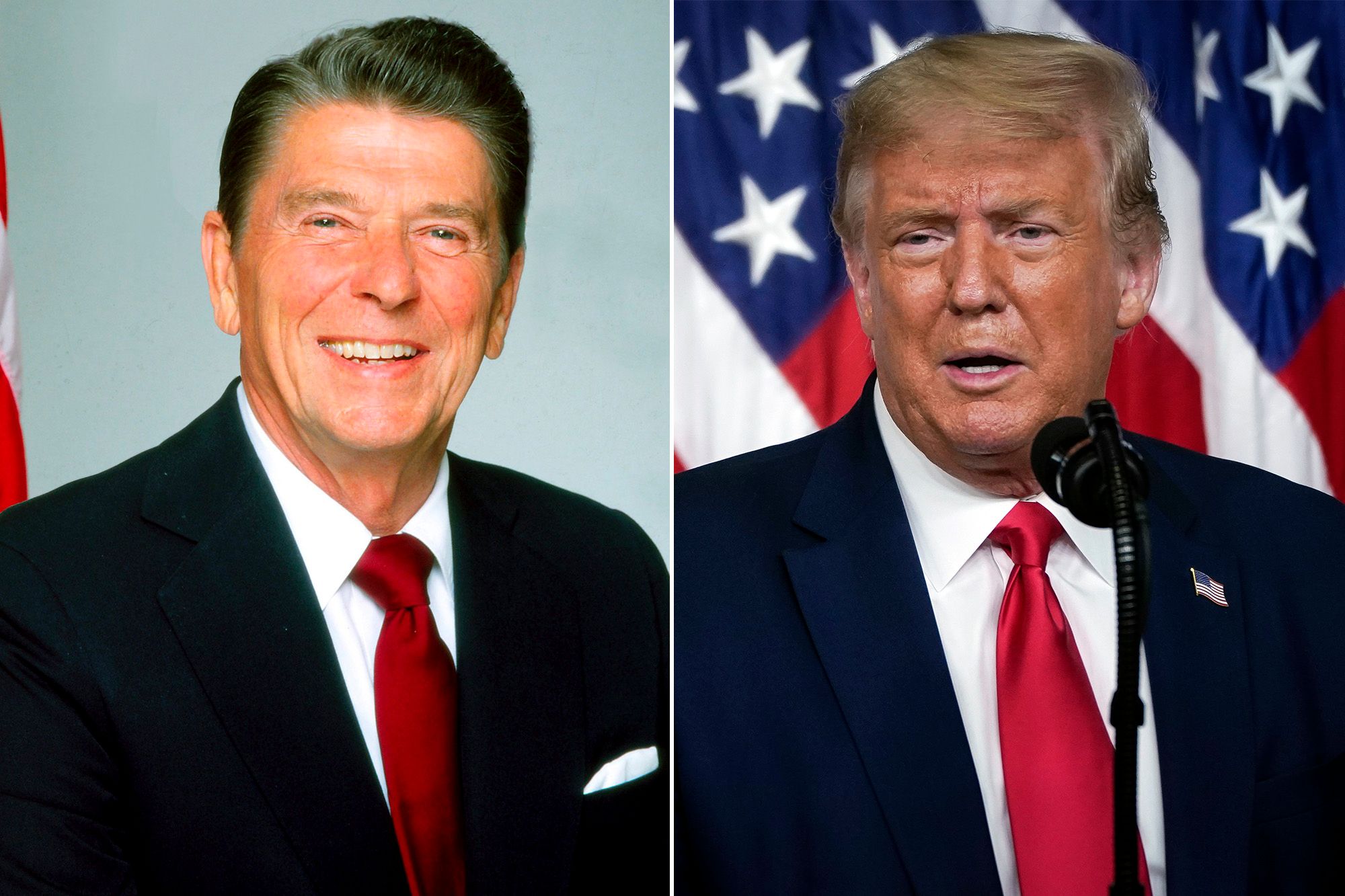 The Reagan Foundation has asked the Trump campaign and the Republican National Committee to stop using President Reagan's likeness in fundraising campaigns.
What We Know:
The RNC launched a fundraising campaign offering donors a limited-edition commemorative Trump-Reagan gold coin set, featuring the line "Ronald Reagan and yours truly". The Reagan Foundation contacted the RNC and Trump campaign to ask them to stop using the former president's likeness. RNC communications director Michael Ahrens told CNN that the "objection came as a surprise".
RNC Chair Ronna McDaniel responded to the request with a tweet, pointing out how the Reagan Foundation has benefitted financially from the Trump administration. Ahrens also mentioned the Trump family benefitting the Reagan Foundation while speaking with CNN, and he added that the RNC's use of Reagan's likeness was "appropriate" and that they'd pull their fundraising pitch "as a courtesy".
The Republican Party has used President Reagan's image for decades.

But since the Reagan Foundation is suddenly opposed to it, are they going to return the money @DonaldJTrumpJr and @kimguilfoyle raised for them just 8 months ago?https://t.co/LYkopMfjmg

— Ronna McDaniel (@GOPChairwoman) July 26, 2020
President Trump also responded to the request by tweeting about it. He pointed out that Frederick Ryan Jr. is both the Reagan Foundation's chairman and CEO of The Washington Post to continue blaming mainstream media. He also threw shade at Paul Ryan, who is a board member for the Fox Corporation, calling the recent Fox News presidential election polls "phony".
So the Washington Post is running the Reagan Foundation, and RINO Paul Ryan is on the Board of Fox, which has been terrible. We will win anyway, even with the phony @FoxNews suppression polls (which have been seriously wrong for 5 years)! https://t.co/fOi3AROxuz

— Donald J. Trump (@realDonaldTrump) July 26, 2020
Trump campaign communications director Tim Murtaugh echoed the president by directing blame to the media. "It should be no surprise that the publisher and CEO of the Washinton Post wants to interfere with President Trump's reelection campaign," Murtaugh told CNN.
The recent Fox News polls found Joe Biden ahead of Trump in Michigan and Pennsylvania, both states where Trump won in 2016. The Reagan Foundation has not responded to the RNC's and Trump campaign's comments.
Comments
comments
Joe Biden Taps Kamala Harris As Running Mate
Presumptive Democratic nominee Joe Biden announced Kamala Harris as his running mate for the 2020 presidential election yesterday.
What We Know:
Former Vice President Biden's reveal has been highly anticipated since he promised to select a woman as his running mate if he won the nomination. California Senator Kamala Harris is a historic choice as she is only the third woman to be nominated as a vice-presidential candidate. Harris initially announced her own presidential campaign in January of 2019. She was viewed as a strong contender in the large mix of potential Democratic nominees; however, she suspended her campaign in December 2019. In March, she endorsed Joe Biden as the Democratic nominee.
The Biden campaign conducted a months-long search for a running mate, doing several rounds of interviews and pouring over records before presenting Biden with a list of finalists. Amongst the finalists were six women, many of which being women of color with Sen. Kamala Harris (D-CA) reportedly seen as the favorite among them.  California Rep. Karen Bass and former national security adviser Susan Rice were two other Black woman contenders. Before the announcement, the campaign assembled a staff for Harris led by senior advisor Karine Jean-Pierre.
Harris was elected to the U.S. Senate in 2017. Prior to becoming a senator, she served two terms as California's attorney general. She was the first Black American and first woman to serve in that position. Harris is a Democratic senator, however, she has been criticized for her record as attorney general and for not being progressive enough. Critics point out how Harris failed to bring large-scale police and drug reform in California and often use the slogan "Kamala is a cop." Her proponents emphasize how she refused to seek the death penalty and reduced many marijuana-related crimes to misdemeanors. Now, as racial injustice and police behavior is in the national spotlight, Harris is using her platform to amplify progressive voices.
At age 77, many believe Joe Biden, if elected, would not run for a second term. That makes his Vice Presidential candidate a potential top pick to receive the party's 2024 nomination. Harris, a national figure and former presidential candidate herself, may pose problems for a Biden administration for that exact reason. "I think some people fear that she won't necessarily be a team player because she'll always worry about her own interests," a source close to Biden suggested.
Many in the Democratic Party view Harris as a solid choice. Her background as a prosecutor and senator provide essential experience for the role of vice president. Biden and Harris will formally accept the Democratic Party's nominations during the virtual convention next week.
Comments
comments
Trump Campaign's New Ad Features Doctored Images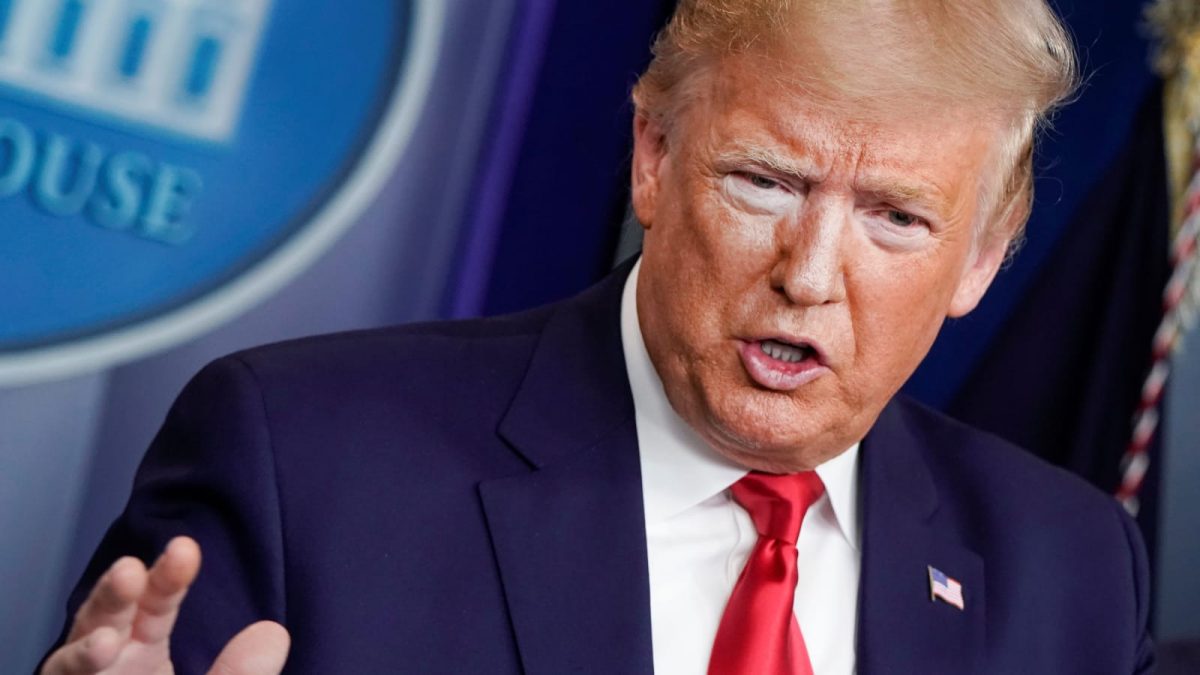 President Donald Trump's campaign paused their ads back in July to review their messaging and restrategize their campaign. However, the newest ad released for the campaign, against presumptive Democratic nominee Joe Biden, features multiple doctored images.
What We Know:
The Trump campaign released an ad on social media on Wednesday that contains multiple doctored photos of Biden in an attempt to convince viewers that he is alone and hiding out. The caption for the advertisement repeats the narrator's words in the video, "Deep in the heart of Delaware, Joe Biden sits in his basement. Alone. Hiding. Diminished."
The first doctored image features Biden sitting on the ground while the narrator reiterates the above message. But the photograph, which is supposed to depict Biden sitting alone in his basement, was actually taken in December of 2019 in Iowa when Biden visited the home of Coralville Mayor John Lundell. Additionally, the people in the background of the photograph were edited out.
The image, used without permission, was taken by Photo Editor Liz Martin of The Gazette at the event in which Martin shares that at least three dozen supporters and journalists were present, and Biden was sitting on the floor because he had given someone else his seat.
Shortly after this first doctored image, the video cuts to an image of Biden holding his hands to his forehead, in what seems to be a look of despair. CNN reporter Andrew Kaczynski was the first to call attention to the photograph, saying it appeared to actually be a picture of Biden speaking, but the microphone in his hands was edited out. The original photo was taken by photographer Mark Peterson for Redux Pictures at a town hall meeting in Cedar Rapids, Iowa in September, which Biden spoke at.
Also, it looks like someone photoshopped out a microphone he was holding at an event to make it look like he was…..touching his forehead in an empty room?https://t.co/CgMoUz9Gp9 pic.twitter.com/wJDTHpQyWJ

— andrew kaczynski🤔 (@KFILE) August 5, 2020
The ad goes on to narrate that "Biden has no answers and after five decades of failure, he never will." The quote is accompanied by an image of Biden hanging his head, however, that picture is of Biden in prayer during a church service in Wilmington, Delaware in June in which Biden met with Black leaders for an in-person discussion following the death of George Floyd.
The full ad can be viewed here.
The Trump campaign did not respond to requests for comment on the latest advertisement.
Comments
comments
MO Progressive Democrat Cori Bush Beats 10-term Incumbent William Lacy Clay in Primary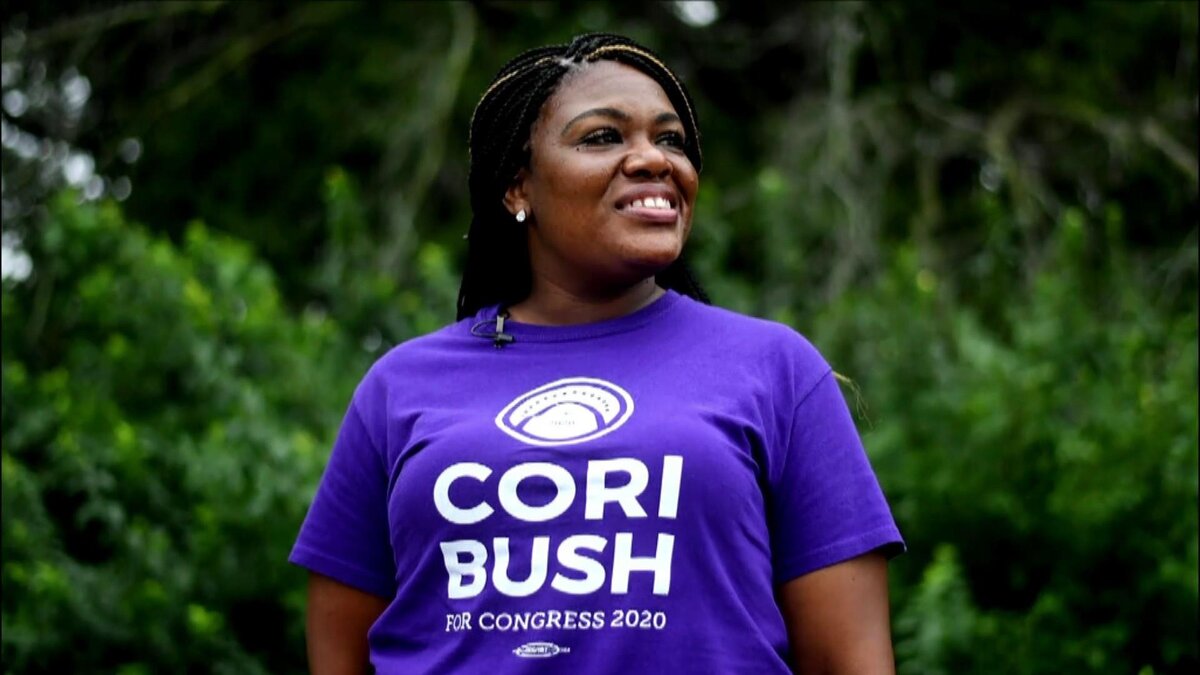 Democrat Cori Bush, claimed victory over Rep. William Lacy Clay Tuesday in Missouri's Democratic primary. This marks the end of a political dynasty that stood for nearly half a century.
What We Know:
The politician's triumph was in lieu of a 2018 rematch when she failed to take advantage of a prominent wave of Democratic supporters in the country, which would have heavily favored new political candidates such as Rep. Alexandria Ocasio-Cortez.
Bush was once a formerly homeless woman who organized protests in light of the now infamous, fatal shooting of a Michael Brown in Ferguson, Missouri, back in 2014.
During this election, a bulk of Bush's support came from the current state of the country. Protests over the death of George Floyd, Breonna Taylor, and increasing social tension finally pushed her over the edge.
BREAKING: Justice Democrat & Black Lives Matter organizer @CoriBush defeated a corporate-backed political dynasty in #MO01.

From the Bronx to St. Louis, the Squad is here to stay, and it's still growing. pic.twitter.com/ogMU5Djx6Z

— Justice Democrats (@justicedems) August 5, 2020
The 44-year-old also had solid backing from political action committee Justice Democrats and Fight Corporate Monopolies this election. She also campaigned for Vermont Sen. Bernie Sanders, who actually endorsed Bush earlier this year, during his presidential bid.
According to the Bush's campaign spokeswoman, Keenan Korth, voters in the district were simply "galvanized" by the outcome, and rightfully so.
"They're ready to turn the page on decades of failed leadership," Korth stated.
This primary win will guarantee Bush a seat in Congress, representing a predominantly Democratic St. Louis area. This same Congressional District has been represented by the Clay bloodline for nearly half a century. Bill Clay served 32 years before at the start of the millennium, then followed William Lacy Clay, who took his place in 2000 and was only remove up until now.
This election has seen a record number of black women candidates running for congress, so Bush is no exception. She is the first black woman to win the seat and first female overall, to be a representative for the House district.
Comments
comments