Rai King Launches Educational Co-op
The year 2020 has brought its share of difficulties. People all over the world have had to adapt to the changes caused by COVID-19. One of the major institutions facing significant changes during this unprecedented time is education. Social distancing has immensely limited the ability of our educators to instruct our students, young and old alike, resulting in even greater disparities when it comes to equal access to quality education.  
Rai King, founder of Hands In, an educational co-op, has taken to the task of addressing these disparities and created an avenue for families to have access to quality education. Rai has an extensive background in education. She has been teaching for over 16 years with experience in home school, public school, and private school. She has even had the added benefit of widening her experience by teaching in several different areas ranging from California to South Africa. When asked why she chose now to start the educational co-op she explained:  
"My true love and my true passion is education and working with children and families, particularly in communities that are traditionally known to be experiencing an access gap. I say access gap and not achievement gap because achievement is relative, who are we comparing our achievement to. I do not like achievement gap but access gap really talks more about communities that have been left out of opportunities that more affluent communities get to have. That is where my heart is, that where my experience is when it relates to education."
Like most of us, Rai genuinely believed the coronavirus situation would be rectified well before September. In lieu of COVID-19 wearing on, she noticed parents started to form learning pods where they were inviting private teachers to come into their homes and tutor their child or a small group of children. It was then she realized that those who were not so privileged would suffer educationally. Being that her experience is in helping communities that suffer from an access gap, she knew they were going to be affected negatively during this time.  
"I knew that black and brown and brown children who were going to suffer the most as a result of this and I just wanted to be able to provide something that I thought could fill a little bit of a gap. So, I got this idea to start this co-op to be a place of support for parents to provide them extra-curricular enrichment for students at a price I hope everyone can afford," said King. 
To answer the question who can access the resources provided by the co-op, Rai says it is open to families everywhere. For those who cannot afford the program, Rai has started a platform to accept donations to create scholarships for those families. The program's Patreon account is tiered structurally for contributions. The lower tier is only $50 a month  for families of any size. The next tier is $100 a month or more, again covering the entire family. This structure is in place in part due to Rai's politics; the belief that those who can do more, should do more. With that in consideration it allows those who can't afford to do more, access to the same level of services as those who can. All in all it's a community effort.
Despite her heart being with black and brown families or communities, Rai feels it still important to address segregation in attacking the problem of inequities in education. "I believe education is the civil rights issue of our time," said King. She went on to say that there are some studies that show that our schools are more segregated now than they were in the 1950s and 1960s. Most notably New York's Public-school system being the most segregated in the country. A recent story in 2019 published by the New York Times addressed the issue of segregation in New York public schools.  

The Hands In education co-op is breaking down these barriers. Hands In is creating an environment of diversification with regards to race and socioeconomic status helping to give families of all backgrounds access to the best resources. Hands In has partnered with Junior Achievement of New York, Outschool.com and even shoe companies who'd like to teach a class on shoe design have reached out. Long term, King hopes Hands In will become a permanent staple for families to take advantage of in a post COVID world.  
 For more information on Hands In or to join & donate, please visit patreon.com/handsincooop. 
Comments
comments
DeKalb County Declares Racism a Health Crisis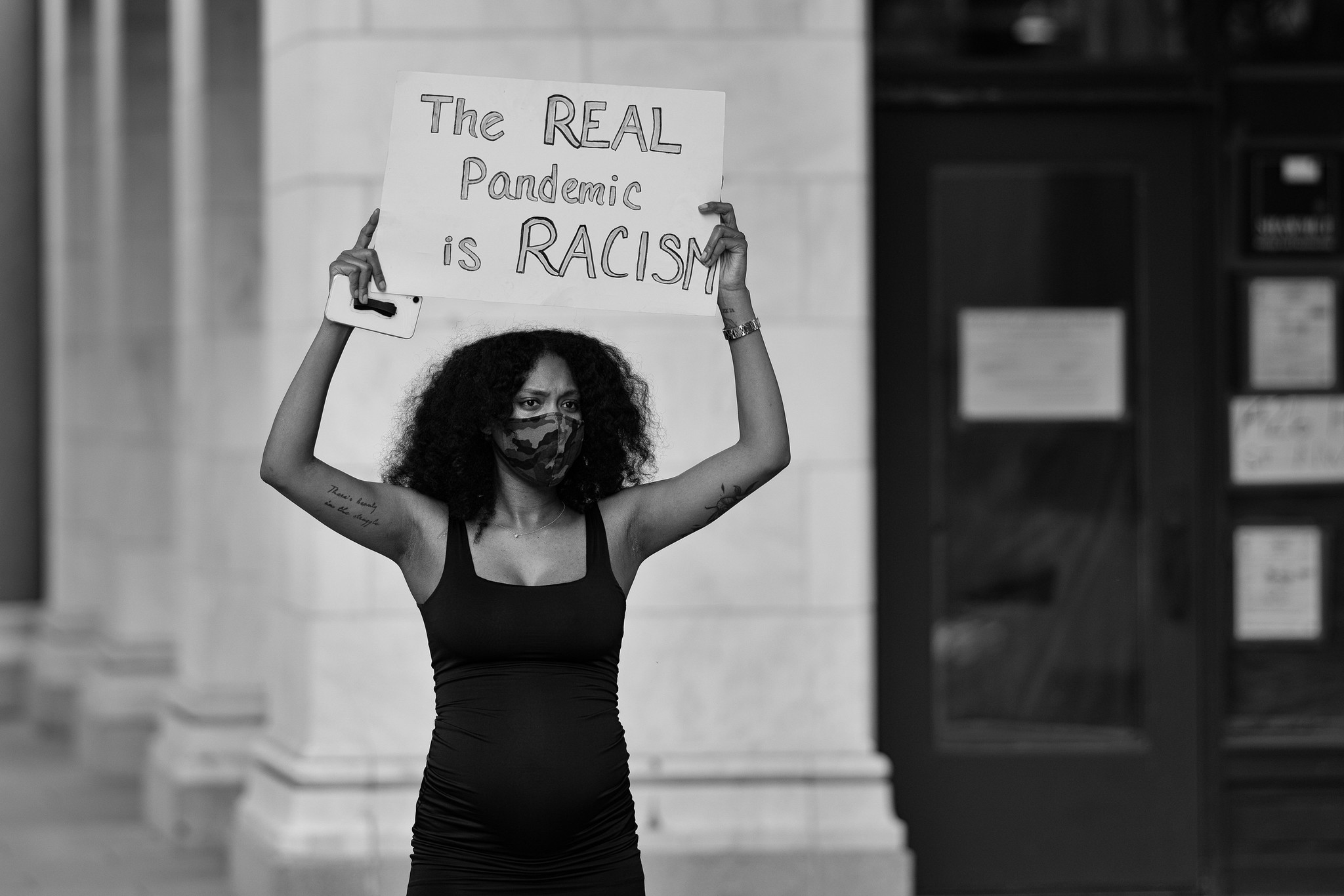 Be it resolve: racism is a health crisis – DeKalb County's Board of Commissioners has officially agreed.
What We Know:
Led by representative Larry Johnson, the county Board of Commissioners passed the resolution in a meeting last week – during which they also declared Juneteenth a paid county holiday.

The document, cosponsored by

The DeKalb Board of Health and district health director, Dr.Elizabeth Ford,

states the ways racism produces observable, negative health affects, particularly for Black people, and

states that Black residents have both been hospitalized and died at higher rates from COVID-19. A list of 10 goals and policies the county is resolved to pursue is highlighted; the first being "assert that racism is a public health crisis affecting our entire county".
It has been backed by the DeKalb NAACP, which describes it as a "catalyst for other authorities to look at racism in a different light," according to the Atlanta Journal Constitution.
This comes while public health officials such as the American Public Health Association, universities like Harvard and Emory, and countless scientific studies are publicly making the argument that racism is, in fact, killing Black Americans.
Other states, counties, and cities have taken similar actions with Milwaukee County (WI) being the first in the country to declare the health crisis last spring. The State of Georgia, in late June, passed the Hate Crimes Bill (SB 166) which allows judges to increase sentences for defendants that target victims based on perceived race, color, religion, national origin, sex, sexual orientation, gender, mental disability, or physical disability.
The resolve calls on the Georgia Governor, Speaker of the House, and State Senate to make the declaration of the health crisis and "to enact equity in all policies of the State of Georgia".
DeKalb County, along with other municipalities, are sparking both conversations and systemic changes. These changes can not be done overnight but resolves such as this are a start.
Comments
comments
5 Teens Held at Gunpoint in Clayton County, GA, Citizens Outraged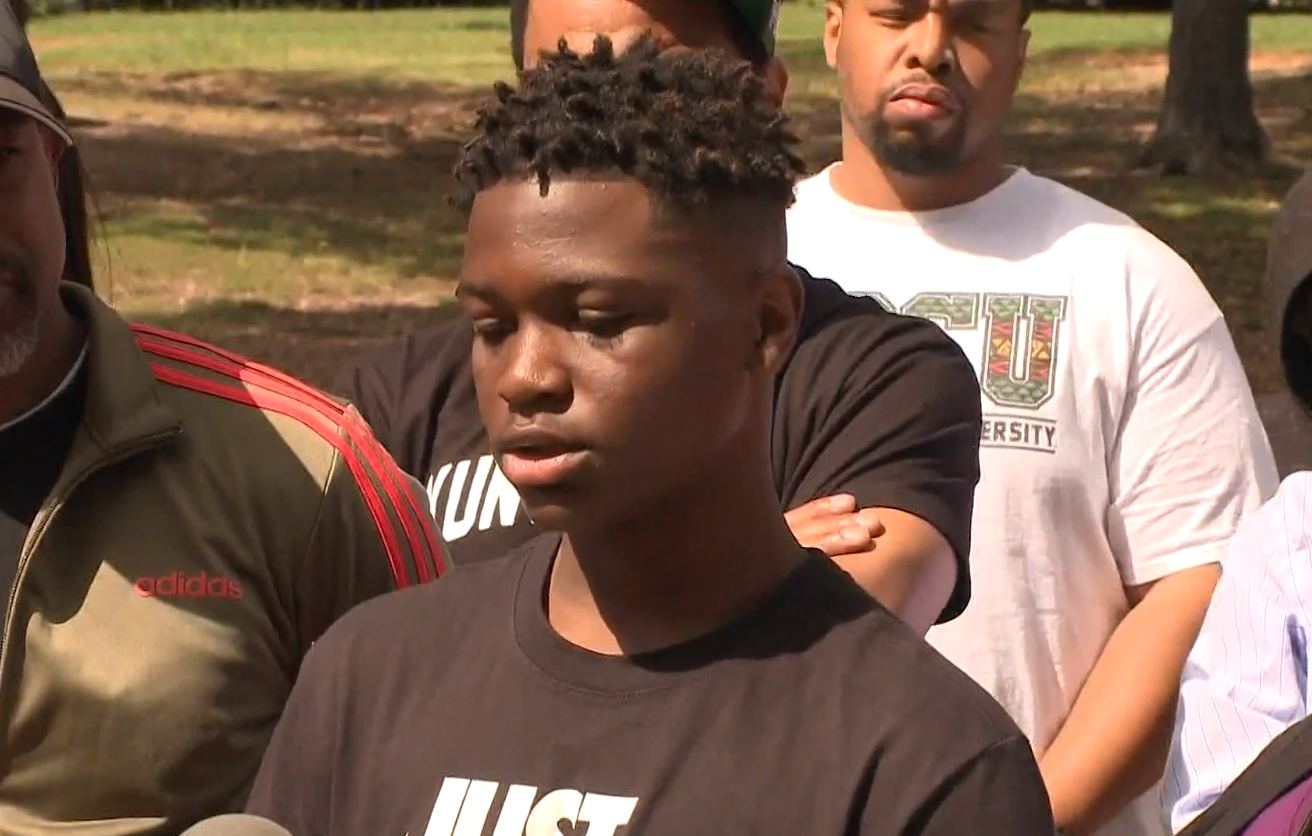 ---
A confrontation between police and a group of teens goes viral in Clayton County, Georgia and a community is outraged and demanding answers.
What We Know:
Initially it has been unclear on whether or not the teens were walking from a nearby convenience store or shadowboxing.  Local Atlanta NBC-affiliate WXIA reported the teens were shadowboxing near a convenience store in their neighborhood and then used a local short cut. Somehow or another, as the video begins in the middle of the confrontation, as the teens are standing on the grass with their hands on their heads, more than one officer has his gun pointed at them.
On a new YouTube page, that appears to have been created today to tell their side of the story, Clayton County police released 17 minutes of the altercation, in which an officer asks the teens not to move and hold their hands up. He also asks why the store owner thinks that one of the teens had a gun. As a crowd forms, the officer calls for backup asking the teens to ignore the gathering crowd and pay attention to his commands so that no one gets hurt.
In a statement, Clayton County police and their chief Kevin Roberts explained the reason for the stop.  After viewing the store's surveillance tape, police say they did see what looked like a gun. The teens admitted to an officer that it was a BB gun they had thrown away in the bushes that police say looked like a real gun.  The teens were frisked and unarmed.
"Due to the allegation that the juveniles were in possession of a gun, the officer approached them with his duty weapon drawn and pointed at the juveniles. The officer lowered the weapon once the juveniles complied with the officer's verbal commands to stop and show their hands."
Shanelle Williams is the bystander who recorded the video and put in on her Facebook page. She asked the police to be held accountable."We're saying, we would like to see revisions. And not just your revisions. We want you to give your community an opportunity to say, 'this is how we want you to police us.' I think that is the only thing that they can do as of right now."What would have happened if the community didn't show up and show out for them that day? … if one of those kids made the wrong move, what would have happened?" she asked.
Williams is echoing the sentiments of Black Americans everywhere in such a time of sensitivity.  The recent deaths of Atlanta's Rayshard Brooks, Minneapolis' George Floyd, Louisville's Breonna Taylor and Georgia's Ahmaud Arbery have caused protests to erupt nationwide, demanding change and reform in police departments.  Atlanta Rapper T.I. joined one of the teens and his mother at a press conference that was held in Atlanta earlier.  A local group of activists has planned a protest for Wednesday.
The Clayton County Police Department has released original body cam footage and a conversation that took place with local activists today.
Planned Protest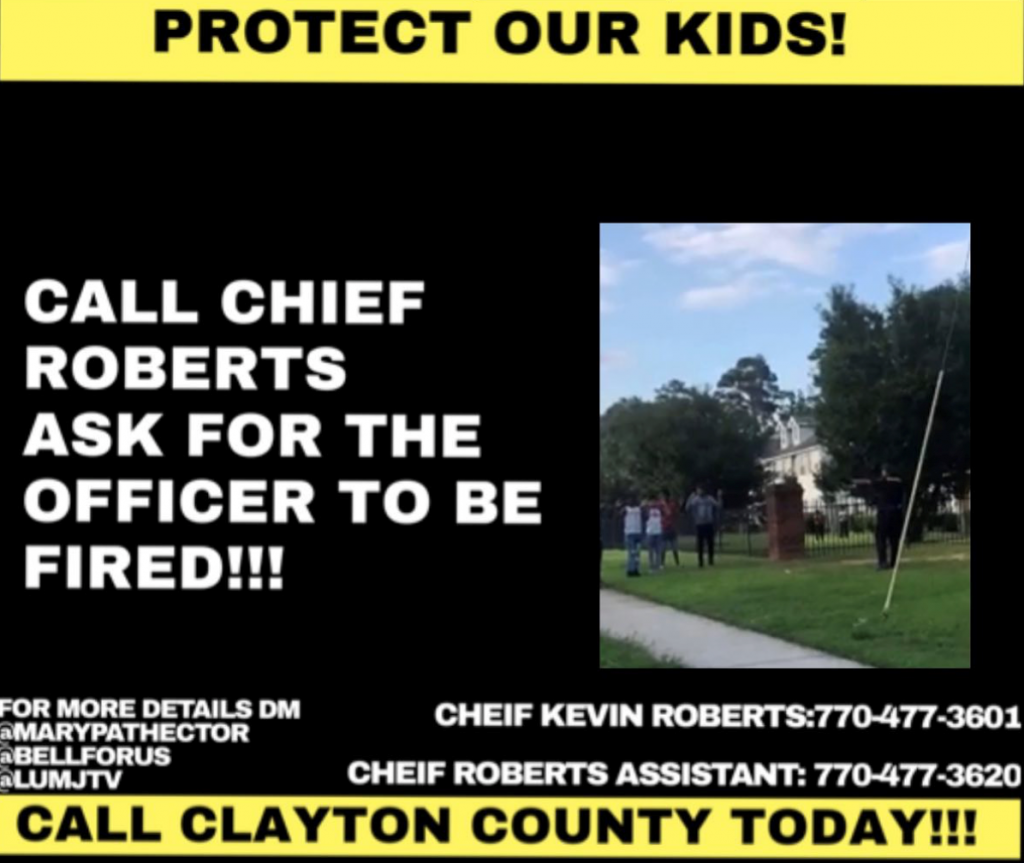 Bodycam Footage
Chief Roberts fields questions 
Comments
comments
Black body found hanging from tree in Poncitlan Square, Palmdale issues statement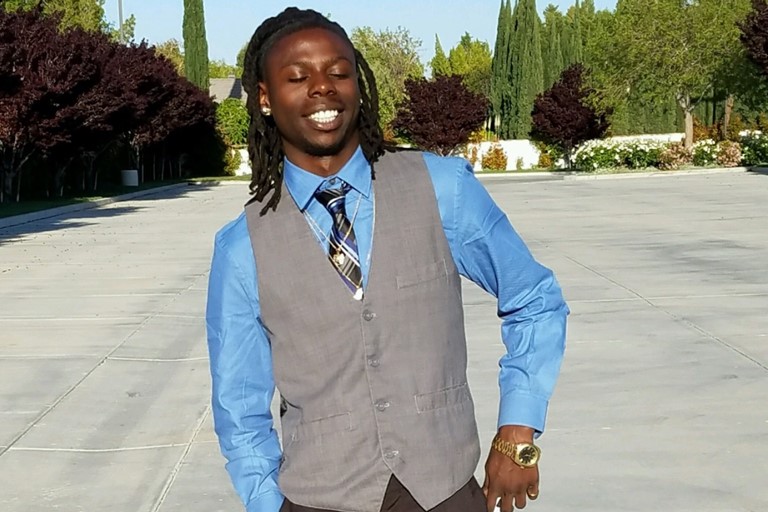 The body of a man in his 20s, now identified as Robert Fuller, was found hanging from a tree Wednesday near Palmdale City Hall, authorities said.
What We Know:
The body was found around 4 a.m. Wednesday, June 10, with a rope around the man's neck, hanging from a tree in Poncitlan Square, according to Lt. Brandon Dean of the Los Angeles County Sheriff's Department's Homicide Bureau.  Palmdale City officials released a statement Thursday, extending "sincere condolences and sympathies to the family and friends of the individual who tragically passed away in Palmdale… Our thoughts and prayers are with them."
"Sadly, it is not the first such incident since the COVID-19 pandemic began," city officials said in the statement.
"Many people are suffering extreme mental anguish and the city wants everyone to know that help is available," said City Manager JJ Murphy. "There are local resources such as Mental Health America of Los Angeles, AV Vet Center, and the Los Angeles County Department of Mental Health."
Lt. Brandon Dean of the Los Angeles County Sheriff's Department said all indicators point to a suicide, but investigators are waiting for full autopsy results and information from the man's next of kin regarding past issues with mental illness.
In California, the City of Palmdale has partnered with mental health experts to host virtual Mental Health "Town Hall" style meetings every other Monday.  Other cities have begun to offer similar services in the of COVID-19 pandemic.
In the Black community, any time a person of color is found hanging from a tree, unrest ensues.  The history of these deaths in the United States is heavy and racially charged.  In 2018 and 2016, Black people were found hanging from trees in Atlanta.
An online fundraiser has been established to help cover the cost of his burial. To donate, visit: https://gf.me/u/x8rm9w
Urban Newsroom and Black News Alerts is actively investigating this story and any related reports.  If you have information on this case or can provide additional insight, please contact the Black News Alerts Investigations team.  For immediate updates, download the Black News Alerts app.
Comments
comments