Connecticut Teen Saves Woman, 3 Children from Burning Vehicle
A Connecticut teenager saved a mom and three children from a burning car earlier last week.
What We Know:
Waterbury Police Department received multiple calls last Wednesday (September 9th) describing similar scenes of a woman trapped in a burning vehicle. 18-year-old Justin Gavin was reportedly on a walk to a local Walgreens and realized there was a car on fire.
The small SUV was covered in flames when it drove past Gavin. He proceeded to chase down the burning car to help the family escape. Once he reached the vehicle, Gavin pulled the woman and three young children to safety.
"I just felt like if I was in that situation, I would want somebody to help me out. I guess my instincts took over."

Justin Gavin
September 9th 2020 – Chief Fernando Spagnolo thanks Justin Gavin (age 18) for helping to save a mother and her three children from a burning car.Great job Justin!

Posted by Waterbury Police Department on Wednesday, September 9, 2020
The Waterbury Police Department honored Gavin with a "challenge coin" to acknowledge his heroism. The mother of the three children saved also credited Gavin with saving her family's life.
Justin Gavin is being recognized as a hero in his Waterbury, Connecticut community for his act of bravery.
Comments
comments
Judge Blocks Trump Plan to Cut Food Stamps for 700,000 Adults
A recent motion by the Trump administration was aimed at making it more challenging for certain demographics to receive government aid known as food stamps. In a 60 plus page document, Chief U.S. District Judge Beryl A. Howell of D.C. shot down their effort of what seemed to be a blatant disregard of how a move like this would significantly impact so many Americans during a time of the pandemic.
What We Know:
The ruling follows the Trump administration's nearly yearlong effort to change and reduce the amount of people who rely on food stamps, also known as the Supplemental Nutrition Assistance Program (SNAP). The proposal was originally made during a time when the U.S was in the middle of economic prosperity and record low unemployment rates before the events of this year. The new rules in the plan would have greatly limited access to the program.
As the story goes, the COVID-19 pandemic brought a once-booming economy to a grinding halt and placed millions of Americans into the unemployment line. Numbers continue to look grim as roughly 25 million adults are still without jobs and are currently claiming unemployment benefits. The unemployment rate as of September is sitting at nearly 7.9%, almost double of what it was in February.
In Judge Howell's ruling, she stated that the U.S. Department of Agriculture, the organization in charge of SNAP, had remained usually quiet on how many people would have been affected by the administration's rule change as the pandemic continues to plague the nation. She cited that the number of people signing up for SNAP has risen 17%, about 6 million new recipients, since May.
The rule change has been called "a vivid illustration of this relentless ideology that's not informed by the economic realities of people, whether they are in the pandemic or not in the pandemic," by Stacy Dean vice president for food assistance policy at the Center on Budget and Policy Priorities. "The judge called them out for trying to steamroll through policy with seemingly no effort to incorporate feedback" on concerns from states and other groups.
Howell also noted that the Trump administration had failed to give any reasons as to why the food stamp requirements needed to change. It targeted many "able-bodied adults without dependents," meaning all adults ages 18 to 49 who don't have children or family members with disabilities.
This demographic of adults are typically limited to three months of food stamps within a three-year period unless they acquire employment or happen to be enrolled in a worker training program, but most states are allowed to shelve those requirements.
Under the proposed rule, states would be required to prove that certain counties had unemployment rates of at least 6% in order to waive the restriction. This change is what prompted the Urban Institute to estimate that roughly 700,000 people would have been kicked off SNAP, although that number could be much greater now since the date of that last report.
Comments
comments
Man Hangs Off Side of Chicago's Trump Tower for 13 Hours before Being Taken into Custody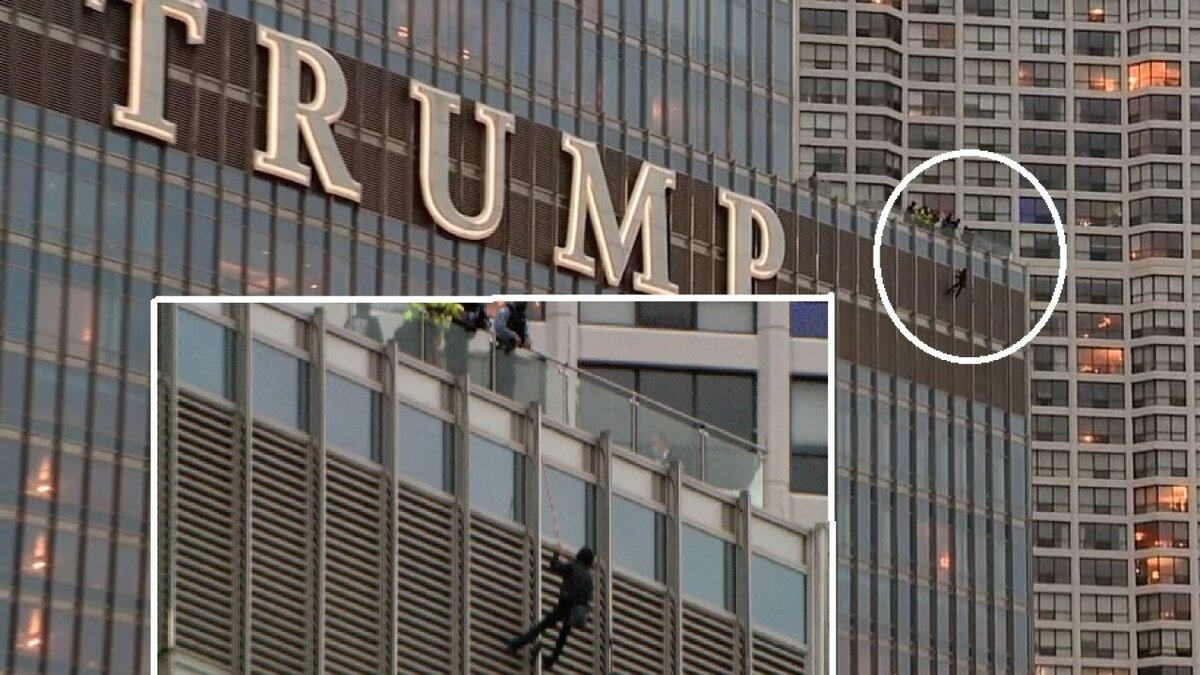 The Windy City woke up to a peculiar incident Monday morning, a man clung to a rope off the Trump Tower in Chicago for more than 13 hours. His action was driven by the motive to have an audience with President Trump. Authorities have since taken him into custody.
What We Know:
Early reports say the yet unknown man, who is estimated to be in his early 20s, was first discovered dangling off the side of the high rise at around 5:30 p.m. local time on Sunday. The Chicago Police Department (CPD) stated he was hanging near the 16th-floor landing of Trump International Hotel & Tower Chicago.
According to a tweet by Chicago police spokesman Tom Ahern, the situation in the morning was handled peacefully by negotiators and the suspect in question is safe and in custody, no injuries or further incidents occurred. Ahern's Twitter thread later said Commander Patricia Casey, Cmdr. Sean Loughran, Cmdr. Jill Stevens and Negotiators later addressed the media from Trump Hotel on Wabash.
Other details revealed by Detective Hector Matias was that the man was in possession of a knife and even threatened to cut the line at one point if police tried to help him up. The Chicago police negotiator told reporters that the scenario was "extremely challenging" to deal with and it was certainly something to take their time with and have patience.
"There's different tactics in our toolbox that we utilize and I think today we probably utilized every single one of them," he continued.
The over half-day standoff with the man came to a close when police were finally able to come to a conclusion with the victim and resolve the incident which could have gone south quickly. Soon after police talked him into surrendering, they pulled him up to the landing where officers waited to give him a helping hand.
One of the three officers who were there at the spur of the moment stretched their hands out to secure the man and then a few other officers came in to quickly take him into custody. Chicago Police Cmdr. Patricia Casey praised her officer's effort in caring for this man.
"They were patient and kind and spent hours dealing with this distraught man who was in apparent crisis, saying that he had many social issue that he wanted to discuss with reporters," Casey stated. "What could have been a tragedy ended up as a situation that was resolved without incident."
Major details about the entire event have not been released by the CPD. Among the various questions many people still have, such as why he was hanging there, what he wanted to speak on, he got there in the first place, the only thing known at this point was the man's strong desire to speak with Trump. Police have also not shared what concessions were made to talk the man out of hanging off the building.
Comments
comments
Contrast and Takeaways from Between Trump and Biden Dueling Town Halls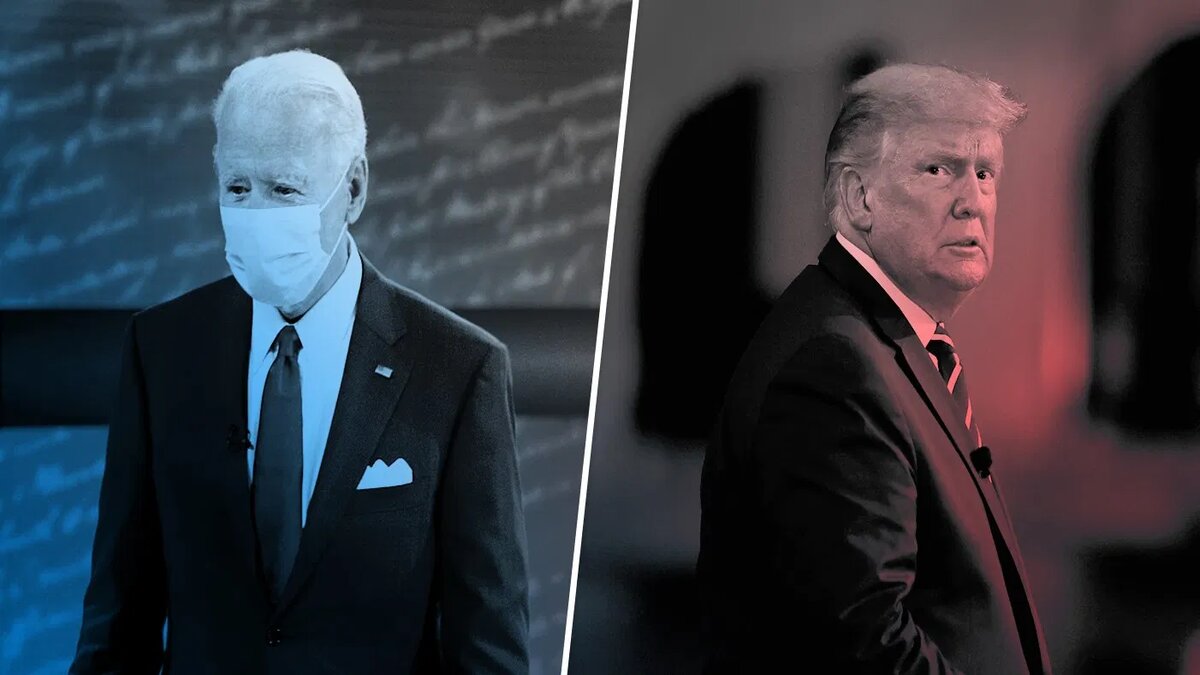 For the first time ever, two presidential contenders for the White House didn't meet on a stage for a presidential debate. President Donald Trump and Democratic presidential nominee Joe Biden held two simultaneous Town Halls late Thursday, which ended up showing stark differences between the two.
What We Know:
Starting with the Biden Town Hall, he demonstrated a certain level of solidity despite Trump's insistent description of his rival as someone who has "intellectually diminished". Trump continues to stand his ground on what he thinks of his opponent and has revealed that he would rather tone it down than switch opinions.
Due to the Town Hall's more relaxed environment, Biden was able to be free of debate restrictions and speak his mind completely. He spent a majority of the hour and a half event laying out a greater context for his thoughts on various controversial topics. One said topic he seemingly wasn't able to hit harder on during the last debate was the "Green New Deal". He explained how at this point, his differences in tackling climate change compared to the plan were because he's just not convinced that harmful emissions can be reduced at the rate the proposal is insisting it will.
However, he later stated that the economy would need time to move away from fossil fuels, and proceeded to dive deeper into what he looked into and what would be in store for environmental restoration under his administration. "We can do things like pelletize all the chicken manure and all the horse manure and cow manure and they can be — and take out the methane and use it as fertilizer and make a lot of money doing it," he said.
No TV Ratings available yet on last nights dueling Presidential Town Halls, but we do have some YouTube data:

Biden: 507,455 views
Trump: 153,660 views

BIDEN BLOWOUT

— Jack Black (@Jet1Jack) October 16, 2020
Something that stood out over his rival Trump, was that instead of persuading voters that his plans are the "right ones," the result of his performance during the event reassured many followers and those who were skeptical, that he's mentally capable of running a country. Disproving what Trump has been feeding his audience, without valid evidence, that Biden (Sleepy Joe) is suffering from mental impairment such as dementia.
Despite stumbling over some words every now and then, there wasn't a significant moment where the 78-year-old candidate seemed distracted or lacked a firm memory regardless of his past policy battles as vice president or a senator.
Moreover to President Trump, as always, attention-grabbing was not one of his weak points. The Republican crowd seemed eager as always to hear what the incumbent had in store for them. Much like the previous debate, Trump managed to repeatedly interrupt moderator Savannah Guthrie in the same fashion he would have against a rival or past moderator Chris Wallace. He did appear a bit easier going and less tense than when he appeared on stage with Biden just last month.
As a reminder of the last debate, Trump tried to steamroll over Biden and Wallace, with one of the biggest moments of the night where he was asked to denounce white supremacy. The "Proud Boys," a violent misogynistic hate group, were told by the President of the United States to "stand back and stand by".
Overall Trump's own comments were to blame for the stark difference in content both Town Halls provided. The difference in substance started when Trump ended up making the event more about his own actions and financial matters, which centered more attention on him the past year, rather than focusing on real policy matters. Ever since his comments on the requirements for Supreme Court nominees, it led many groups such as Democrats, the media, and even Republicans who oppose Trump to believe Judge Amy Coney Barrett was compromised.
Trump stated there was no discussion between him and the Supreme Court nominee regarding any precedents prior to her nomination. Another topic he showed restraint in and declined again was his call for overturning Roe v. Wade. In showing reluctance on the matter, he brought up the fact that if he were to reiterate these points, it would come off as him creating an image of trying to sway Barrett.
What was clearly left untouched was his attempt to win back the support and votes of all the woman he's seemingly forgotten about over his past term and that he would rather see Roe v. Wade stay in place. Trump also described the allegedly $400 million in debts he possesses, which he reassures viewers is "a very small amount of money". Trump made us aware that many of these debts are due soon and did not specifically deny overseas debts.
Other topics such as COVID-19 and QAnon were touched on lightly, so if that wasn't enough for viewers, the two candidates still have one final debate on their schedule before the big day on November 3. It will take place on Oct. 22, just a week from the Town Halls, in Nashville, Tennessee. It's reported that one of Guthrie's colleagues, White House correspondent Kristen Welker, will be the moderator for this final round.
Comments
comments