SNL Humorous Skit On The VP Debate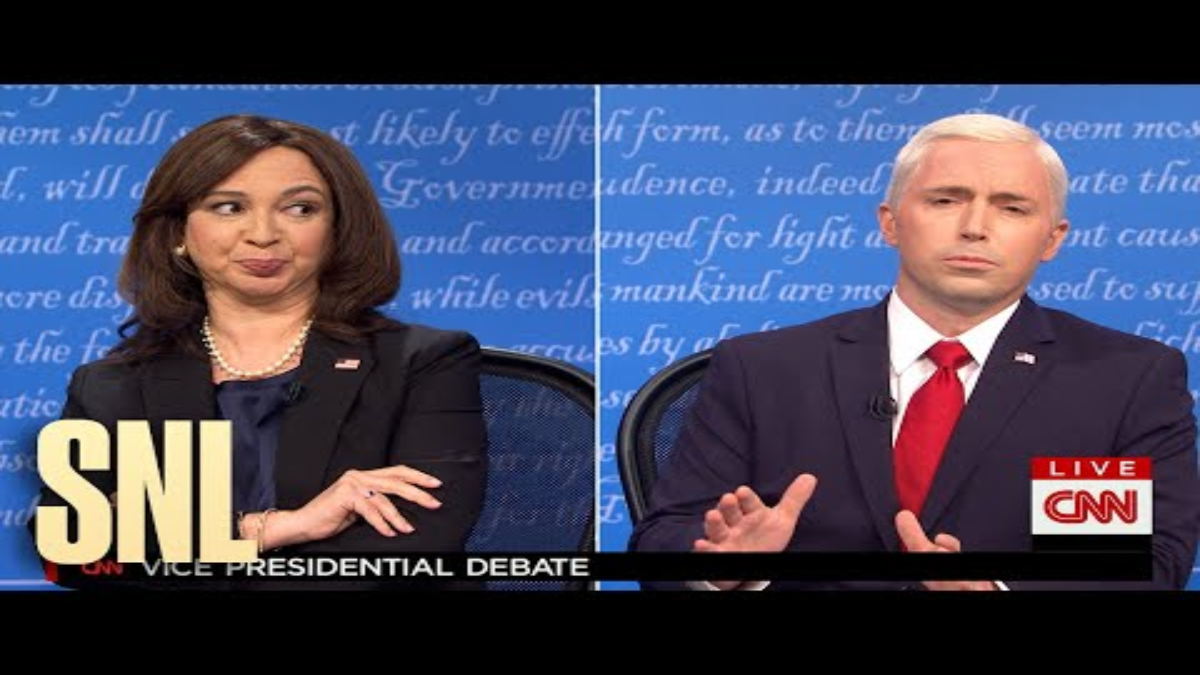 The vice presidential debate has received a lot of buzz on social media, so it was no surprise that NBC's Saturday Night Live opened their show making fun of the debate.
What We Know:
Saturday Night Live opened their second episode of their newest season with a cold yet humorous skit on the vice presidential debate between Sen. Kamala Harris of California (played by SNL alum Maya Rudolph) and Vice President Mike Pence (played by Beck Bennett). Two-time Emmy winning actress Kate McKinnon played the debate's moderator Susan Page of USA Today and portrayed her as a full moderator who failed to hide her animosity for President Donald Trump.
In one part of the skit, Page asks Pence about the conditions of Trump since he had COVID and Pence thanks her for her concerns, in which Page cuts in saying, "Oh I wasn't asking out of sympathy, Mike, I was asking with a simmering rage for his incompetence and a sadistic hope that he was not well."
Rudolph, who earned an Emmy award in September for Outstanding Guest Actress in a Comedy Series for the role of Harris, was applauded during the show when she responded to Pence continuously interrupting her by saying, "Mr. Vice President, I'm speaking," which Harris did actually say during the debate.
The highlight of the skit was when they brought up the fly that landed on Pence's head, which received a lot of buzz on social media. A lot of people claimed the fly was planned. In the skit, the fly was portrayed as Biden (played by actor Jim Carrey) who went through a teleportation machine to teleport to the debate but accidentally as a fly. This is a parody of Jeff Goldblum's 1986 thriller The Fly.
And even though there was one fly, the skit added another one that was portrayed as Herman Cain, who caught and died from COVID-19 after attending Trump's campaign rally in Tulsa.
The Biden campaign also took advantage of the fly humor and started selling Biden fly swatters for $10 but are currently sold out.
Comments
comments
Kazakhstan Uses Borat Catchphrase To Promote Tourism: 'Very Nice'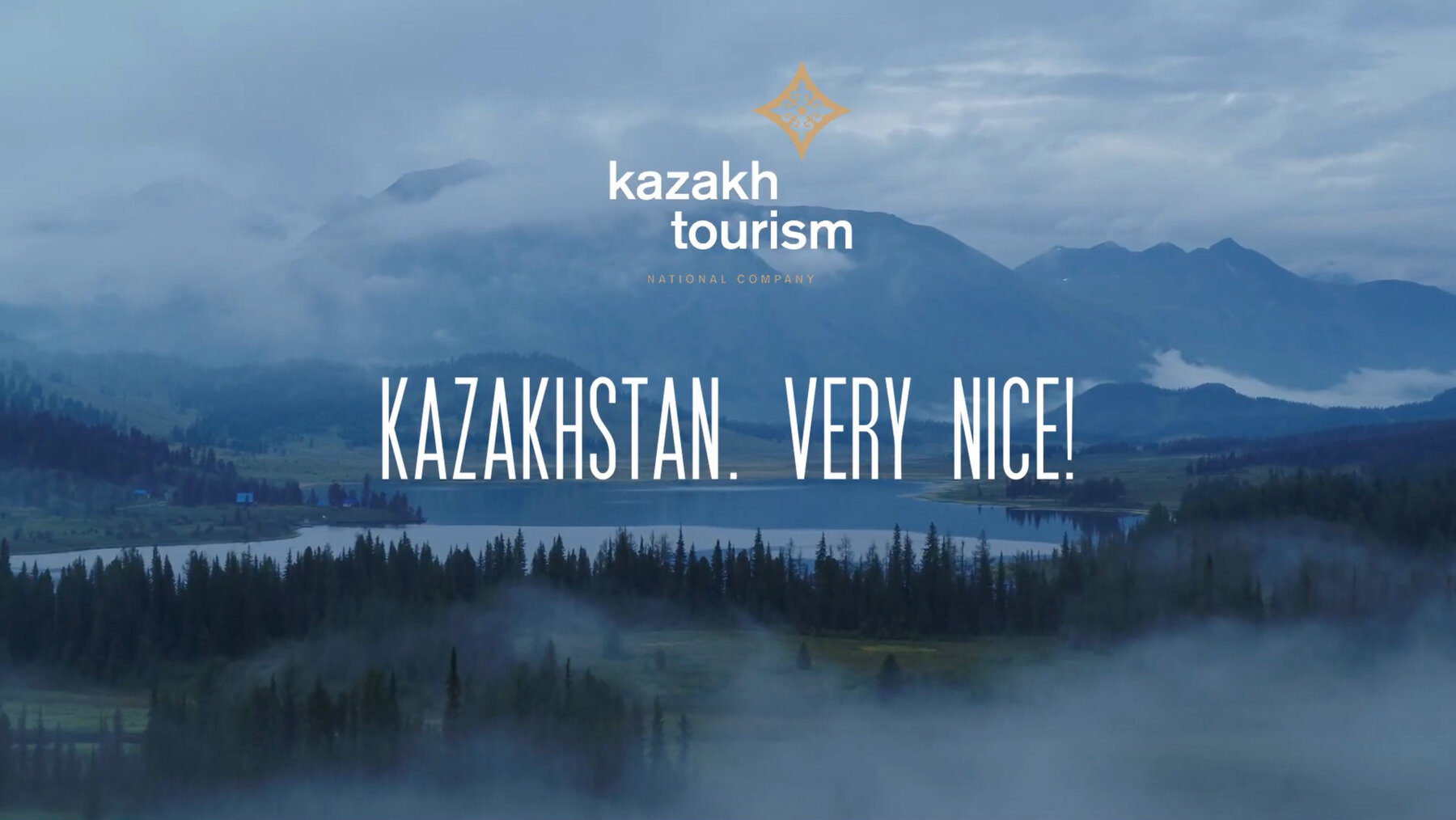 The nation of Kazakhstan has changed its tune when it comes to Borat.
What We Know:
Kazakhstan's tourism board launched a new marketing campaign this week using Borat's iconic catchphrase "Very nice!" as their slogan. They are using promotional videos where tourists explore Kazakhstan's landscapes, cities, and local food, and say some variation of Borat's line.
Kazakhstan's tourism board put the promotional material together and timed their campaign to coincide with the release of Borat Subsequent Moviefilm. They hope this campaign can "celebrate Kazakhstan and show fans [of Borat] around the world why they should come visit this incredible country," according to a press release.
"We would like everyone to come experience Kazakhstan for themselves by visiting our country in 2021 and beyond, so that they can see that Borat's homeland is nicer than they may have heard." – Kairat Sadvakassov, Deputy Chairman of Kazakh Tourism
The original Borat came out in 2006 and was a worldwide hit, except in Kazakhstan. In the satirical mockumentary, Sacha Baron Cohen takes on the character of Borat Sagdiyev, a fictional Kazakh journalist, to prank his way across America and expose a less flattering side of Americans.
Cohen's portrayal of Borat was full of stupid and offensive stereotypes and behaviors, and the film was banned in Kazakhstan. Cohen reprised the character in the 2020 sequel, which takes square aim at American conspiracy theories and the presidential election.
Borat Subsequent Moviefilm is available for streaming on Amazon Prime Video. It also recently stirred a national controversy for a scene involving Rudy Giuliani.
Comments
comments
'Borat' Sequels Drops Early As Rudy Giuliani Slams Sacha Baron Cohen Over Controversial Scene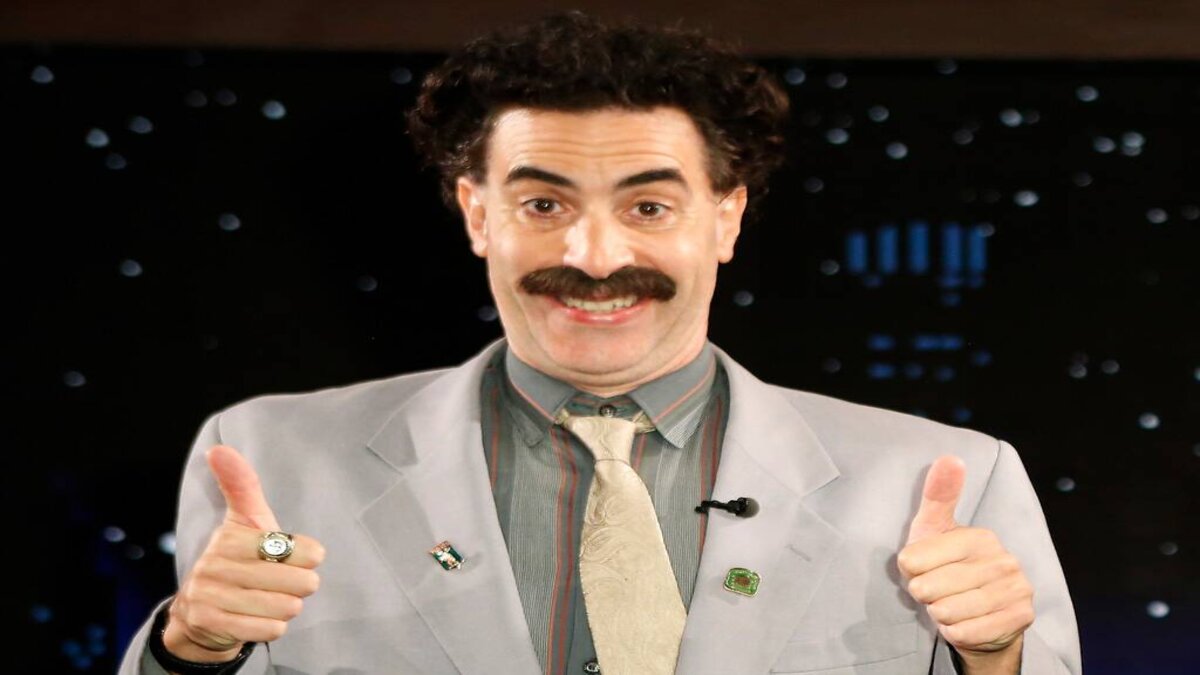 The Borat sequel, Borat Subsequent Moviefilm: Delivery of Prodigious Bribe to American Regime for Make Benefit Once Glorious Nation of Kazakhstan, dropped on Amazon Prime just moments before the final 2020 presidential debate kicked off. It was initially scheduled to premiere on Friday, October 23rd.
What We Know:
NBC News has reported that as they previewed the mockumentary prior to its release, the politician emerges in the film, having fallen for a humiliating joke created by Sasha Baron Cohen, who of course, we all know as Borat.
In the film, Giuliani is seen reclining on a bed, putting his hand down his pants and moving it around for what seems to be a few seconds as the actress playing Borat's teenage daughter, Maria Bakalova (24), pretending to be a television reporter, stands in front of him. Cohen, costumed as Borat, then walks in the room and offers himself to the politician, who replies, "I don't want you."
NBC News noted that it's unclear what occurred before or after the event supposedly took place in the movie.
OFFICIAL STATEMENT FROM BORAT SAGDIYEV pic.twitter.com/vM92Lam5vV

— Borat (@BoratSagdiyev) October 23, 2020
Giuliani has spoken out about the questionable scene. On Wednesday, October 22nd, the former mayor of New York City tweeted that the scene in which he appears is a "complete fabrication".
"I was tucking in my shirt after taking off the recording equipment. At no time before, during, or after the interview was I ever inappropriate. If Sacha Baron Cohen implies otherwise he is a stone-cold liar."
Giuliani also stated that "the NY Post today reports 'it looks to me like an exaggeration through editing".
"As soon as I realized it was a setup, I called the police, which has been noted in the THR article on July 8th."
Cohen responded to Giuliani's claims as Borat in a video posted to Twitter.
Comments
comments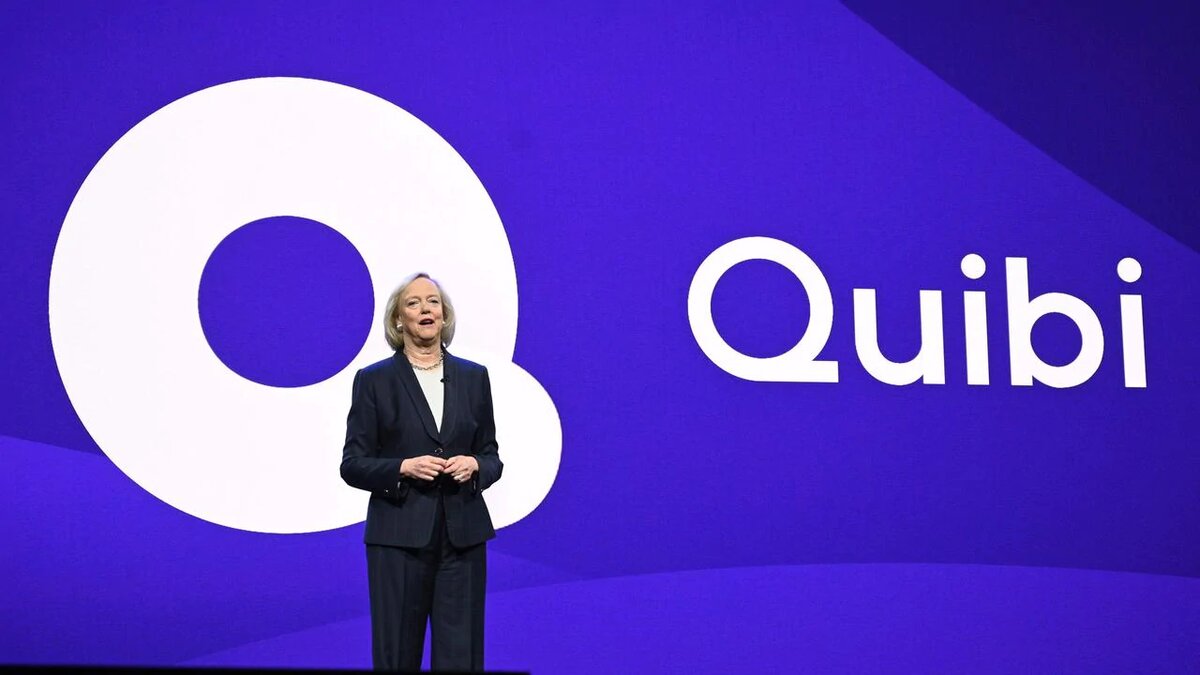 You might have heard about Quibi, a short form mobile-focused streaming service, at some point this year, but you won't be hearing from it anymore. Quibi recently announced it is closing house after only six months of operation, making it one of the shortest-lived streaming services to date. The announcement came from a Medium post.
What We Know:
The post by Jeffrey Katzenberg and Meg Whitman said, "We feel that we've exhausted all our options. As a result, we have reluctantly come to the difficult decision to wind down the business, return cash to our shareholders, and say goodbye to our colleagues with grace."
Several factors could have gone into the platforms of premature death, but one stands out the most. The new streaming service was mobile-only, and it was already at a disadvantage compared to other services. During a pandemic such as this, everyone at home seemed to choose other services as Quibi didn't offer enough to tempt subscribers. With many free platforms such as Youtube and Tik-Tok, the new service fell flat in an already saturated market.
Quibi has stated that much of the failure to launch off the ground was with itself and the idea "wasn't strong enough to justify a standalone streaming service or because of our timing". The company said they will notify what subscribers they did have of the final time they can access the service.
Quibi marketed a seemingly resilient and well cast original programing before and after the shutdown. In an effort to save that work, Katzenberg reached out to Apple, WarnerMedia, and Facebook to acquire them, but to no avail. When that plan failed, Katzenberg attempted to get Facebook and NBCUniversal to at least pick up its content, again with no success.
The streaming service officially launched on April 6th earlier this year with two plans to choose from: $4.99 a month (ads) or $7.99 a month (ad-free). The mobile-only gimmick was an attempt to separate itself from its competitors. They even threw in an interesting system where all their content was produced to accommodate portrait and landscape formats for a unique viewing experience. Aside from a free trial, there was no free option and TV apps weren't released until this week for platforms such as Apple, Android, and Fire TV.
It was reported that both Katzenberg and Whitman raised a whopping $1.75 billion in order to create Quibi, but having money doesn't always equal success. Despite promising content, which even landed them two Emmy wins, the subscriber base which helps a streaming service run, left as fast as it came.
Sensor Tower, an app tracking firm, reported that Quibi allegedly lost about 90 percent of its subscribers after the three-month free trial promotion in July. After the trial ended, the platform's users dropped from 900,000 to only 72,000 that stuck around and became paid members. Quibi has argued those figures are incorrect but have yet to release actual statistics.
Comments
comments