Store Security Guard Stabbed 27 Times After Asking Sisters to Wear Masks
The COVID-19 pandemic has certainly exhausted many people, but one unfortunate store security guard in Chicago was allegedly stabbed 27 times after asking two women to wear masks while shopping. According to the Associated Press, both women were revealed to be siblings and are being held without bond.
What We Know:
The despicable attack occurred late Sunday by 21-year-old Jessica Hill and 18-year-old Jayla Hill. The aftermath left a 32-year-old victim hospitalized in critical condition, stated police spokeswoman Karie James.
An argument broke out after one of the women rejected the guard's simple request to wear masks in the store. Leading up to the fight, the guard had reached toward Jayla Hill's cell phone when she said she was calling someone to "kick his a**." Jessica Hill then threw a trash can into the face of the guard, who is 6-foot-5, and at this point is when the sisters began their ruthless attack.
 It quickly became physical when one of the women punched the man. Jessica Hill then allegedly pulled out a knife from her back pocket and proceed to mercilessly stab the man as Jayla Hill held him in place by his hair. The man received injuries to his chest, back, and arms.
As soon as the situation ended, both parties were escorted to nearby hospitals. James said the women were arrested at the scene of the crime and were treated for "minor lacerations," while the victim was sent away in critical condition.
The case was heard over a bond hearing on Tuesday with Cook County Circuit Judge Mary C. Marubio present. The women's court-appointed attorney is claiming that the stabbing was self-defense, and that both sisters have bipolar disorder. Prosecutors have said that the security guard never even approached either woman or escalated the situation.
The sisters now are being held without bail on attempted murder charges, the Chicago Sun-Times reported. No further comments or details have been provided by the Chicago Police Department or Cook County Court.
Comments
comments
Laverne Cox Opens Up Transphobic Attack in Griffith Park: 'It's Not Safe in the World'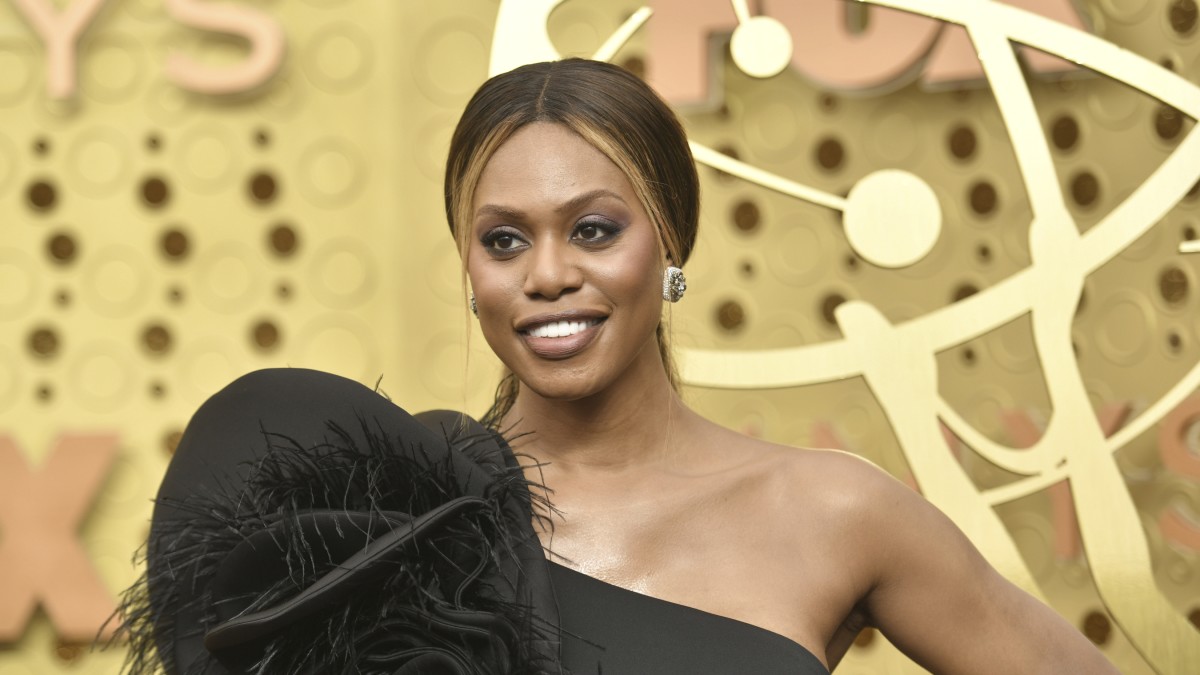 Actress Laverne Cox was the target of a transphobic attack in Griffith Park over the weekend.
What We Know:
Briefly after the attack on Saturday, Cox went live on Instagram to share details of the triggering assault. She said that she went for a "social distanced" walk in the Los Angeles park with a friend; she chose to keep his identity anonymous. As a man passed by them, he aggressively asked for the time. Despite his hostile manner, her friend still checked his watch and told the man. The stranger then said to Cox's friend, "Guy or Girl?" to which he replied, "F— off'.  At this point, Cox says the man began to attack her friend physically. Before she was able to call 911, the assault ended, and the attacker was gone.
The Emmy-nominated star and LGBTQ+ advocate believes the man was "looking for trouble." On the live stream now posted to her IGTV, she explains the guy probably used the question of time as a way to get Cox to speak so he could "spook" whether or not she was trans. Still in shock, she added, "I don't know why it matters. At the end of the day, it's like, who cares? I'm in a hoodie and yoga pants, I'm completely covered up, I've got my mask on. Who cares if I'm trans? How does this affect your life?"
The trans community rarely experiences the liberty of openly being themselves in public without fear of persecution. The incident served as a formidable reminder to Cox that "it's not safe in the world." She recalled her long history of street harassment in New York and facing bullies all of her life. Although she tries not to dwell on it, Cox accepts, "it's the truth, and it's not safe if you're a trans person." It does not matter who you are, she says, "You can be Laverne Cox, you know, or whatever that means. If you're trans … you're going to experience stuff like this."
The 2015 U.S. Transgender Survey showed 46% of respondents were verbally harassed in that year for being transgender, while 1 in 10 were victims of physical attacks. Transgender people are often the target of hate crimes and mistreatment. This survey necessarily reveals the alarming patterns of discrimination and violence against individuals within their community.
In the US this year, the Human Rights Campaign reported around 40 transgender, and gender non-conforming people have suffered violent deaths, including Chae'Meshia Simm, a black trans woman shot last week in Virginia. Many of their deaths go unreported, or they are misgendered in the report, so the exact number is difficult to know. HCR also mentioned the death of Skylar Heath, a black transgender woman in Florida whose friends say was also shot.  Like many, her death has received no media coverage and has yet to be reported by authorities.
Cox concluded with a reminder to her followers: "When these things happen, it's not your fault. It's not your fault that people are not cool with you existing in the world… We have a right to walk in the park."
Comments
comments
Florida Rapper Allegedly Murders Two People After Shooting Music Video
Tampa, Florida rapper, 23-year-old Billy Bennett Adams III, better known as Ace NH, has been charged after killing 2 people in a recording studio.
What We Know:
According to Complex, "Ace NH was arrested by officers from the Hillsborough County Sheriff's Office for two counts of premeditated first-degree murder with a firearm and one count of armed burglary of a structure."
Before the incident, the rapper arrived at a makeshift recording studio in a shed behind a home in the Lutz community where he was set to record a music video. At the end of the session, the rapper allegedly shot two men in what is being called a gang-related incident and fled the scene in his car. Officers are not releasing the names of the victims, but did confirm that one victim was a member of the Crips.
In a statement for the  Tampa Times, Sheriff Chad Chronister said, "Although the attack was clearly targeted, we will not allow gang-related disputes to disrupt the comfort and safety of innocent residents in any of our communities. It is clear that this suspect had no regard for human life, and now he will face the consequences for his actions."
Ace NH recently released two projects in October of 2020, titled Life Goes On and Paint Tha City. While pursuing his music career, he also held a part-time job working at the mall.
Two days after the shooting, Ace NH was apprehended. He is currently being held at the Orient Road Jail without bail.
Comments
comments
Trump Supporter Charged with Assault After Coughing on Woman At Trump Golf Course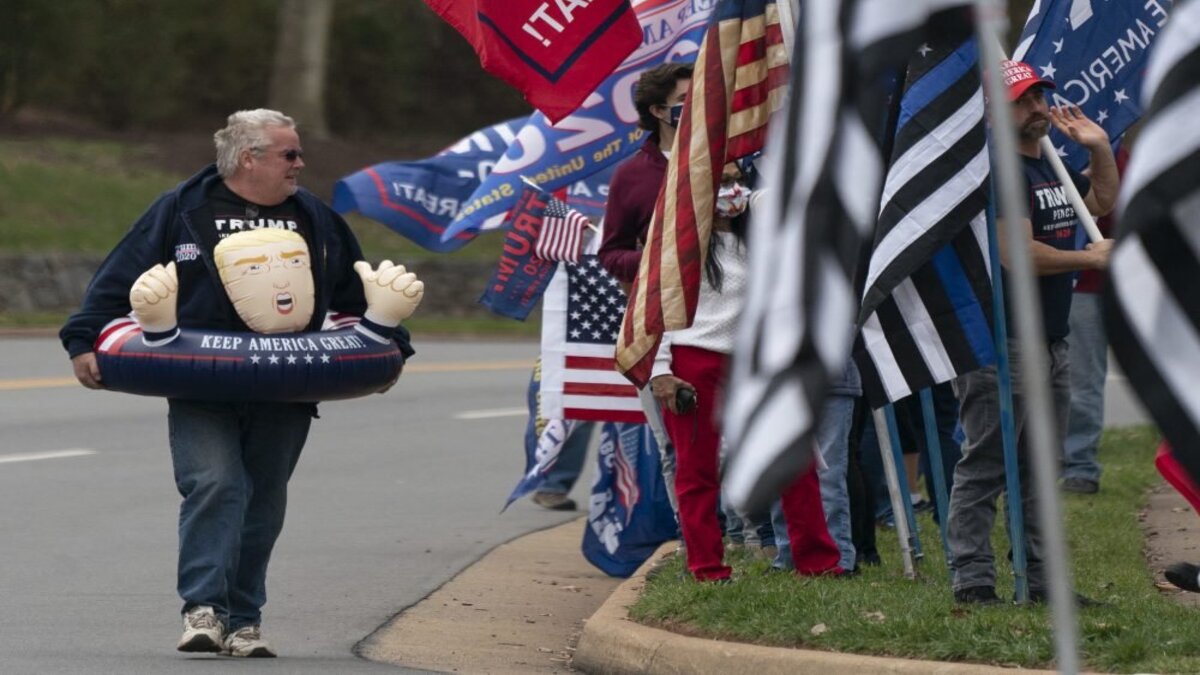 A Virginia man, viewed in a viral video coughing and then blowing on two women that were protesting President Trump outside his golf course, has been charged with assault.
What We Know:
According to the Loudoun County Sheriff's office, Raymond Deskins, 61, was charged with a misdemeanor for simple assault on Sunday afternoon after a citizen received a warrant through a county magistrate.
Trump supporter forcefully exhaling without a mask on a protester outside the Trump National Golf Club, Nov. 21, 2020 pic.twitter.com/Bq2mMH1At0

— Douglas Christian (@DougChristianDC) November 21, 2020
Deskins is accused of breathing and purposely coughing on two women who were protesting in front of the Trump National Golf Club located in Sterling, Virginia, on Nov. 21. In the above video, Deskins is seen getting into a verbal argument with protesters, then he coughed and blew in the direction of a woman.
In a now-viral video, part of a group of counter-protesters caught Deskins, wearing a Trump T-shirt and a pool float that has the president around his waist, attacking the women. She can be heard asking Deskins to "get away" and told him "you don't have a mask".
Deskins replied that he was not in anyone's way and then exhaled heavily on the two women, declaring after the fact: "I breathed on you".
According to Politico, some members of the Loudoun County Board of Supervisors emitted a request to law enforcement on Sunday requesting a full investigation of the incident.
The Loudoun County Sheriff's Office said the disturbance was investigated at the scene but since it was not seen by law enforcement and the video did not catch the entire interaction, the sheriff's office informed both parties that they could seek a citizen obtained warrant through a county magistrate.
Update on video circulating on social media after an incident near Trump National Golf Club. pic.twitter.com/NFnbmOnYRi

— Loudoun Co. Sheriff (@LoudounSheriff) November 22, 2020
"We're both senior citizens, both close to 70 years old, which puts us in a high-risk category," Kathy Beynette, one of the protesters, told NBC News4. "Because of this guy, my family has had to cancel the small Thanksgiving that we had planned with just a few people because I said I might've been exposed."
Virginia residents are required to wear masks in indoor public settings, yet it's not obligated they be worn outside.
Deskins has been charged with misdemeanor assault as of Sunday after a warrant was obtained. He was released on a summons.
Comments
comments