Breonna Taylor Grand Jurors Say Police Actions were 'Negligent' and 'Criminal'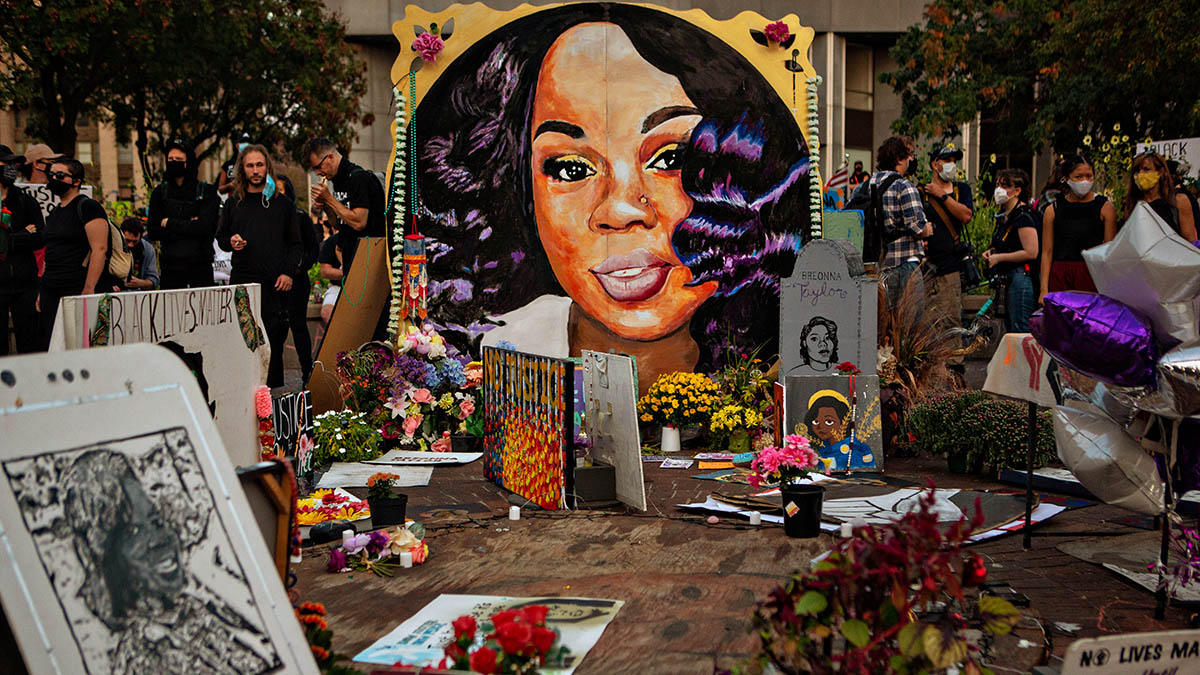 Ever since the death of Breonna Taylor last March, calls for justice continue to be heard in a country plagued by social unrest. This week, two Kentucky jurors have finally spoken on the decision to not charge the three police officers involved in the raid. They described their actions that night as "criminal" and "negligent".
What We Know:
During an interview on CBS This Morning with Gayle King, two jurors were asked their thoughts of "the police behavior and actions" on March 13th. The jurors' faces were blurred to hide identities and they are the first of a dozen people from the grand jury to speak. This is the first time the jurors broke their silence since the September 23rd ruling.
This development comes amid the increasing call to release grand jury records to the public after jurors disputed how Attorney General Daniel Cameron handled the case.
A majority of the interview focused on King and the two jurors, referred to as No. 1 and No. 2, sharing their honest thoughts on how they would assess the police's actions in the incident of Taylor's Louisville home, where she was shot five times after a mishandled no-knock raid.
"Negligent," stated the first of the jurors. "They couldn't even provide a risk assessment and it sounded like they hadn't done one. So their organization leading up to this was lacking. That's what I mean by they were negligent in the operation."
Grand juror No. 2 did not hesitate to back up the first juror's remarks. They said the officers were "criminal" for their actions. "They were criminal leading up to this in everything that they [did]," the juror said. "The way they moved forward on it, including the warrant, was deception."
The two grand jurors previously called out Cameron for stating that the reason the officers couldn't be charged before for their actions was that they claimed it was in self-defense after Taylor's boyfriend, Kenneth Walker, opened fire. The jurors now bring up the point that they were in fact not given a proper opportunity to discuss murder-related charges.
As we previously reported, former officer Brett Hankison was eventually fired from duty. Cameron also served as a special prosecutor in his case. The grand jury has since charged him with three counts of wanton endangerment, of which he pleaded not guilty.
Aside from Hankison, the other two officers involved, Jonathan Mattingly and Myles Cosgrove, remain in the police force. According to ballistics tests, Cameron was able to conclude that it was Cosgrove who fired both a shot into Walker's leg and the fatal shot that unfortunately ended Taylor's life. It was later revealed that the same officer tried to raise money to retire shortly after the incident.
Comments
comments
Laverne Cox Opens Up Transphobic Attack in Griffith Park: 'It's Not Safe in the World'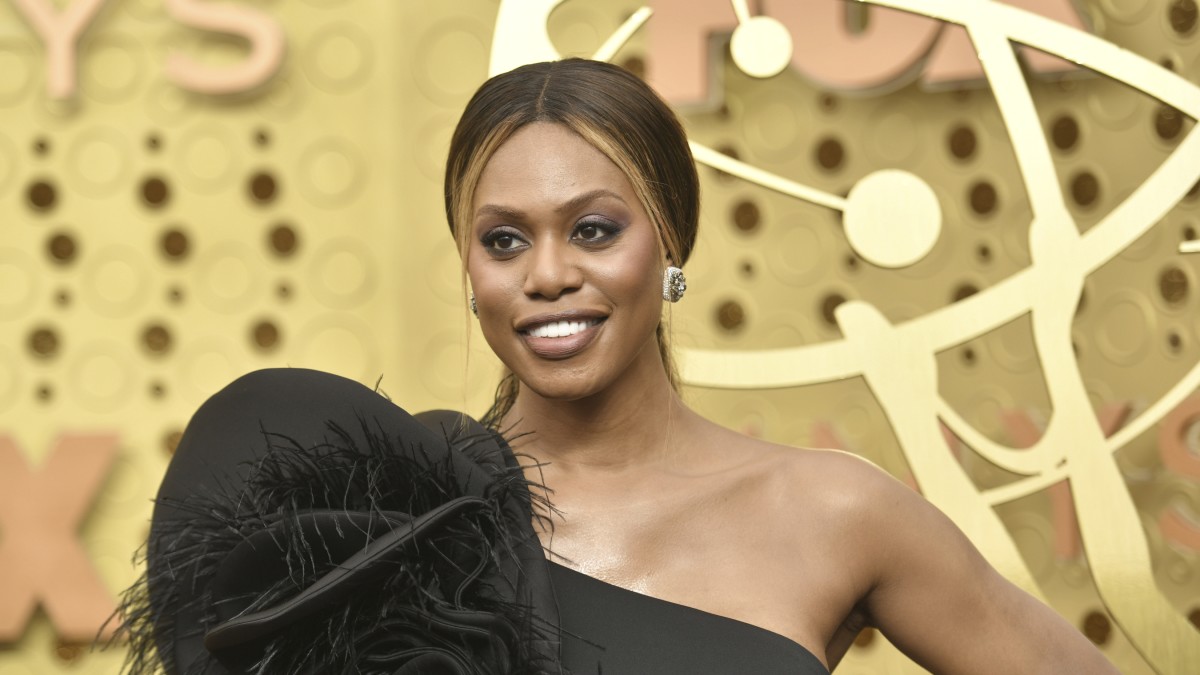 Actress Laverne Cox was the target of a transphobic attack in Griffith Park over the weekend.
What We Know:
Briefly after the attack on Saturday, Cox went live on Instagram to share details of the triggering assault. She said that she went for a "social distanced" walk in the Los Angeles park with a friend; she chose to keep his identity anonymous. As a man passed by them, he aggressively asked for the time. Despite his hostile manner, her friend still checked his watch and told the man. The stranger then said to Cox's friend, "Guy or Girl?" to which he replied, "F— off'.  At this point, Cox says the man began to attack her friend physically. Before she was able to call 911, the assault ended, and the attacker was gone.
The Emmy-nominated star and LGBTQ+ advocate believes the man was "looking for trouble." On the live stream now posted to her IGTV, she explains the guy probably used the question of time as a way to get Cox to speak so he could "spook" whether or not she was trans. Still in shock, she added, "I don't know why it matters. At the end of the day, it's like, who cares? I'm in a hoodie and yoga pants, I'm completely covered up, I've got my mask on. Who cares if I'm trans? How does this affect your life?"
The trans community rarely experiences the liberty of openly being themselves in public without fear of persecution. The incident served as a formidable reminder to Cox that "it's not safe in the world." She recalled her long history of street harassment in New York and facing bullies all of her life. Although she tries not to dwell on it, Cox accepts, "it's the truth, and it's not safe if you're a trans person." It does not matter who you are, she says, "You can be Laverne Cox, you know, or whatever that means. If you're trans … you're going to experience stuff like this."
The 2015 U.S. Transgender Survey showed 46% of respondents were verbally harassed in that year for being transgender, while 1 in 10 were victims of physical attacks. Transgender people are often the target of hate crimes and mistreatment. This survey necessarily reveals the alarming patterns of discrimination and violence against individuals within their community.
In the US this year, the Human Rights Campaign reported around 40 transgender, and gender non-conforming people have suffered violent deaths, including Chae'Meshia Simm, a black trans woman shot last week in Virginia. Many of their deaths go unreported, or they are misgendered in the report, so the exact number is difficult to know. HCR also mentioned the death of Skylar Heath, a black transgender woman in Florida whose friends say was also shot.  Like many, her death has received no media coverage and has yet to be reported by authorities.
Cox concluded with a reminder to her followers: "When these things happen, it's not your fault. It's not your fault that people are not cool with you existing in the world… We have a right to walk in the park."
Comments
comments
Black Panther Intro on Disney+ Updated to Honor Chadwick Boseman's Birthday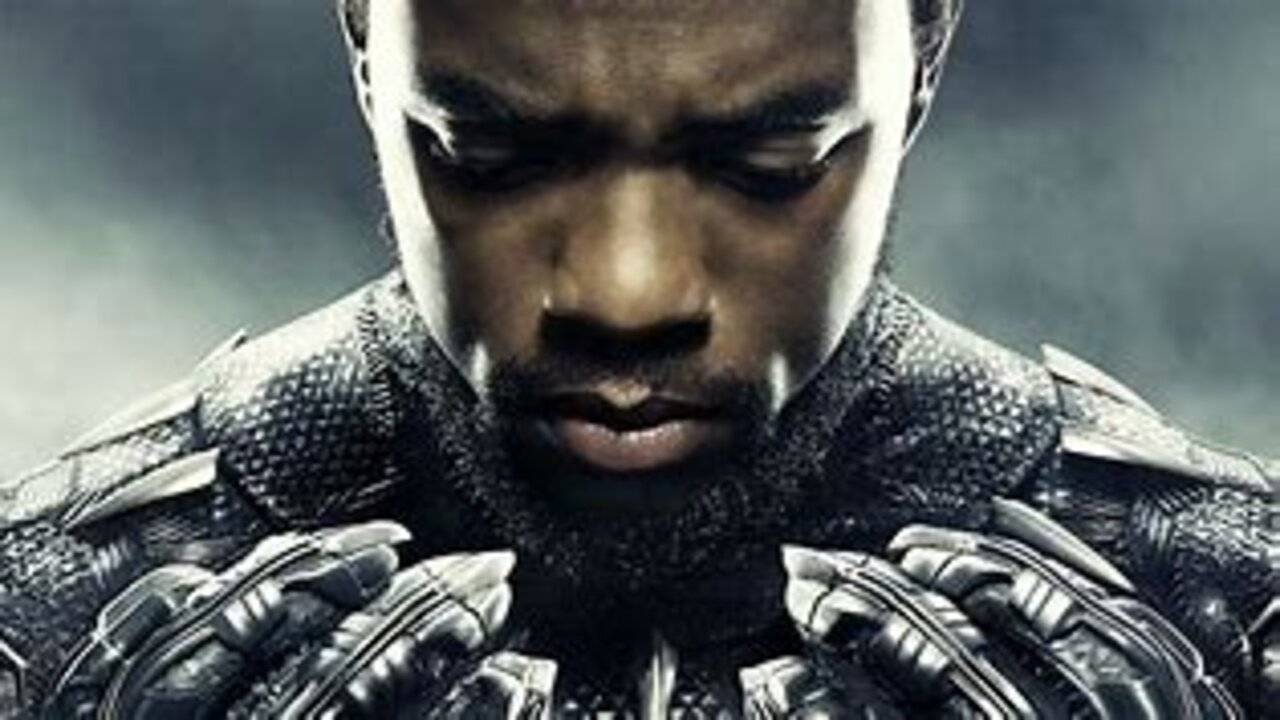 Disney+ is making some changes in honor of Chadwick Boseman. He would have been 44 on November 29th.
What We Know:
According to MSN, Walt Disney executive Bob Iger announced on Twitter that the streaming platform had updated the Marvel introduction in Black Panther to show a tribute to Boseman, who played the beloved King T'Challa. In a Twitter post, he said, "To all fans of #BlackPanther: watch the film on #DisneyPlus late tonight, for a special tribute to someone that was and will always be near and dear to our hearts."
To all fans of #BlackPanther: watch the film on #DisneyPlus late tonight, for a special tribute to someone that was and will always be near and dear to our hearts.

— Robert Iger (@RobertIger) November 28, 2020
The new intro starts with the iconic Marvel comic-book opening before it shows concept art from Black Panther and footage from Boseman's appearances in Captain America: Civil War, Avengers: Infinity War, and Avengers: Endgame. There are also some famous quotes by T'Challa, including the famous line from when his character addresses the U.N. Assembly in the post-credit scene of Black Panther: "In times of crisis, the wise build bridges while the foolish build barriers."
The images serve as a reminder of Boseman's legacy in the Marvel Cinematic Universe, but Boseman is also shown behind-the-scenes. As the camera pulls back for the Marvel Studios logo, Boseman gives his "Wakanda Forever" salute. Earlier this year, it was announced that "Black Panther 2" will be released on May 6, 2022.
Several friends and family members made posts about him in honor of his birthday. His brother Kevin shared a photo of white flowers, writing, "Today is a good day to give someone their flowers." Boseman's Black Panther costar, Lupita Nyong'o shared a photo of the duo on Instagram. "Deeply loved, sorely missed. #ChadwickBoseman,". Michael B. Jordan shared a photo on his Instagram as well, saying, "Continue watching over us King. Happy Birthday. Miss you."
The new into is already live and can be seen on Disney+ now. You can watch the intro here.
Comments
comments
Biden and Harris Announce All-female Communications Team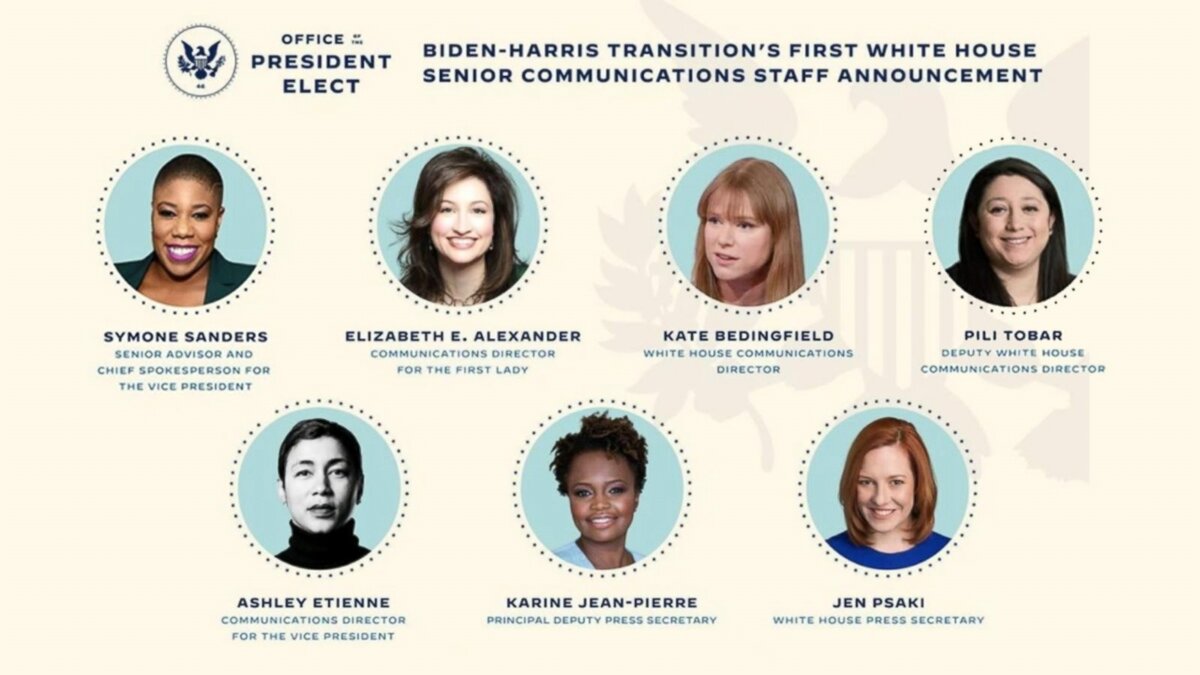 Joe Biden and Kamala Harris announced Sunday their White House communication team, all of whom are female. 
What We Know: 
The Biden-Harris Presidential Transition Twitter page posted an 

image

 of the all-woman team. The post reads, "President-elect Biden and Vice President-elect Harris today announced new members of the White House staff who will serve in senior communications roles. For the first time in history, these communications roles will be filled entirely by women." Not only is the team comprised of only females, but several are also are women of color. 

The team of seven is formed by former Obama communications director Jen Psaki as press secretary. Formally a CNN political commentator and State Department spokesperson during the Obama administration. Psaki has been involved in three presidential campaigns starting with John Kerry in 2004, then Obama-Biden in 2008 and 2012. 

Previously Biden's deputy campaign manager and communications director, Kate Bedingfield, serves as the White House communications director. Bedingfield previously worked under the Obama administration as Biden's communications director. She was vice president of corporate communications at the Motion Picture Associate of America. Bedingfield also served as a spokesperson for John Edwards' 2008 presidential campaign and as the communications director for Senator Jeanne Shaheen's 2008 Senate campaign in New Hampshire. 

Pili Tobar, the previous communications director for coalitions on Biden's campaign, now serves as deputy White House communications director. Previous deputy director for America's Voice and Hispanic media director for Senate Minority Leader Chuck Schumer. 

Karine Jean-Piere, a former senior adviser to Biden on the campaign, now serves as principal deputy press secretary. Jean-Piere formally worked on the presidential campaigns for Obama and Martin O'Malley. Other roles include chief public affairs officer at MoveOn.org and managing the American Civil Liberties Union's Reproductive Freedom Initiative. 

Symone Sanders worked on the Biden campaign as a Senior adviser. Sanders will serve as a senior adviser and chief spokesperson for the vice president. Sander's notable work includes working as national press secretary for Bernie Sanders during his 2016 presidential campaign. She is a former member of the Federal Advisory Committee on Juvenile Justice and is the former chair of the Coalition of Juvenile Justice Emerging Leaders Committee. 

Ashley Etienne joined Biden's campaign as a senior advisor. Etienne will serve as communications director for the vice president. She previously served as Nancy Pelosi's communications director and senior advisor. She was the first woman of color to hold this position. Additionally, Etienne served under the Obama administration as a special assistant to the President and director of communications for the Cabinet. She led Obama's My Brother's Keeper initiative. 

Lastly, Elizabeth Alexander joins the team after working with Biden on his campaign as a Senior Advisor. Alexander will serve as communications director for the first lady. Also operating under the Obama administration, she served as Biden's press secretary. When Biden was senator, Alexander served as his communications director. She also worked as a federal prosecutor in the US Attorneys' offices in Washington DC and Virginia. Alexander worked as press secretary for the United Nations Foundation as well as press secretary to Terry McAuliffe. 
The team is a first for the country, just as Harris is the first woman Vice President. As Biden fills the white house, there seems to be a possibility of more firsts.
Comments
comments