Nearly Half of LGBTQ Adults are Religious, U.S. Study Finds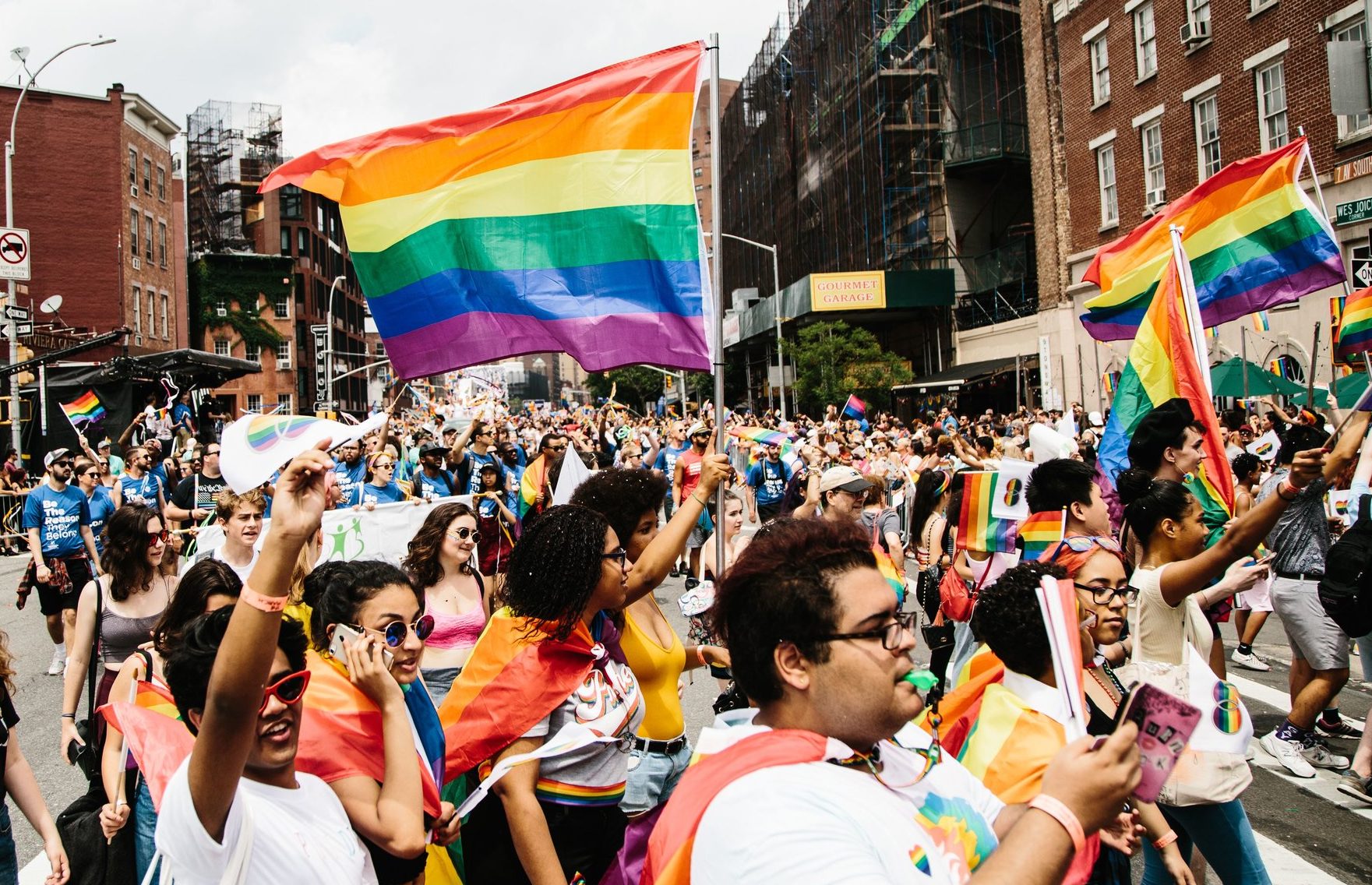 A recent study from the UCLA School of Law's Williams Institute, found that 47% of LGBTQ adults surveryed identified as either moderately or highly religious.
What We Know:
The study, which examined nearly 16,000 participants using data from the Gallup Daily Tracking Survey, aims to assess religiosity among LGBT people in the United States and provide information about their sociodemographic characteristics. The study found that LGBTQ community members who were older, Black, or lived in the South were the most likely to be religious.
The survey questions were asked in order to determine degrees of religiosity.  Those participants who deemed religion as an unimportant part of their daily life and claimed to never or seldom attended services were categorized as "not religious" and made up 53% of the results.
Participants who responded that religion was important, even if they attended services less than once a month, were classified as "moderately religious". Additionally, respondents who claimed they attend services weekly, even if they said religion was not important in their lives, were also labeled as moderate. Moderately religious participants made up 27% of the results.
Respondents who answered that religion played a significant role in their daily lives and attend service regularly were labeled as "highly religious," and made up 20% of the data. Religiosity was highest in the 64 and older age group; nearly two-thirds, 65%, were moderately or highly religious.
The report states that the 5.3 million religious LGBTQ adults in America "are found across the age spectrum, in every racial-ethnic group, among married and single people, among those who are parenting, and among rural and urban dwellers."
The lead author of the report , Kerith J. Conron, raised doubts about the levels of religiosity in future generations, stating that his "hypothesis is that fewer and fewer people in young adulthood are choosing religion. It's a pattern we see in non-LGBT people, as well." He added, "People are consciously deciding to step away from the religion of their youth because it doesn't embrace their values."
As religious institutions begin to slowly progress in accepting LQBTQ community members within their practices, we may begin to see a slower decrease in religiosity. However, the past oppression and exclusion by these religious groups will almost certainly lead to a decline in membership.
Comments
comments
Trans Man Killed Amid Puerto Rico's 'Wave of Homophobic and Transphobic' Violence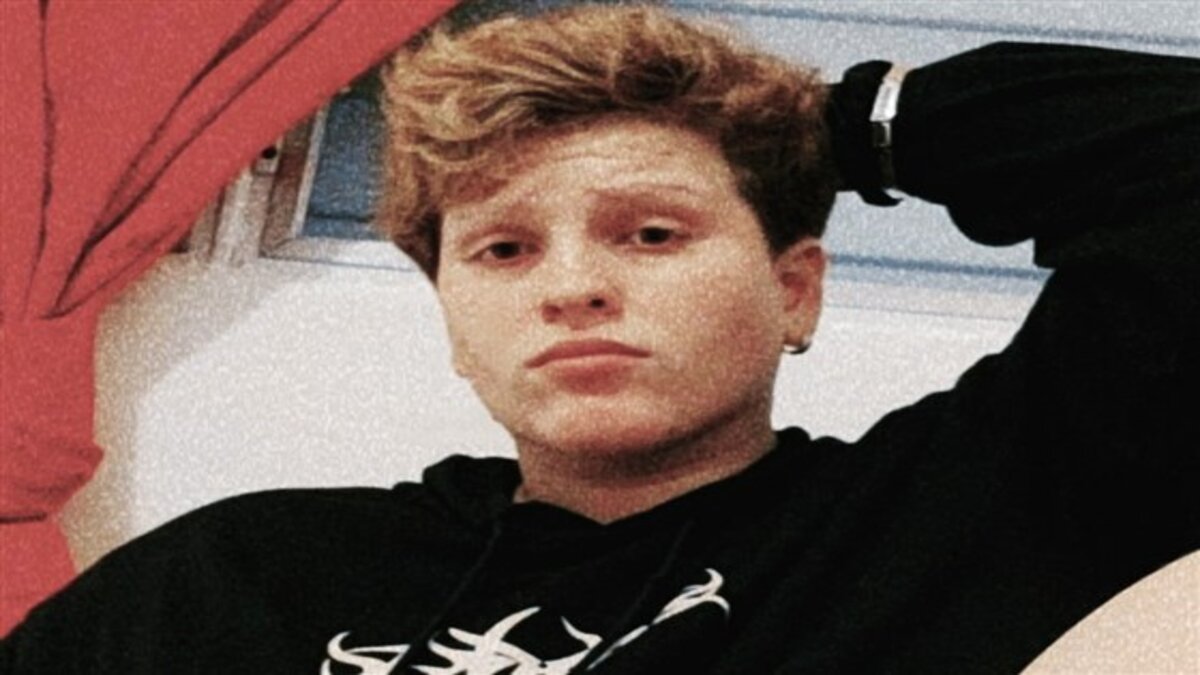 Authorities from Puerto Rico are investigating the death of a transgender man found with multiple gunshot wounds on Jan. 9.
What We Know:
WAPA, a local news station, stated a motorist was driving on a dark section of highway in Trujillo Alto, a town about 15 miles southeast of San Juan when she hit something. As she stepped out of her vehicle, she recognized it was a dead body and informed the police, who identified the victim as Samuel Edmund Damián Valentín.
Police originally misgendered Damián, who had posted his current home as Juncos on Facebook, less than 15 miles from Trujillo Alto. Homicide director Lt. José Padín, with the criminal investigation unit in nearby Carolina, stated to the San Juan Daily Star, Damián "had no identifications nor were there family members who were able to identify him beforehand."
According to the Daily Star, his mother and stepfather were ultimately able to identify his body but used his birth name. "His mom told me that he would always prefer for others to call him Samuel, Sam, or Sammy when he was out in the streets," Padín mentioned.
The founder of the LGBTQ advocacy group Puerto Rico Para Tod@s, Pedro Julio Serrano, stated police aren't doing sufficient enough to deal with "the wave of homophobic and transphobic violence that haunts us like never before."
"They are violating us, they are hunting us and they are killing us while Wanda Vázquez and her government turn a blind eye," said Pedro Julio Serrano, founder of Puerto Rico Para Tod@s, a Puerto Rican LGBTQ advocacy group, in a statement.
Puerto Rico's hate crime law incorporates both sexual orientation and gender identity, but, according to Metro Weekly, local prosecutors rarely apply them. There are not enough investigations being done in the crimes, and it truly does not seem a priority. Sadly, Damián is not the only victim of such heinous crimes.
Two trans women  Layla Peláez, 21, and Serena Angelique Velázquez, 32, were found inside a burned-out car in Humacao last spring. Penélope Díaz Ramírez, 31, was beaten and hanged in a men's prison in Bayamon. In February, Neulisa Luciano Ruiz, also known as Alexa, was shot to death in Toa Alta. Yampi Mendez Arocho and  Michelle Michellyn Ramos Vargas were also killed.
The Transgender Law Center mourned Damian's murder in a tweet Wednesday, expressing, "We are horrified at what you experienced in your last moments. Trans men deserve dignity and the chance to thrive."
Samuel Edmund Damián Valentín. We are horrified at what you experienced in your last moments. Trans men deserve dignity and the chance to thrive. The 7th trans person that we know of to be murdered in Puerto Rico since the beginning of 2020. https://t.co/5XFbAp0n5c

— TransgenderLawCenter (@TransLawCenter) January 14, 2021
In the early morning hours of New Year's Day, Damián posted on Facebook about his excitement for the "new year to come."
"[I'm] grateful for all the experiences that taught me how strong we really are," he wrote. "To life, to good and bad, and for all justice that is to come forth."
No motive or suspects have been found. Damián is the seventh known transgender individual murdered by the violence in Puerto Rico since last February.
Comments
comments
Oprah Winfrey Documentary Officially in the Works at Apple TV+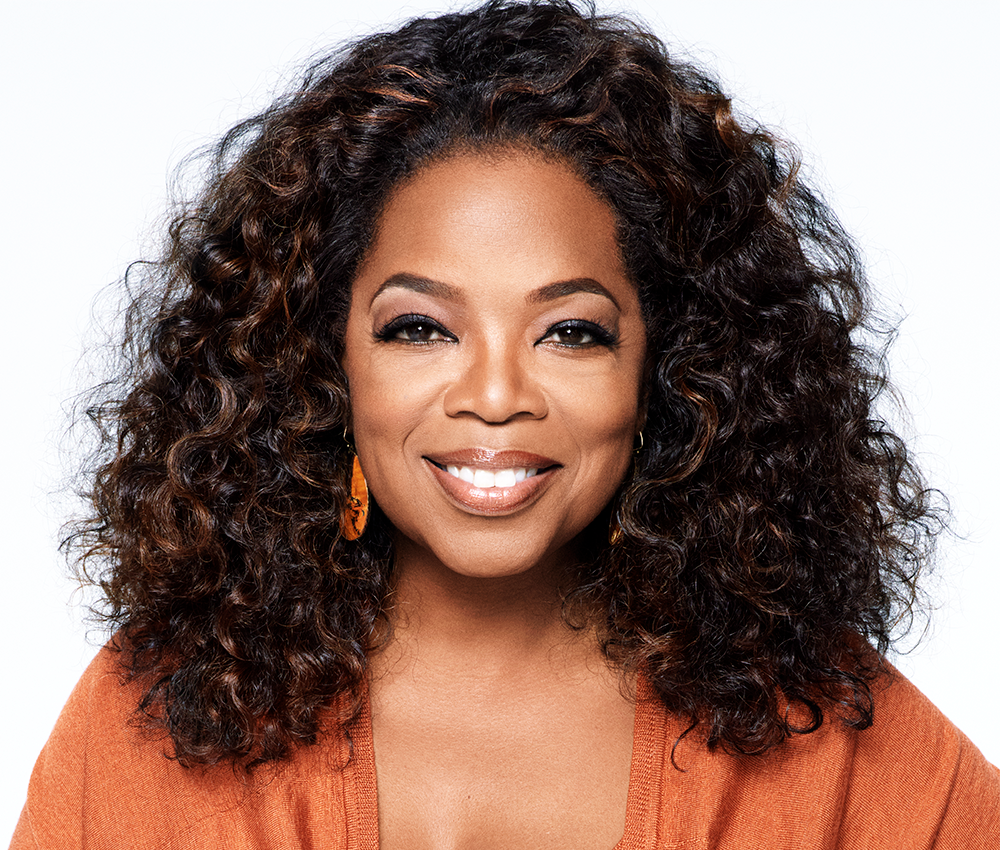 Media legend Oprah Winfrey is officially getting her own documentary that will be released on Apple TV+ reports the Associated Press.
What We Know:
On Thursday, the streaming service announced that they would be releasing a two-part biographical documentary on Winfrey's life. The film will follow the mogul's life story, portraying 25 years of American history from Winfrey's point of view.
Winfrey, "who rose from humble roots to become a billionaire, philanthropist, actress, media executive, and agent of social change," will be portrayed in a film directed by Oscar-winner Kevin MacDonald and Emmy-nominated producer Lisa Erspamer, who is known for her work on The Oprah Winfrey Show and Whitney.
Apple TV+ and Winfrey have been working together since 2018, when they reached a multi-year deal to create original programs. Some of the shows released on the streaming platform include The Oprah Conversation, Oprah Talks COVID-19, and Oprah's Book Club.
Just last Friday, Winfrey announced that she was cutting ties with another Apple Tv+ documentary project about the sexual misconduct allegations against musician Russell Simmons. The untitled film is scheduled to have its premiere at the Sundance Film Festival later this month. In a statement, Winfrey said she "unequivocally believes and supports the women," adding that their stories "deserve to be told and heard."
After Winfrey departed from the project, Apple TV+ also pulled away since they agreed to make the documentary available on its streaming platform as part of Winfrey's overall deal with the company.
According to Winfrey, her decision stemmed from creative differences with the filmmakers. "In my opinion, there is more work to be done on the film to illuminate the full scope of what the victims endured," she said, "and it has become clear that the filmmakers and I are not aligned in that creative vision."
Winfrey has always been known to create projects and make decisions based on her personal values that stem from the difficult experiences she's faced growing up. Now, she is allowing viewers to witness her history and perhaps bring a new perspective to how people view her success story.
Comments
comments
Mark Zuckerburg Announces Indefinite Trump Ban on Instagram and Facebook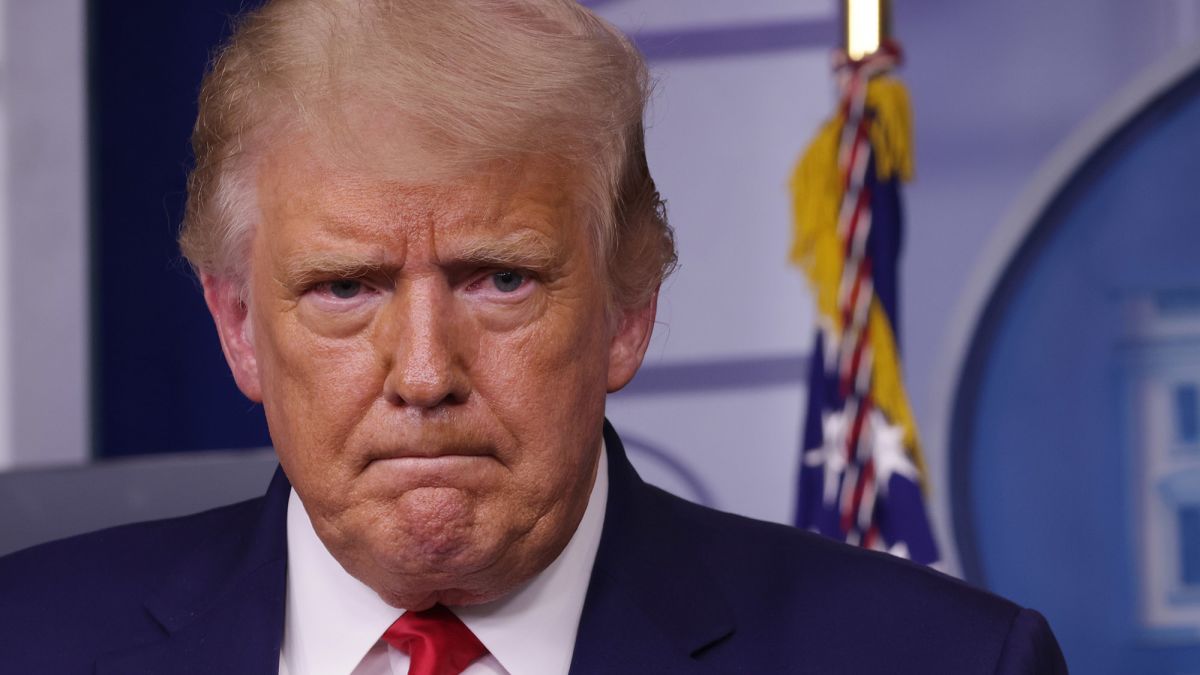 After the violent chaos of yesterday, Facebook CEO Mark Zuckerberg has announced an indefinite ban against Trump.  This follows Twitter locking his account and requiring the deletion of specific tweets from Trump.
We believe the risks of allowing President Trump to continue to use our service during this period are simply too great, so we are extending the block we have placed on his Facebook and Instagram accounts indefinitely and for at least the next two weeks.
Read the responses from Facebook throughout the events of yesterday and updates from today.  We will provide updates as they become available.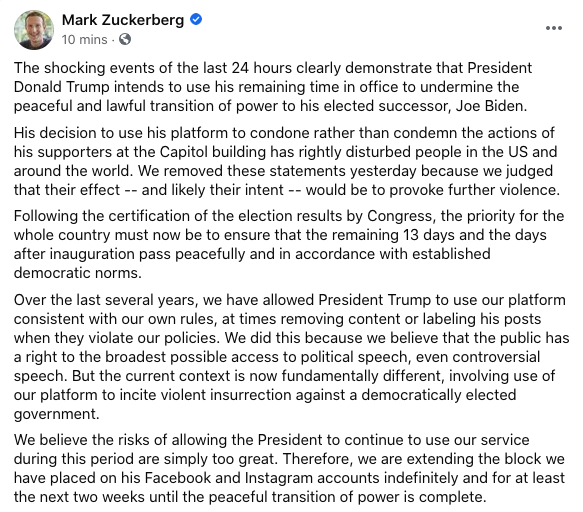 Comments
comments