U.S. Capitol on Lockdown due to Increasingly Violent Protests from Pro-Trump Thugs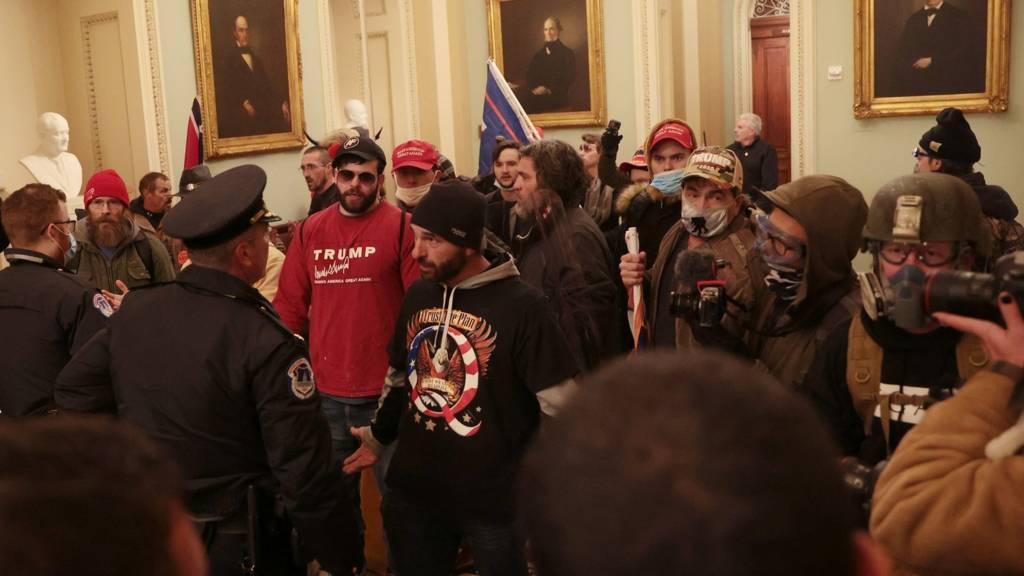 Update 1/6/21 7:15 PM EST:
The National Guard, SWAT Team, and Metropolitan Police calmly walked out rioters from the Capitol beginning at approximately 4:30 PM.  Pelosi has announced the certification vote will continue at 8 PM EST in an undisclosed location.
Prior to the building being re-secured, a pipe bomb was discovered at the Republican National Committee's headquarters.  The device was found outside along the headquarter's wall and was safely detonated by the police.
At least two more suspected pipe bombs, said to be real explosive devices, were detonated safely including one at the building that houses RNC offices and one in the US Capitol complex.
President-elect Joe Biden issued a statement asking Trump to "step up" and issue a statement disavowing the actions of his supporters.  Trump issued a statement requesting his supporters go home but continued his false statements of fraudulent election results and conflicting messaging.
Trump continued dangerous rhetoric on his social media platforms leading Youtube, Facebook, and Twitter to delete two of his posts.  Twitter also locked Trump's account and is requiring the removal of three tweets citing their recent "Civic Integrity Policy" and stated if the tweets are not removed, his account will remain locked.
As a result of the unprecedented and ongoing violent situation in Washington, D.C., we have required the removal of three @realDonaldTrump Tweets that were posted earlier today for repeated and severe violations of our Civic Integrity policy. https://t.co/k6OkjNG3bM

— Twitter Safety (@TwitterSafety) January 7, 2021
We are sad to announce the woman previously mentioned who was shot in the chest has died.  Details have not been released surrounding the shooting or details of her identity.
This is not a day we ever hoped to see as the Capitol has not been stormed and taken over in this manner since 1814 during the War of 1812 when the British burned Washington in retaliation.
The vote will continue despite these horrific events and we will continue to update this article as updates are made available.
Update 1/6/21 3:30 PM EST:
The Capitol rotunda has been breached with protestors breaking windows and climbing through them, walking throughout the Capitol as lawmakers hide in their offices.  Speaker of the House Nancy Pelosi has called for the National Guard to step in and assist.
A woman is also reportedly in critical condition after being shot in the chest.  No further details on her condition are known.
Trump has only tweeted asking for support of the Capitol police and to "remain peaceful" but his staff is requesting a stronger disavowing statement.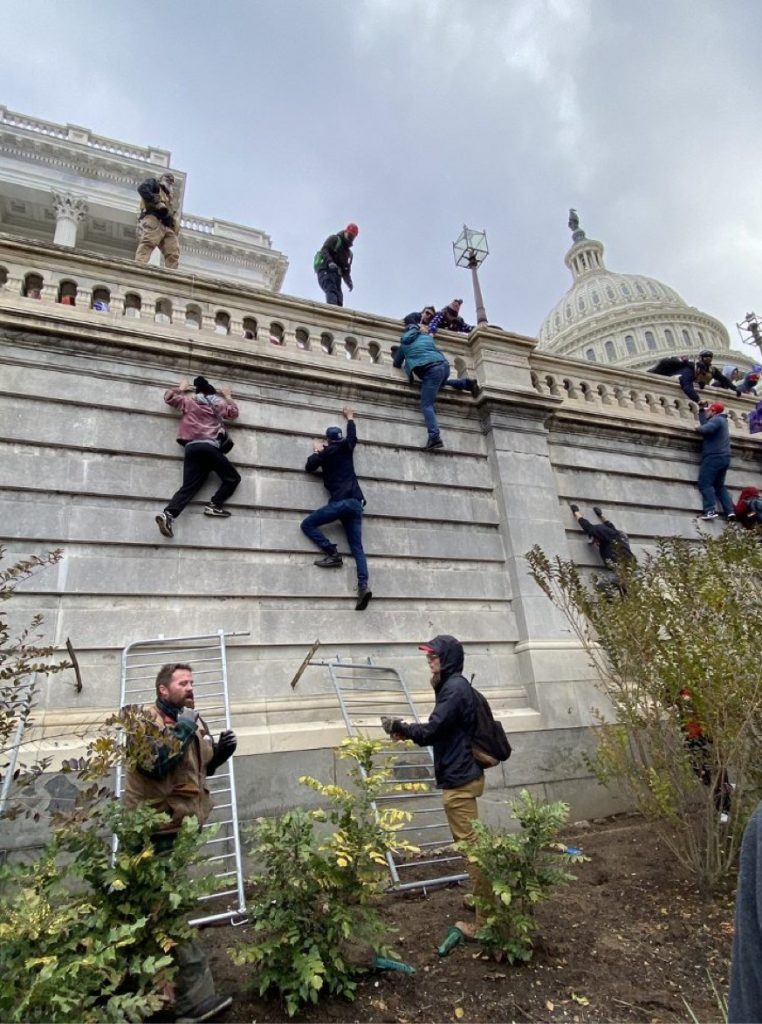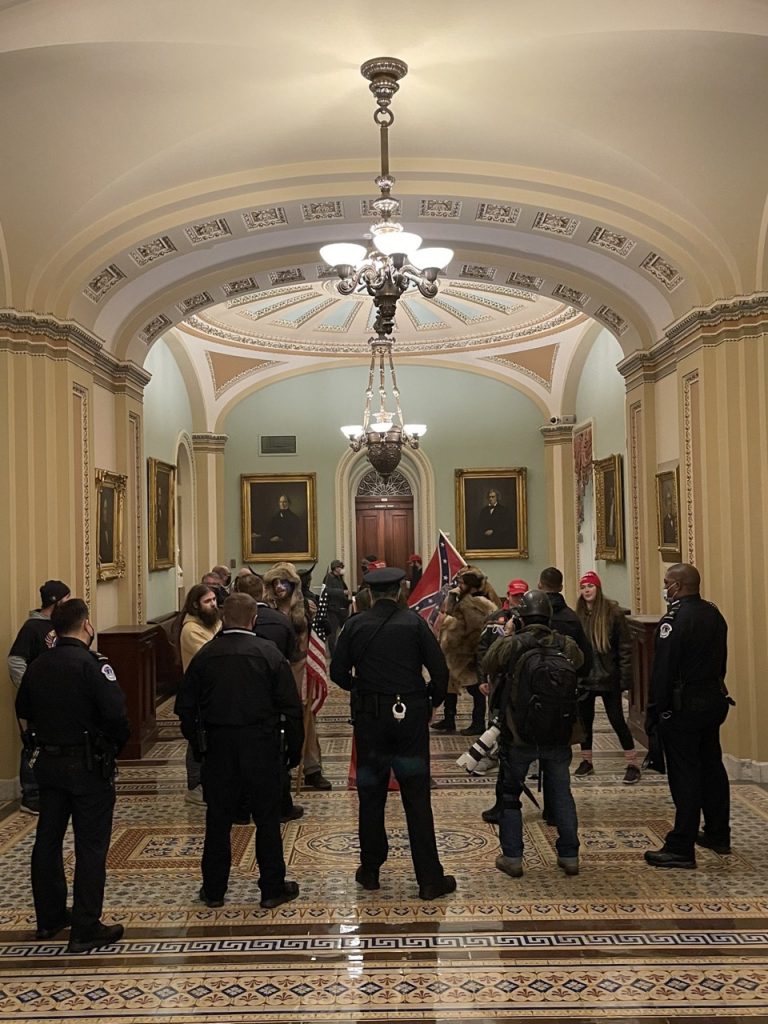 Original Story 1/6/21 2:30 PM EST:
The U.S. Capitol, site of today's presidential certification vote, is now on lockdown due to increasingly violent protestors onsite.
What We Know:
Protestors have scaled the U.S. Capitol building as they pushed through police barricades and police have begun to back off in certain areas.
Hundreds of Trump supporters have stormed the barricades at the back of the Capitol and are marching toward the building. pic.twitter.com/68nB7QyiP9

— Rebecca Tan (@rebtanhs) January 6, 2021
Surrounding buildings are being evacuated including the Library of Congress's Madison Building across from the Capitol as well as the Cannon House office building.
There are reports of several suspicious packages around the building and flashbangs being heard as well.
The certification vote has been paused due to the evacuations and protests.  This comes after Republican members planned to object to the certification vote and Mitch McConnell gave a message requesting they not do so.
Washington D.C. Mayor Muriel Bowser has ordered a citywide curfew at 6 PM today until 6 AM tomorrow.
Protesters are charging toward the Captiol steps. Some tried to scale the construction structures and have been tackled by police. They want to enter the building and are making attempts at intervals. Capitol police trying to hold them back. pic.twitter.com/YflxS1miBw

— Rebecca Tan (@rebtanhs) January 6, 2021
This is a developing story.
Comments
comments
Illinois State Program Offers Health Coverage to Seniors Regardless of Legal Status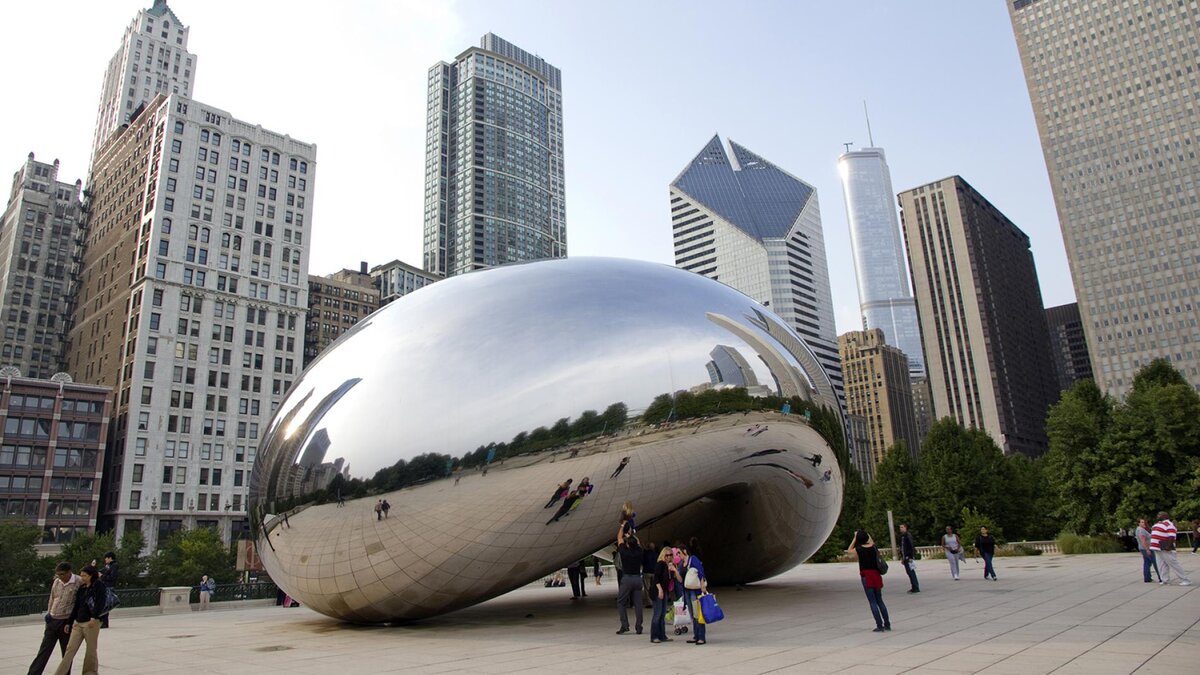 Illinois has implemented a program that offers health coverage to low-income immigrant seniors regardless of their legal status in the U.S.
What We Know:
This is important because, under federal law, Americans who lack legal status are not eligible for Medicare, Medicaid, or Obamacare enrollment. The bill was signed into law last year, and 2,200 people have enrolled since its institution. The Department of Healthcare and Family Services expects the policy to cover almost 4,600 people statewide.
According to Hayley Burgess of the National Immigration Law Center, Illinois is the first state to fully fund a health coverage program that focuses on noncitizen immigrant seniors. The health coverage bill is sponsored by Democratic State Rep. Delia Ramirez, who is also a member of the Illinois Legislative Latino Caucus. The program was successfully passed in 2020, notably due to the impact of COVID-19. Ramirez remarked, "Covid was killing people, and it was a human rights violation."
As mentioned above, the program is state-funded, which means that patients don't experience any copays or enrollment fees. Before the program was implemented, a clinic in Brighton Park, Chicago, revealed that the uninsured rate for older patients older than 65 was 31%. Two-thirds of Brighton Park's senior population are immigrants, according to census data. With the increased expansion of the program, it's possible to lower the rate of 31% down to 14.5%.
Currently, it costs 8,500 a year to ensure a senior citizen under the program. According to a recent study by FAIR Health, the average cost for an uninsured hospitalized COVID-19 patient reaches as high as $74,000 for a week visit. However, despite the number of costs the program saves patients, a few remain hesitant to apply.
This has caused concern to rise regarding fear of being deported, which can be attributed to Trump's immigration policies. A study by the Urban Institute found 1 in 7 adults in immigrant families have reported not having enrolled in healthcare programs, even when they're eligible for benefits. They fear enrollment could impact their legal status.
Only time will tell how successful the innovative program may turn out for many and if other regions in the U.S will follow by example.
Comments
comments
Judge Rules Only One George Floyd Family Member Allowed in Chauvin Trial at a Time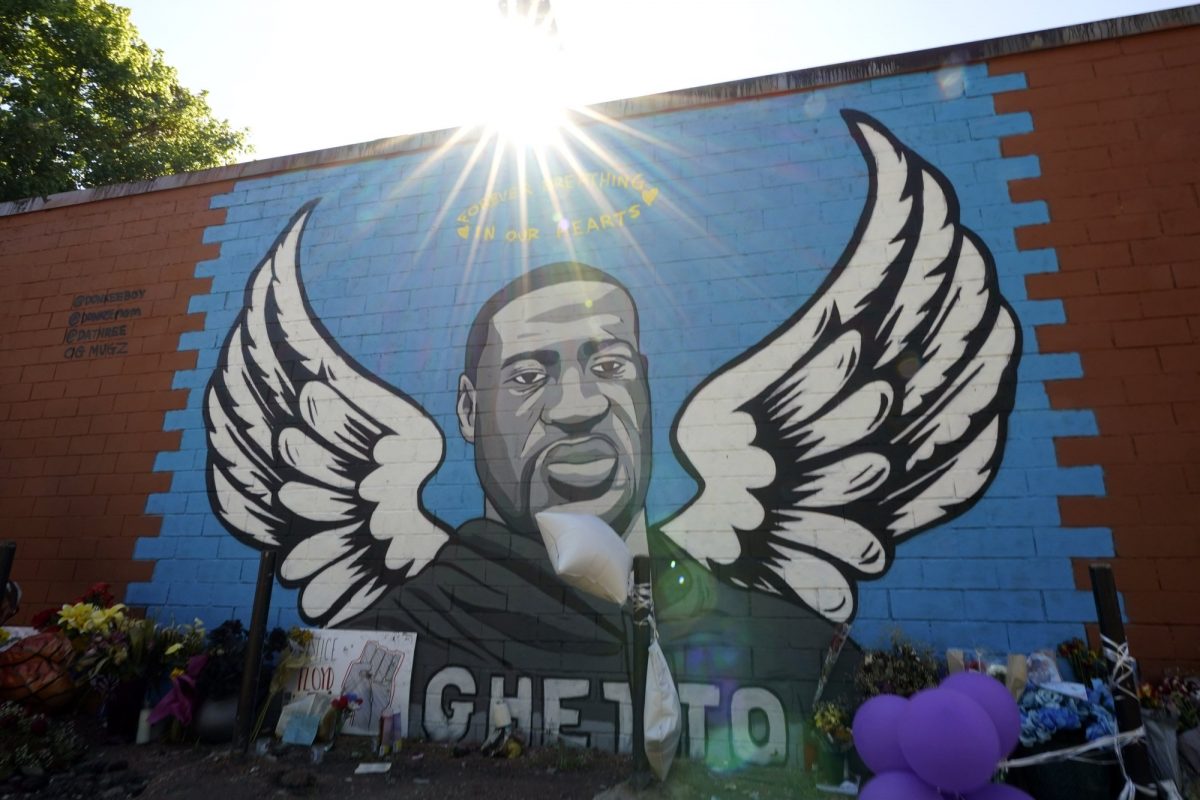 Derek Chauvin, the former Minneapolis Police Officer, charged with George Floyd's death, is set to stand trial on March 8th.
What We Know:
The ruling issued by

Hennepin County Judge Peter Cahill on Tuesday mandates that only one of Floyd's family members be allowed in the courtroom at a time. Different family members can rotate in the position throughout the trial with the proper credentials. The order applies to the family of Chauvin as well. Jury selection for the trial will begin on Monday, with opening arguments beginning no earlier than March 29th. 

Access to the proceedings by family members will be restricted by necessity, as space inside the courtroom during the highly anticipated trial will be limited due to covid protocols. In addition, the order forbids "any mask or article of clothing that contains any image, logo, letters, or numbers that are visible."
Chauvin faces charges of second-degree murder and manslaughter. Three of the other officers present during the incident–Thomas Lane, J. Alexander Kueng, and Tou Thao, have been charged with aiding and abetting Floyd's death and will stand trial together in August.
The family's attorneys, Benjamin Crump and Antonio Romanucci related the Floyd family's sentiments in a joint statement Tuesday, "while they understand the judge's reasons to limit attendance in the courtroom, the family is understandably disappointed by this ruling. The family is looking forward to the start of the trial as a critical milestone on the path to justice and a step toward closure in this dark chapter of their lives."
The death of the late Minneapolis resident, who was killed last May during a confrontation with police over allegedly using a counterfeit $20 bill, has continued to be the staple of nationwide protests over police brutality over the past year.
Comments
comments
Dallas Police Officer Arrested and Charged in Connection with Two 2017 Murders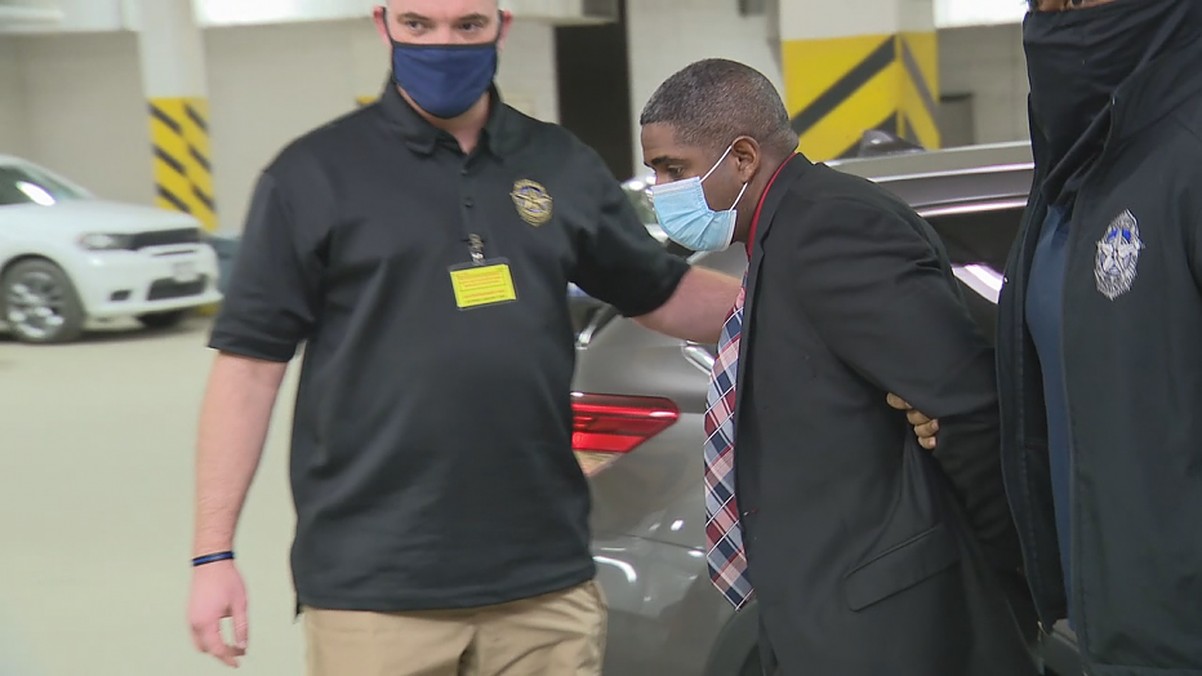 A Dallas police officer has been taken into custody for allegedly ordering the deaths of two people.
What We Know:
According to NBC News, Officer Bryan Riser, 36, was arrested on Thursday morning and charged with two counts of capital murder. Riser is believed to be connected to the murders of Lisa Saenz, 31, and Albert Douglas, 61. Saenz was found shot to death in the Trinity River in March of 2017. Douglas was reported missing in February of 2017, but his body was never found.
Despite being murdered just two weeks apart, the incidents are believed to be unrelated. Dallas Police Department Chief Eddie Garcia held a press conference to address the public.
"We received information from a witness that implicated Riser in both murders," Garcia stated. "The motive for these murders is unknown at this time, and this remains an ongoing investigation."
According to the affidavit for the arrest warrant, Riser offered $3,500 for a hit on Albert Douglas and another $6,000 to one of the three people who was arrested in connection to Saenz's murder in 2017. Riser instructed the witness and others to kidnap and kill both individuals and dump their bodies in the Trinity River.
Riser joined the department in August of 2008 and has been patrolling South-Central Dallas while under investigation for the killings. This is not Riser's first known offense either. In May of 2017, Riser was arrested after being accused of misdemeanor assault family violence, causing bodily injury towards an ex-girlfriend. An Internal Affairs investigation was conducted at the time, but no further details have been released.
As the Internal Affairs administrative investigation continues, Riser has been put on administrative leave pending the outcome. The department is moving as quickly as possible toward termination. Chief Garcia said they would be looking deeper into Riser's arrest record in light of the charges against him.
Jail records show Riser's bond has been set at $5 million, $2.5 million per charge.
Comments
comments