Mark Zuckerburg Announces Indefinite Trump Ban on Instagram and Facebook
After the violent chaos of yesterday, Facebook CEO Mark Zuckerberg has announced an indefinite ban against Trump.  This follows Twitter locking his account and requiring the deletion of specific tweets from Trump.
We believe the risks of allowing President Trump to continue to use our service during this period are simply too great, so we are extending the block we have placed on his Facebook and Instagram accounts indefinitely and for at least the next two weeks.
Read the responses from Facebook throughout the events of yesterday and updates from today.  We will provide updates as they become available.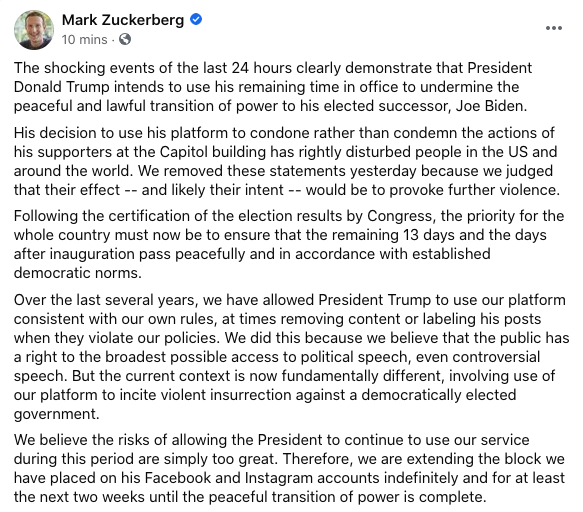 Comments
comments
Biden Considers US Technology to Send Internet Services to Cuba, Calls Cuba "A Failed State"
President Joe Biden also declared the United States would consider providing more help to Cuba. Still, they would need absolute certainty that their government would not take advantage of the assistance.
What We Know:
Biden made his statements on Thursday during a news conference with German Chancellor Angela Merkel. He said the United States is figuring out methods to reinstate Cuba's internet access. When protests erupted across the island on Sunday, Cuba's communist government blocked its citizens' internet connection; this was part of an attempt to stop the world from knowing about the demonstrations. Although leaders reinstated access on Wednesday, the service has been unreliable.
"We're considering whether we have the technological ability to reinstate that access," Biden announced.
The President also stated he would not reestablish US-Cuba remittances over concerns that the regime would confiscate the money. After this announcement, Biden also said he would permit the US may send COVID-19 vaccines to Cuba. However, he would only allow this if he was confident that an international health organization would oversee vaccine administration; Cuba rejected the World Health Organization's invitation to join their COVAX agency to further experiment in making its own vaccine.
President Biden additionally dismissed communism and its effects on Cuba. He called communism a "universally failed system" and that he didn't see socialism as "a very useful substitute." Furthermore, he considered the island a "failed state" that is repressing its people.
Biden's comments follow several Floridian leaders' pleas for him to take action on the island. On Wednesday, Governor Ron DeSantis sent a letter to Biden asking him to reinstate Cuba's internet; Lieutenant Gov. Jeanette Nuñez, Republican Reps. Maria Elvira Salazar and Carlos Gimenez, and FCC Commissioner Brendan Carr supported DeSantis' request and joined him in a Thursday press conference where they urged Biden to do more for Cuba.
View this post on Instagram
On Monday, the day after riots began, President Biden released a statement in which he told the Cuban regime to stop focusing on their interests and look to that of the island. Despite this, people across Miami, home to the country's largest population of Cuban exiles, believed a statement was not enough. As a result, citizens have held several protests this week in each of the city's municipalities to call more attention to the island's issue.
The protests serve as the Cuban-Americans' demand that Biden prioritizes ending the island's communist regime. The biggest one occurred on Tuesday when the Florida Highway Patrol allowed demonstrators to shut down the Palmetto Expressway.
Cuban-Americans will continue their efforts nationally. This weekend, a group will travel to Washington, D.C., and protest outside the White House to ensure President Biden takes accountability for his promises.
Comments
comments
Raul Castro Attends High-Level Government Meeting About Protests
Raul Castro came out of retirement to attend the Communist Party of Cuba's Politburo meeting on Sunday when Cubans began protesting the 62-year communist regime.
What We Know:
According to the Communist Party of Cuba's newspaper, Granma, Castro discussed methods to ease tensions between the citizens and the government alongside other party members. Leader-Telegram reported his presentation at the meeting might indicate the Party doubts President Miguel Díaz-Canel can handle the situation singlehandedly. Castro selected Díaz-Canel to succeed him as President of Cuba and as the First Secretary of the Communist Party of Cuba.
Granma additionally defended Díaz-Canel's claims that the United States provoked the protests. Reporters wrote that party officials analyzed "provocations orchestrated by counterrevolutionary elements, organized and financed from the United States with destabilizing purposes." The United States denies these accusations.
The news source also praised President Díaz-Canel for dealing with the crisis. It called his response "exemplary" and allowed him to stop "subversive actions;" when demonstrations began in San Antonio de los Baños, the president visited the town expecting to control the situation. However, his measures did not work; by Sunday afternoon, the whole country erupted in protests.
Instead of listening to his citizens, Díaz-Canel quickly took to television and urged his supporters to confront protestors "by any means necessary." After facing criticism for his comments, he stated he did not invoke violence, but the demonstrators "got what they deserve."
Despite Granma stating that the unrest was controlled, protests are still happening in Cuba. Cubans continue begging their leaders for basic necessities such as food and medical supplies throughout the nation; instead of listening to their citizens, the government approved violent police raids, the arrestment of several demonstrators, and an internet shutdown.
Regardless of the consequences, the Cuban people remain determined to continue fighting for political freedom.
Comments
comments
Prince William Faces Backlash after Calling Out Racist Comments
Twitter users criticized Prince William for defending English soccer players Marcus Rashford, Bukayo Saka, and Jadon Sancho, instead of his sister-in-law, Meghan Markle.
What We Know:
After England lost the European Championship to Italy 3-2 during an overtime shootout, the three Black English players received an onslaught of racist comments via social media for missing penalty kicks.
England quickly fought back against the remarks. Police officials began an investigation into the posts, and several British leaders defended the players, such as Prime Minister Boris Johnson, the Football Association, and the Duke and Duchess of Cambridge.
Prince William, who is president of the Football Association, and his wife Kate Middleton took to their Twitter account to voice their opinion on the situation. The couple stated they felt disgusted by the comments. They also mentioned that any person harassing Rashford, Saka, and Sancho should be held accountable for their actions.
I am sickened by the racist abuse aimed at England players after last night's match.

It is totally unacceptable that players have to endure this abhorrent behaviour.

It must stop now and all those involved should be held accountable. W

— The Duke and Duchess of Cambridge (@KensingtonRoyal) July 12, 2021
Although the Duke and Duchess attempted to appeal to the masses, social media users thought their statement was superficial. Some followers raised his behavior towards Meghan Markle and Prince Harry during and after their time in the Royal Family. One user said the tweet "screamed performative". Another mentioned how William supported the family's decision to stay quiet after Meghan's tell-all interview with Oprah Winfrey.
Prince William wasn't "Sickened" by the racist abuse his sister in law suffered, in fact he supported the family's non response to defend her, specially after the "Meghan made Kate cry"Meghan was generous in saying "Kate was sweet" when she clarified that RF refused to defend her

— Tinkerbell Fernando (@Tinkerbellfern) July 12, 2021
Meghan Markle, the Duchess of Sussex, appeared on television in March to explain why she and her husband, Prince Harry, left the Royal Family. She claimed she faced severe racist abuse from members of the monarchy for the color of her skin. Meghan additionally stated that some people in the Royal Family worried about her firstborn's skin color during her pregnancy. The Duchess of Sussex faced criticism and backlash from the British media for the same issue, and the Royal Family did nothing to stop it. Her experiences resulted in her becoming suicidal. The couple's exit from royalty, and the interview caused a rift between them and the Royal Family.
The Windsors rapidly denied all of Meghan's declarations; a day after the interview's release, Buckingham Palace released a statement in which it announced the whole family felt "saddened" by Meghan's accusations. Among these members dismissing her emotions was Prince William, who publicly stated his household was not a racist one.
Despite rejecting Meghan's experiences, Buckingham Palace revealed they would take initiatives to help the Windsors become more inclusive. This would involve them hiring more diverse employees, participating in workshops, and engage with more charities and organizations.
Comments
comments