Kodak Black will Fund $100K Scholarship in Memory of Parkland Victim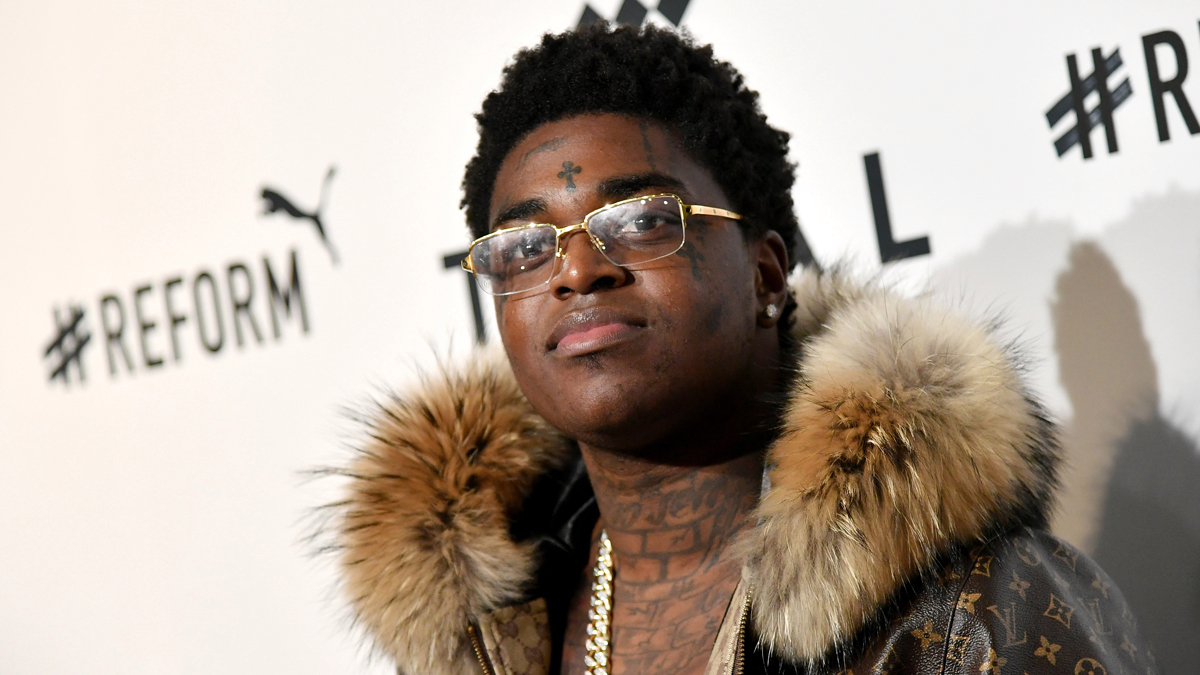 Florida Rapper Kodak Black has created a scholarship in honor of a victim of the 2018 Parkland shooting.
What We Know:
According to the Independent, the 23-year-old rapper attended a memorial

 

held at Marjory Stoneman Douglas High o

n the 

third anniversary of the mass shooting in Parkland, Florida. Here, Black

 announced

a 100,000 dollar

scholarship in 

honor of former 

fan and 

student

Meadow Pollack, who was one of the seventeen victims who lost their lives that day

.

Kodak addressed those at the ceremony, telling the audience, "They [were] young and none of them deserved this. They wasn't in this life to be killed. Meadow Pollack, she's so beautiful, but the situation is bigger than Meadow Pollack. It's about all of us. It's about all the other kids. It's about the whole school. It's about all of Broward [County]."
"I'm going to help and I hope me setting up this scholarship will make a difference for something," Black said. "I just want to make a positive impact for this community."
The scholarship fund is available for students who want to study justice reform at the Nova Southeastern University Law School, wh

ere 

Pollack's brother

 

currently attends.

 

Since having 

firearm offenses pardoned

by former President Donald Trump in January, Kodak Black has been giving back

in a number of charitable acts.

Earlier this month, Black also

offered to cover the future educational costs of two deceased FBI officers' children who were shot and killed in Sunrise, Florida, because he "knows what it's like to lose loved ones and grow up in a single-parent home, and he wants to make sure the mourning families don't ever have to worry about sending their kids to college

."

 
The university board will determine the winner of the scholarship based on merit, grades, and an essay.
Comments
comments
Obama 'Alumni' Create Scholarship Program to Boost Young Latinos in Public Service Internships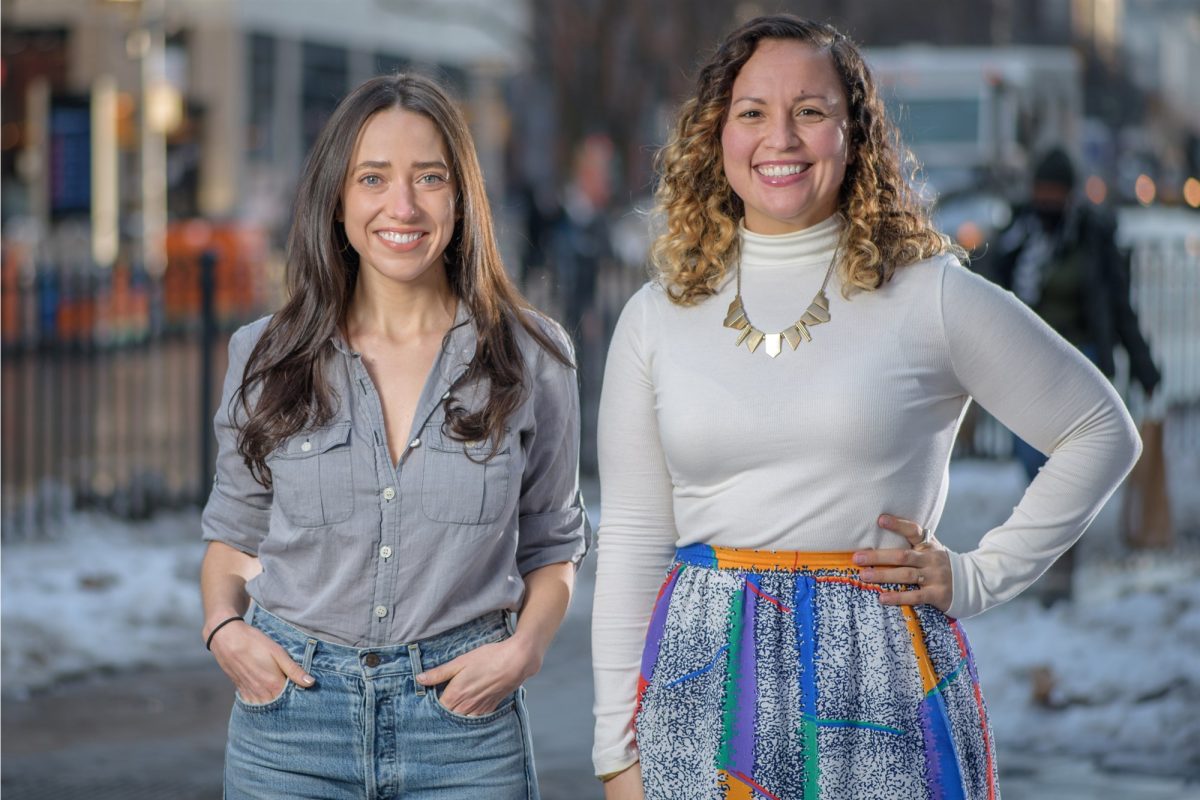 Two former White House staffers from the Obama administration have created a scholarship opportunity for Latino students in Washington DC.
What We Know:
The founders of the Latinx44 Scholarship Program are two lawyers, Antoinette Rangel, and Alexa Kissinger. This nonprofit program is designed to award Latino students with scholarships that will help fund internships that promote public service.
The program is being funded by Latinos44, which is made up of hundreds of Latino officials who worked at the White House during Obama's administration. It has already raised more than $10,000 and will provide $1,500 scholarships to Latino students in DC.
The scholarship is open to college or graduate students who identify with the Latinx community as long as they have secured a public service internship in D.C. for the summer. The program will provide students with professional development opportunities and mentors that will help them within their specific career paths.
Rangel began her career as an intern for the Office of Political Affairs in the White House. "I knew White House interns who had to take out personal loans or work multiple jobs or really live on a frugal budget," she told NBC News. "For students coming from traditionally underrepresented backgrounds, it could mean them not taking an opportunity."
Last year, The National Association of Colleges and Employers found that Hispanic students were the demographic who had never had an internship among college seniors. If they did, it was likely unpaid. Additionally, Latino students only make up 5 percent of congressional interns despite the demographic representing 20 percent of undergraduate students in the nation, according to

the nonprofit

Pay Our Interns.
Rangel hopes that the program will support the next "generation of Latinx leaders." "We just want to make sure Latinx students have the same opportunities as their peers from other backgrounds, so they get these experiences of a lifetime," she said.
The deadline to apply for the scholarship is April 1st.
Comments
comments
US Education Department is Disproportionately Auditing Black and Latino College Students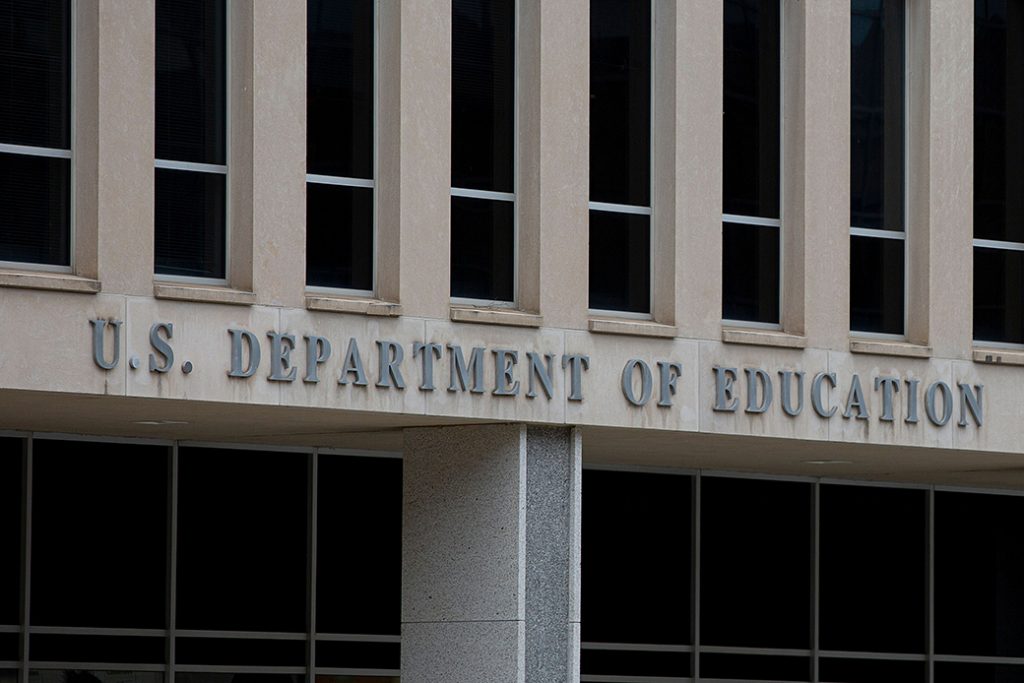 The Washington Post has conducted an analysis of federal data, which found that the Department of Education is disproportionately auditing black and Latino students.
What We Know:
The Post found that almost a fourth of last year's Free Application for Federal Student Aid (FAFSA) applicants were chosen to be audited. They compare this to the less than half a percent of tax returns audited by the IRS.
The major finding results that FAFSA applicants from Black-majority communities were 1.8 times more likely to be audited than students from white-majority neighborhoods. Students from Latino-majority communities were 1.4 times more likely to be audited.
The Education Department estimates that 11% of students drop out of the auditing process. However, financial aid experts told the Post that it is more likely to be around 25%. Students who fail to provide information to their FAFSA application risk losing access to grants, scholarships, and loans.
One student at Maryville University in St. Louis, Brayneisha Edwards, received a notice requesting that she complete a worksheet detailing the size of her family and their earnings. A few weeks after submitting the form, she was told the form was missing and that she would have to complete a new one.
Her auditing process lasted all the way through until the end of the semester. Still, by that point, she had lost the opportunity to receive scholarships for the fall, which resulted in Edwards owing money and becoming ineligible to register for spring classes.
"It's very stressful," Edwards said. "My grades are suffering. I have all of these doubts about am I even going to finish college. My parents didn't go to college and they are trying to help, but this is new to all of us."
To help students combat this issue, Congress has recently taken steps, so students no longer have to self-report income. The spending bill signed last December, for example, contains a provision that makes it easier for the IRS and the Education Department to share tax return data.
Comments
comments
Wisconsin Teachers Put on Leave for An Assignment Asking How to 'Punish' Slaves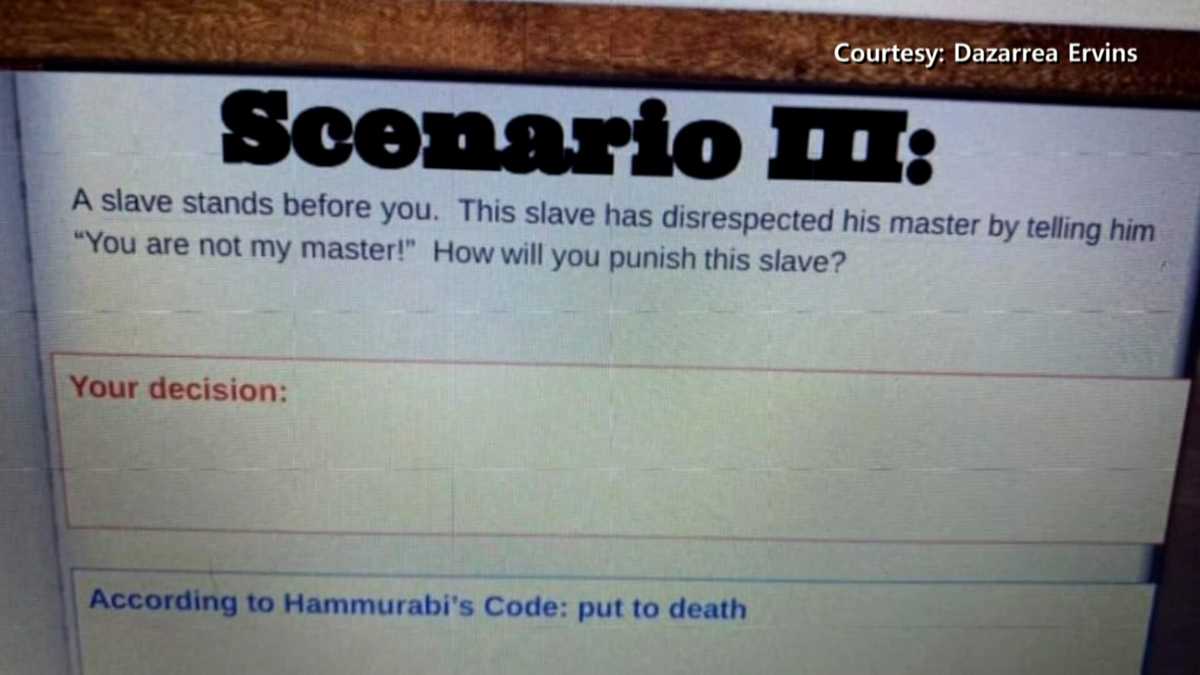 Teachers at Patrick Marsh Middle School in Sun Prairie, Wisconsin, have been placed on administrative leave after giving students an unapproved lesson about slavery.
What We Know:
Sixth graders at the school were assigned homework discussing ancient Mesopotamia. This assignment included a question about how a slave should be treated, the school's principal said in a letter to students on Monday.
The question under fire meant to educate students on the Code of Hammurabi, the code of law that set punishments in the ancient region of Mesopotamia. It read, "A slave stands before you. This slave has disrespected his master by telling him 'You are not my master!' How will you punish this slave?'" as seen in a photo shared on a parent's Facebook page.

"According to Hammurabi's Code: put to death," the assignment read.

The homework upset multiple parents, who then voiced their concerns to the school's administration. Sun Prairie Area School District apologized in a letter sent to all families in the district on February 1.
"We are writing today to apologize for a grave error in judgment that occurred during sixth-grade social studies instruction at Patrick Marsh Middle School," the district wrote in the letter. "A small group of our teachers developed and used an activity that was neither racially conscious nor aligned to our district mission, vision, values, curriculum, or district equity statement."
In the letter, the district assured parents that the lesson was halted and they are investigating the assignment. Additionally, they stated that the teachers who assigned the work had been placed on administrative leave. They also warned that no student should complete or participate in the assignment.
In a separate apology, Patrick Marsh Middle School acknowledged their lack of sensitivity and awareness in saying, "We regret that this assignment was not racially conscious and did not align to our district's mission and vision of equity," the letter read. Then they explain why the activity was assigned, "to help students understand how order was kept in the early civilization, how the laws that were developed, and how unjust they were."
The timing in which the homework was assigned also adds to the damage done as it was sent to students on the first day of Black History Month.
Comments
comments